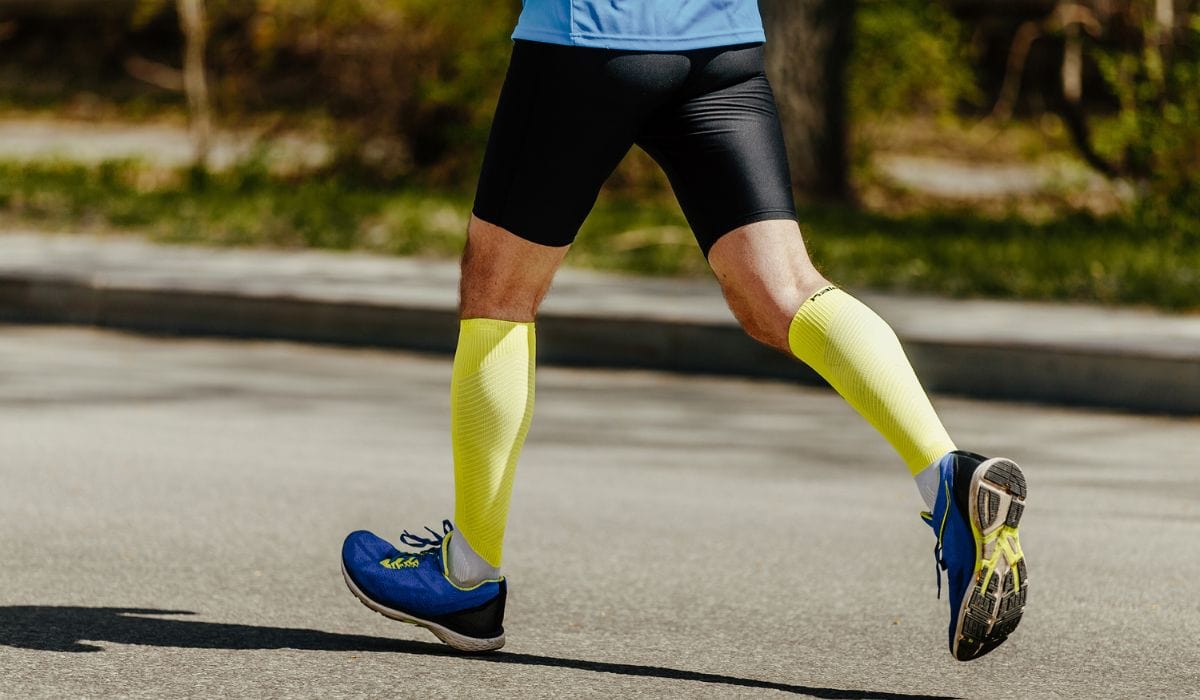 Benefits of Compression Socks for Running
Compression socks are a certain type of sock used to help with medical issues like diabetes, varicose veins, circulatory problems, and deep vein thrombosis. However, compression socks are also considered athletic gear, and elite and recreational runners use them for their scientifically-proven benefits.
If you've never considered adding compression socks to your running gear collection, you may want to think again! To help improve your running experience and recovery time, we'll explain the potential benefits of compression socks for running.
What are compression socks?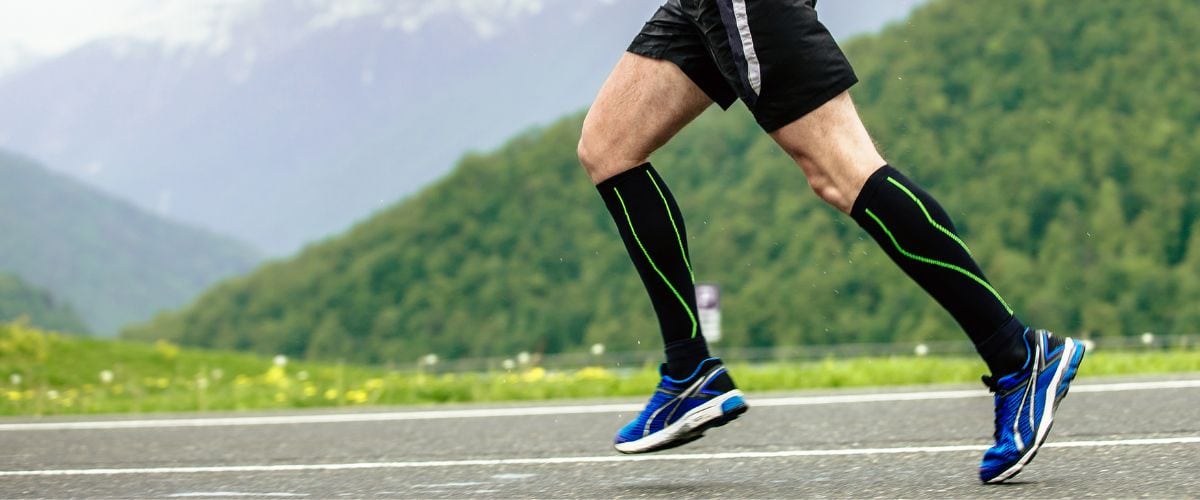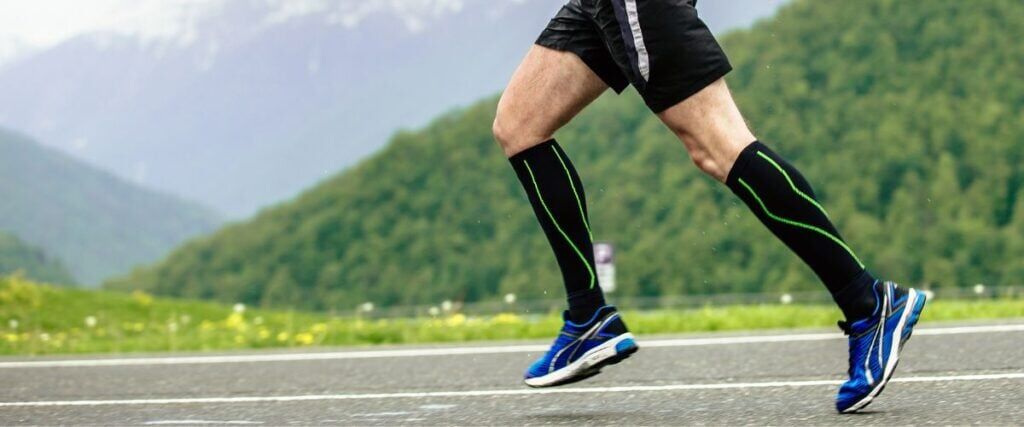 Compression socks are long, elastic socks stretching from your toes to your knees. They can also be a sleeve that starts at your ankle and reaches up to your knees. They work to create compression by putting pressure on the veins, arteries, and muscles in your legs and feet.
The compression reduces the size of your circulatory system, forcing the blood to move back to your heart more quickly and enhancing circulation in your limbs. With increased oxygen to your muscles, the hope is that you're better able to run efficiently.
Do compression socks help athletic performance?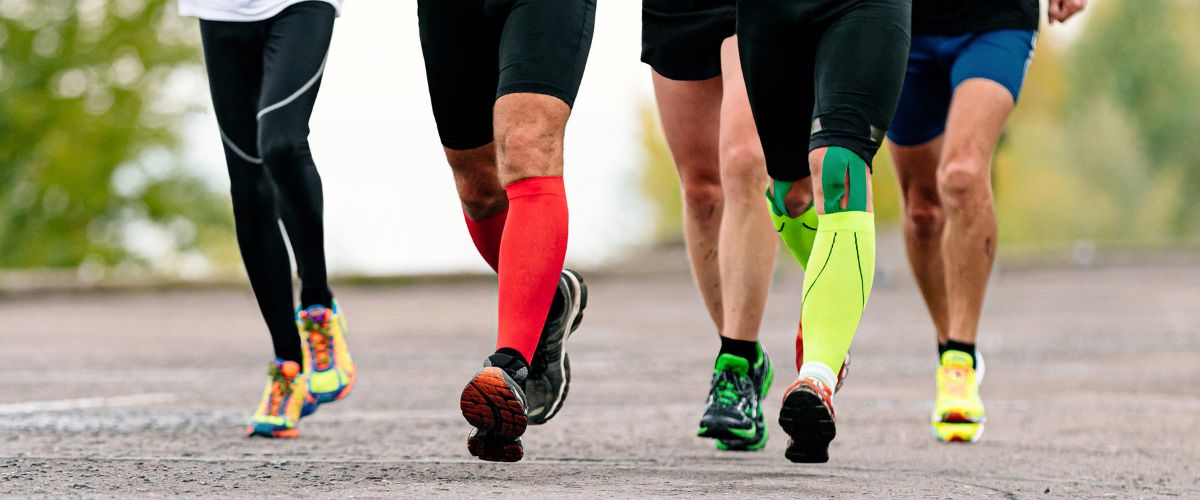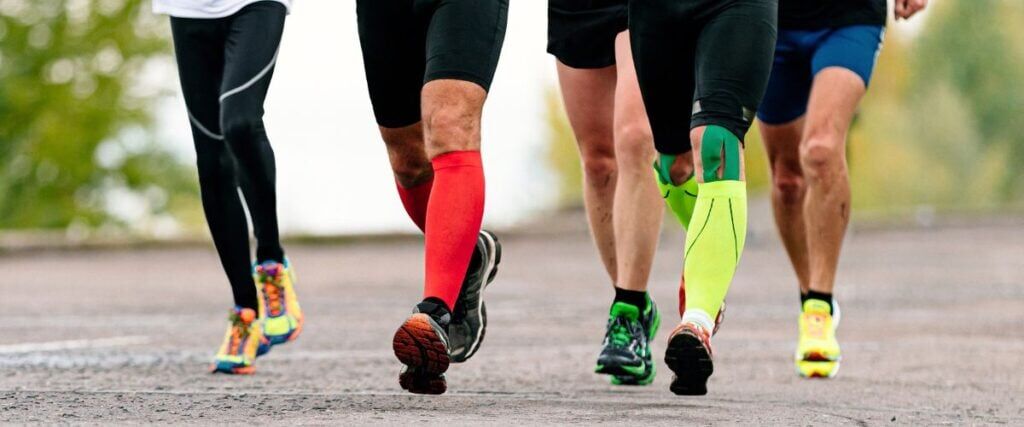 According to recent research, wearing compression socks won't help you run faster or prevent muscle damage due to exercise.1,2 However, they do have some significant benefits for runners that can ultimately improve athletic performance:
They enhance exercise recovery: Compression socks for runners may help reduce swelling, cramps, and soreness after a race or training run.3,4
They improve blood flow and oxygen delivery to muscles: Wearing compression socks during and after your run may help reduce the impact on your muscles while running and enhance blood flow and circulation when you're at rest. When running, the improved oxygen flow can make you feel more energetic.
They reduce the likelihood of running-related injuries: Since compression socks can help you recover and reduce soreness and cramps, you may also be less likely to experience running-related injuries.5
They improve body temperature: While running in wet or cold environments, compression socks can help you maintain a warm body temperature and keep your muscles warmer, which may also protect you from injuries.5
Should you wear compression socks while running?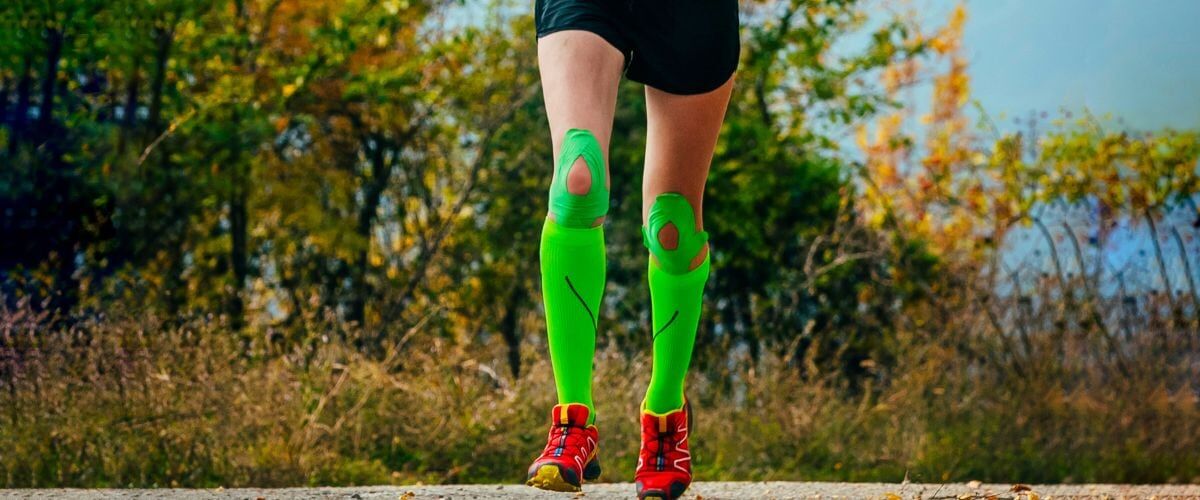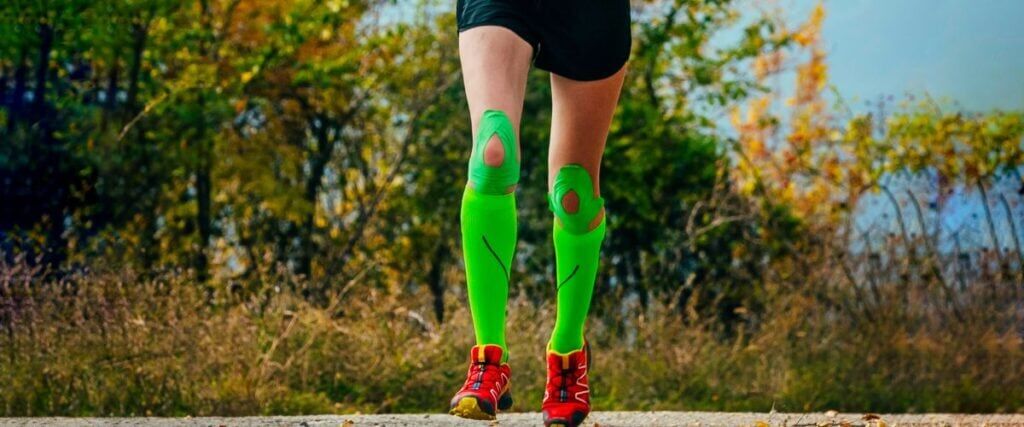 There's no right or wrong answer here. If you want to try wearing compression socks while running, go for it! It's worth giving it a shot if you're interested in the potential benefits, like enhanced recovery, blood flow, and reduction in injury risk.
The only reason you should not wear compression socks while running is if you have one of the following conditions:
A circulation disorder
Diabetes
Congestive heart failure
Sensitive skin that may be irritated by compression socks
How long do you wear compression socks while running?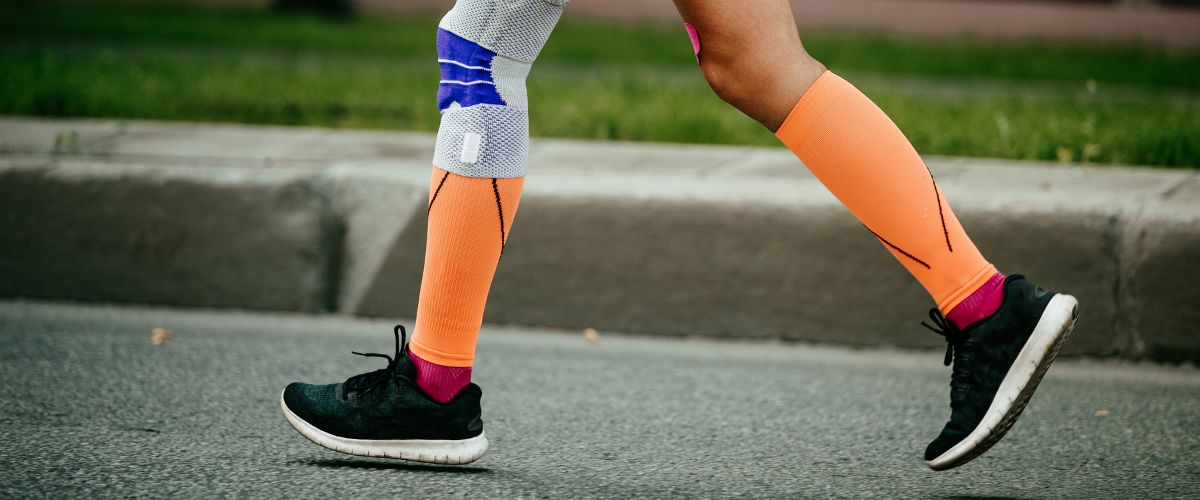 How long you wear your compression socks for running is entirely up to you. However, to get the best recovery-related benefits, many runners recommend wearing them for particularly long or difficult runs and for about 24 hours afterward.
Best compression socks for runners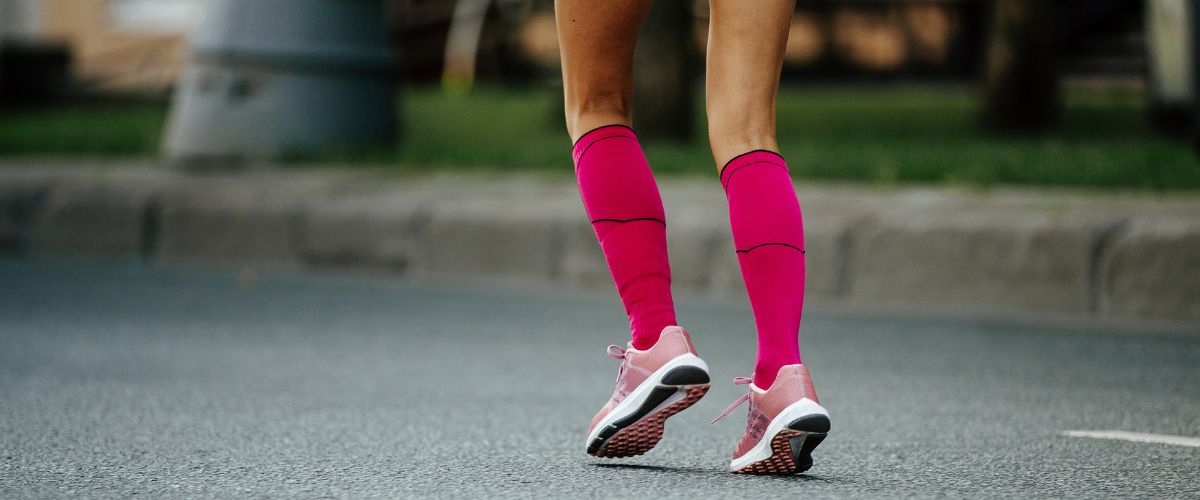 When shopping for compression socks for runners, there are three main things to consider:
How much compression you need
Some compression socks are made to be worn while running, while others are intended to be worn in the days after while you're recovering. Still, some compression socks are designed for specific medical conditions, so choose carefully!
Compression socks with between 20-30 millimeters of mercury (mmHg) are typically best for running and post-run recovery. Unless you have a medical condition that requires something else, these should be firm without cutting off your circulation completely or feeling uncomfortable during runs.
The best materials for running
Look for compression socks made with breathable, comfortable, and sweat-wicking fabrics, like nylon, merino wool, or polyester.
Ideal length and size
To get the most out of your compression socks, over-the-calf styles will provide the most support. They'll enhance circulation through your ankles and up your leg, increasing the blood flow through your entire leg.
Sizing also matters. Compression socks for runners should feel tight but not too tight, to the point where they're uncomfortable or cutting off your circulation. To find the right size, measure the narrowest part of your ankle and the widest part of your calf. Then, consult the manufacturer or seller's sizing guidelines.
If you need some additional help shopping or want a few quick suggestions, here are some of the best compression socks for runners (based on current online customers' reviews):
Sockwell Modern Mountain Compression Crew Socks: These crew compression socks are made with merino wool and alpaca for a comfortable and effective solution. They provide medium compression, ideal for running and travel, and offer medium cushioning for the perfect balance of comfort, compression, and support.
Sigvaris Performance Compression Running Sleeve: These compression socks for runners are made with nylon and spandex and are comfortable enough for everyday wear but offer 20-30 mmHg of support for maximum running and recovery benefits. Since they're sleeves and not socks, you can pair them with your favorite running socks for the most comfortable and efficient runs.
2XU Recovery Compression Socks: Ideal for post-run recovery, these compression socks are made of nylon and elastane for a comfortable fit. They may be a bit pricey, but they'll help ease your tired muscles after challenging runs. They also feature padded zones across the heels and balls of your feet for enhanced comfort, and the graduated compression will improve your circulation post-run.
Physix Gear Sport Compression Socks: These compression socks are perfect if you're searching for a high-quality, budget-friendly option. They're made with nylon and spandex and provide instant comfort and 20-30 mmHg of support. Since they're so breathable, you can comfortably wear them in hot weather, and they'll help reduce the impact on your muscles, reduce fatigue, and decrease swelling in your lower legs post-run.
Key Takeaways:
The right type of compression socks for runners can have numerous benefits, including enhanced recovery, reduced risk of injury, and improved body temperature for ideal comfort. Choosing the correct type of compression socks is essential to get the most out of them, so consider the amount of compression they provide, the materials used to make them, and their sizing and length.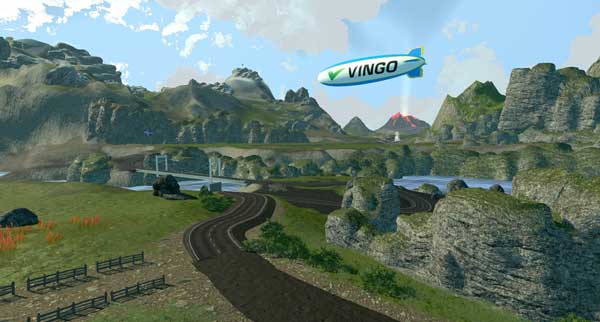 Sources: