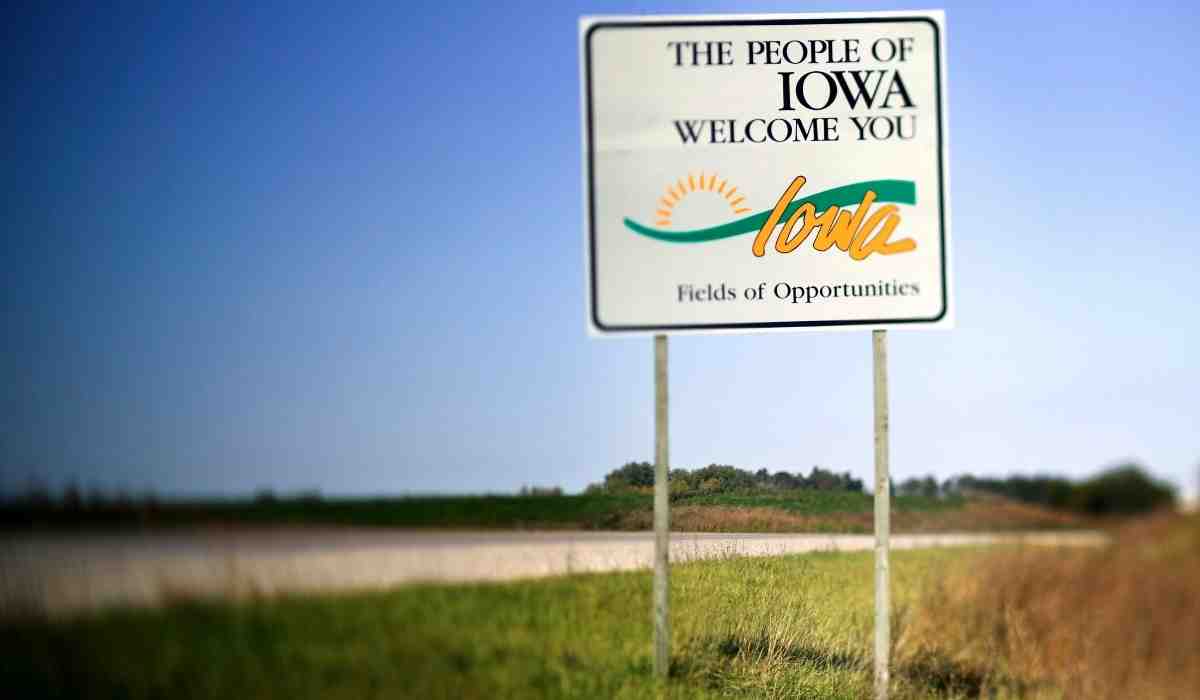 Top 10 Bike Trails in Iowa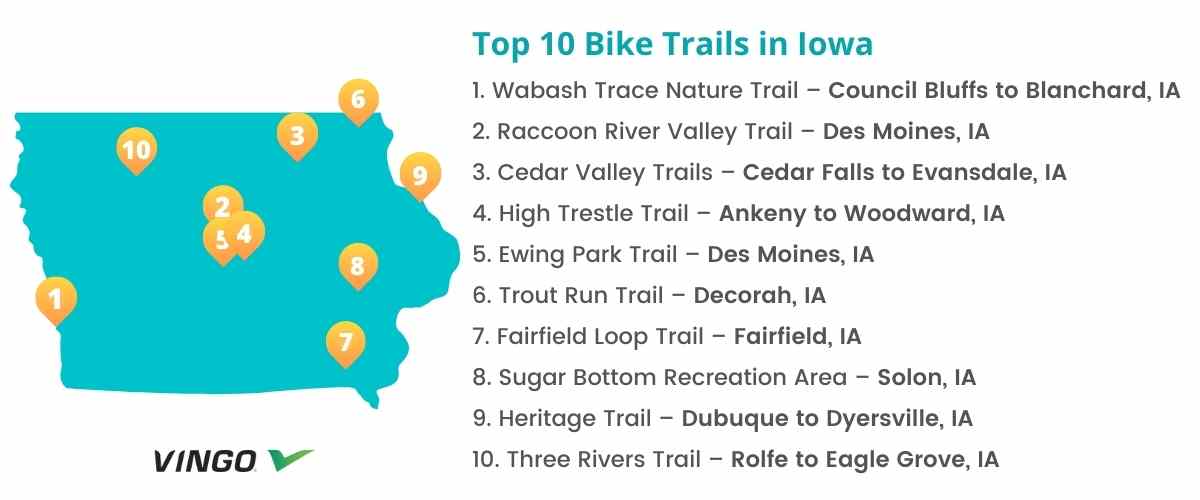 Iowa is home to several regionally and nationally-recognized cycling routes. Get out and explore the great outdoors of the Hawkeye State with these ten amazing trails.
1. Wabash Trace Nature Trail – Council Bluffs to Blanchard, IA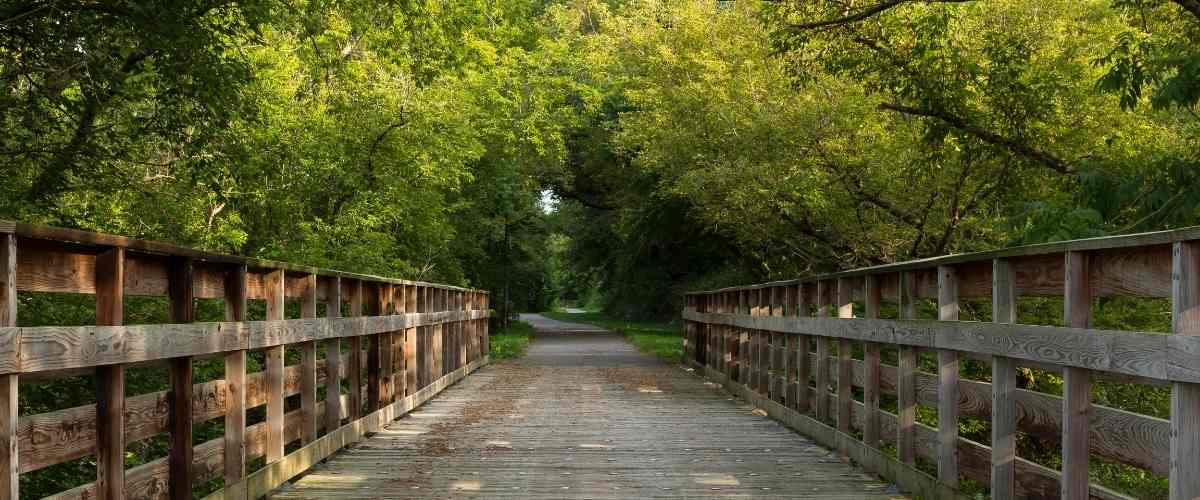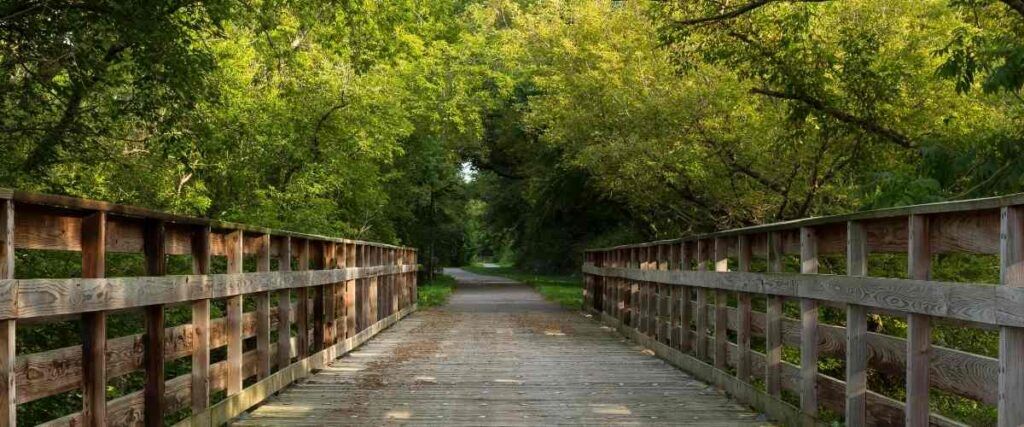 The Wabash Trace Nature Trail in Blanchard is one of the state's longest trails. The 62-mile route is popular with residents and visitors, offering a scenic ride through southwest Iowa. The entire rail trail encompasses 72 different bridges and passes the picturesque Loess Hills. It also stretches over beautiful farm fields and past several ghost towns that fizzled out due to the lack of rail traffic, providing a fascinating glimpse into the past.
Tips: This route is concrete, and the length is customizable, depending on how long you want to cycle, making it easy for all ages to enjoy.
2. Raccoon River Valley Trail – Des Moines, IA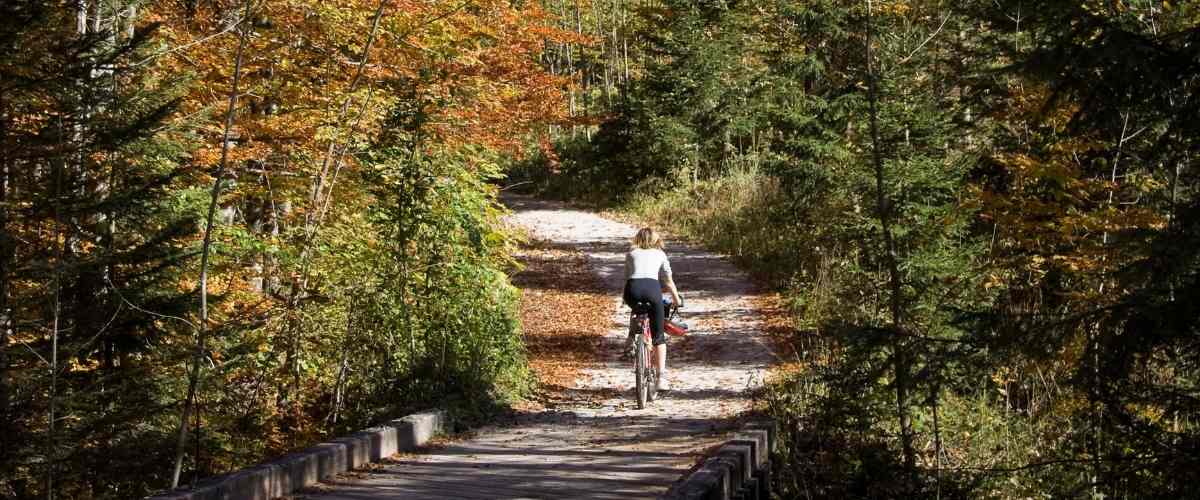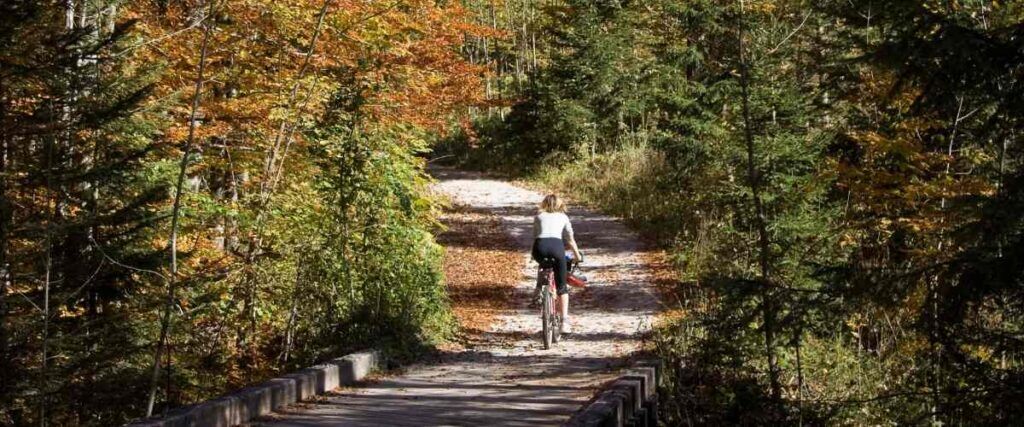 The Raccoon River Valley Trail begins in the outskirts of Des Moines and spans 89 miles through midwestern farm fields with a grade of 1 to 2%. It features art installations, a colorful lighted bridge in Adel, and the popular Waukee Railroad Pergola. This loop is sprinkled with quaint towns full of amenities and historical attractions, so make sure you take the time to stop and explore along the way. An estimated 350,000 people use this trail annually, and that number is expected to grow now that a 9-mile connector trail between the Raccoon River Valley Trail and the popular High Trestle Trail is in the works.
Tips: Many people conquer this trail over a several-day biking trip, but do note that riding on it requires a $2 daily fee for cyclists 18 and older.
3. Cedar Valley Trails – Cedar Falls to Evansdale, IA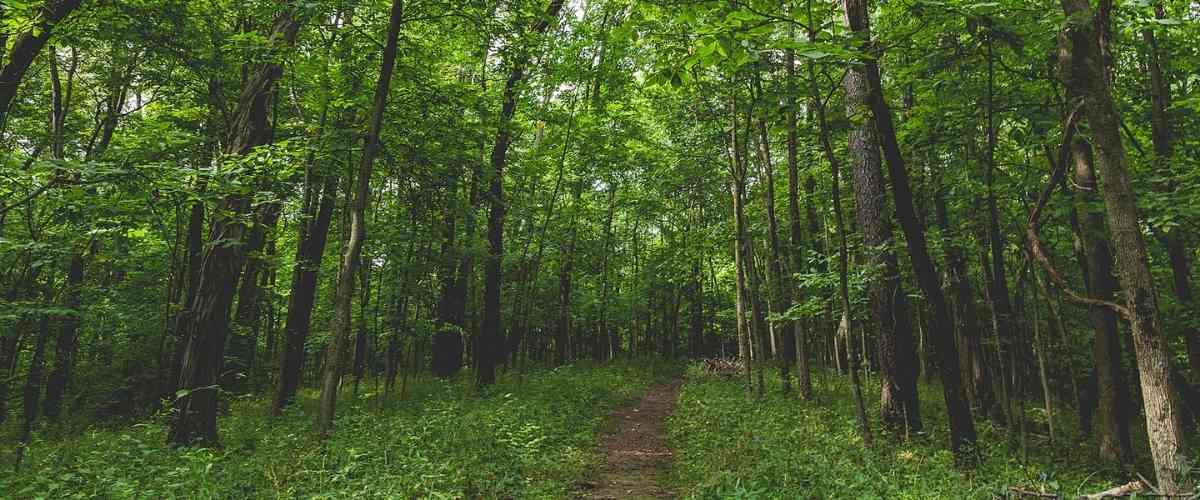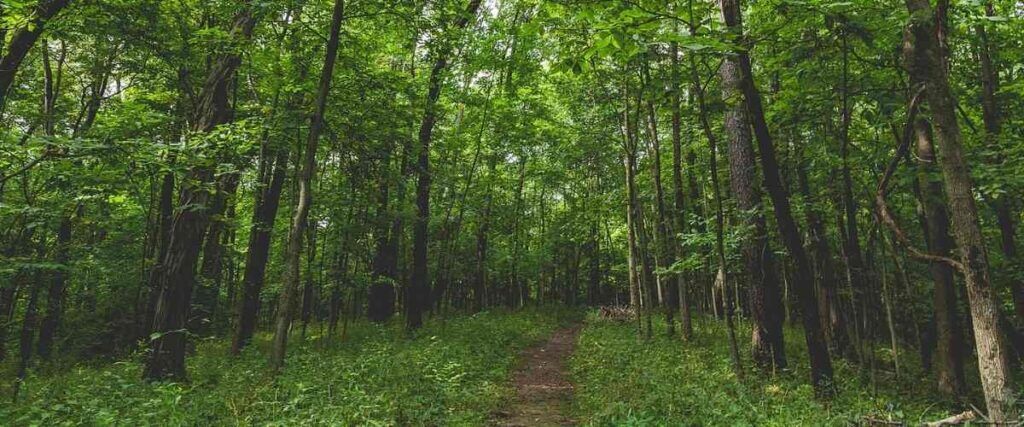 The Cedar Valley Trails offer more than 11 different trail loops near Cedar Falls and Waterloo. The individual trail loops range from 2 to 16 miles and provide convenient access to downtown Cedar Valley and Waterloo, where you'll find plenty of fun attractions and amenities, including restaurants, museums, and lodging. Along the way, you'll encounter several informational panels and kiosks that tell the story of the area's history. The Cedar Trail Patrol ambassadors are frequently out and about on the trail. This group of volunteers is trained to offer directions, recommendations, and can even help with minor repairs and first aid if you need it!
Tips: This trail also connects to the Cedar Valley Nature Trail and is a part of the massive 6,800-mile American Discovery Trail.
4. High Trestle Trail – Ankeny to Woodward, IA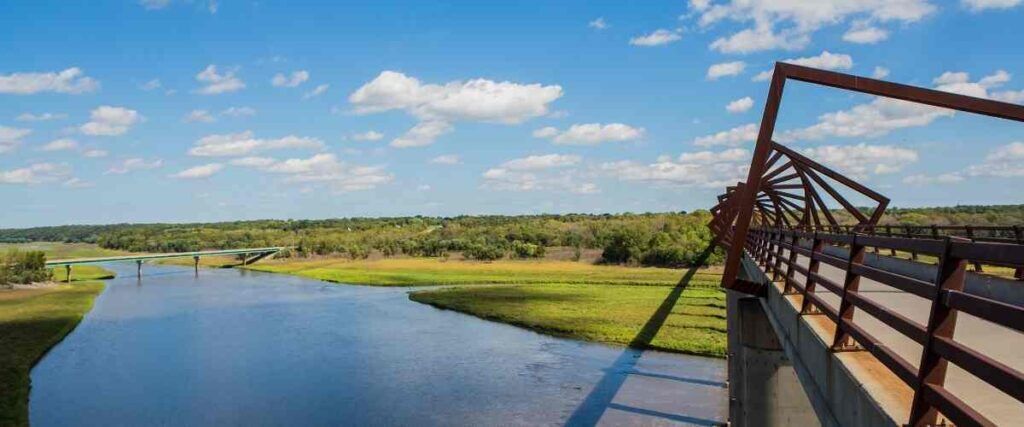 The High Trestle Trail is one of the most well-traveled trails in Iowa and is known for its distinctive 130-foot-tall bridge over the Des Moines River. The bridge features 43 twisting diamond-shaped steel ribs lined with LED lights, producing an impressive display that makes you feel like you're traveling deep down into a mine shaft as you cycle through it. A creative nod to the area's coal-mining history, the bridge is undoubtedly a highlight of the trail, but it's not all it has to offer. The 25-mile route winds through beautiful forested areas, rural farmland, and breathtaking fields of wildflowers (depending on the season). Small towns also line the trail, offering amenities like bathrooms, local eateries, and historic attractions that provide more information about the area's history and the rail trail.
Tips: If you only want to experience the bridge on this trail, it's most convenient to access the path from Woodward. This entrance point has plenty of parking and a historic rail house. Otherwise, you can access the trail via a small parking area just outside Madrid.
5. Ewing Park Trail – Des Moines, IA
Venture to south Des Moines, and you'll find the Ewing Park Trail, which offers a winding, forested adventure through Ewing Park. The park is home to flow trails and singletrack trails that are professionally designed and built for a flowy, fun cycling experience through the forest. You can follow several singletrack trails up to the top of the hill on the park's south side and then choose any path to make your way down. Overall, the park is an excellent spot for cyclists of all abilities to enjoy the great outdoors near Des Moines.
Tips: At the end of the Ewing Park Trail, you'll find a playground and picnic benches where you can enjoy a picnic or some space to rest and stretch after your ride.
6. Trout Run Trail – Decorah, IA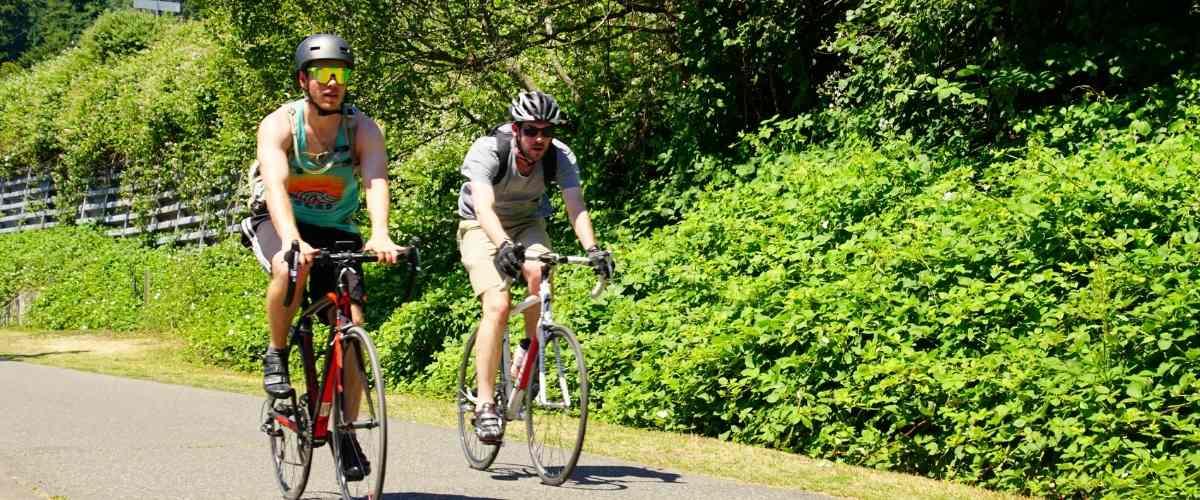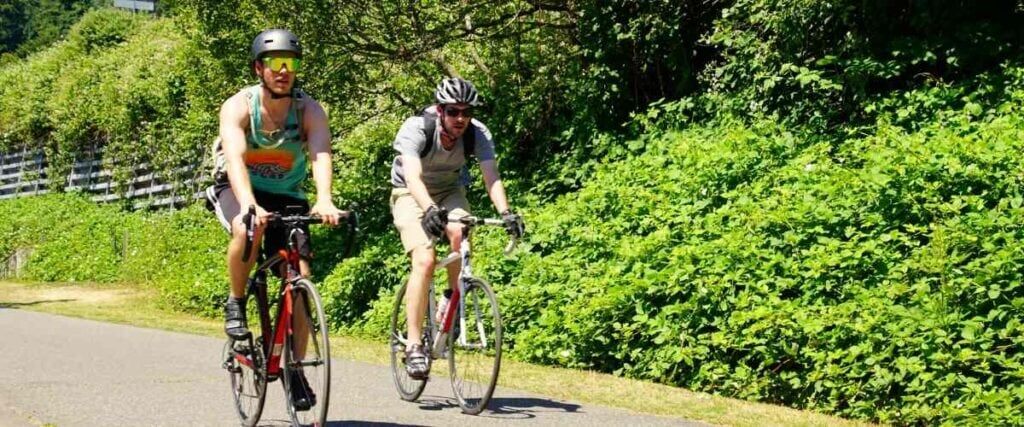 The Trout Run Trail is an 11-mile loop that makes its way around the gorgeous Oneta Valley and Upper Iowa River near the city of Decorah. The smooth and flat route offers easy access to five rushing trout streams (hence its name). You'll enjoy gorgeous views of the Driftless Region, including ancient limestone bluffs riddled with sinkholes, caverns, groundwater springs, and a rare and fragile natural community called algific talus slopes, found in areas of Iowa, Minnesota, Wisconsin, and Illinois. The trail also provides easy access to several local parks, campgrounds, and local businesses and restaurants to explore as you cycle through and around Decorah. Don't forget to check out the famous Decorah eagles while you're in the area! Their nest is near the trout hatchery in Decorah.
Tips: The Decorah Fish Hatchery is an excellent place to begin your journey along the Trout Run Trail and features the second-largest natural spring in Iowa.
7. Fairfield Loop Trail – Fairfield, IA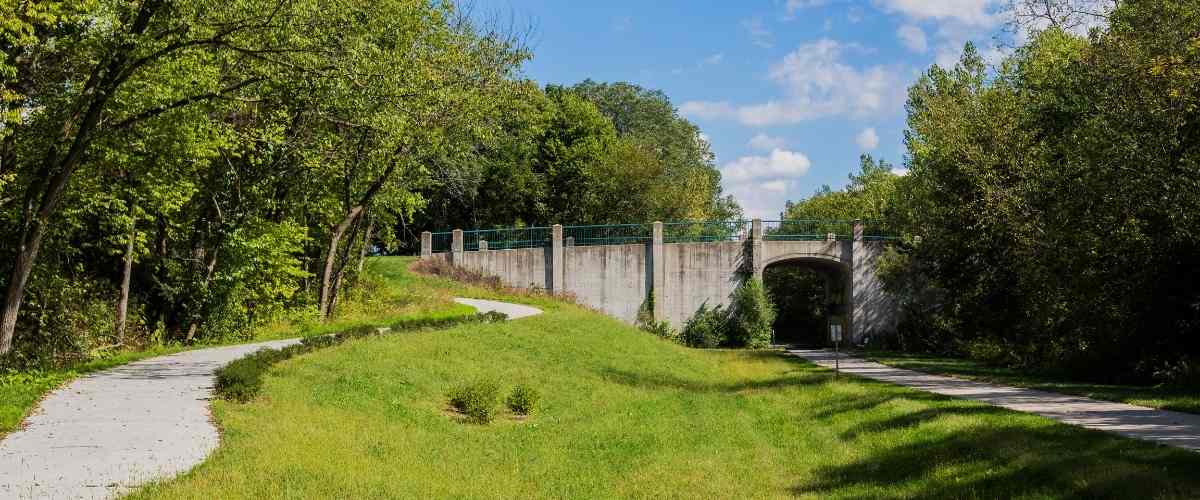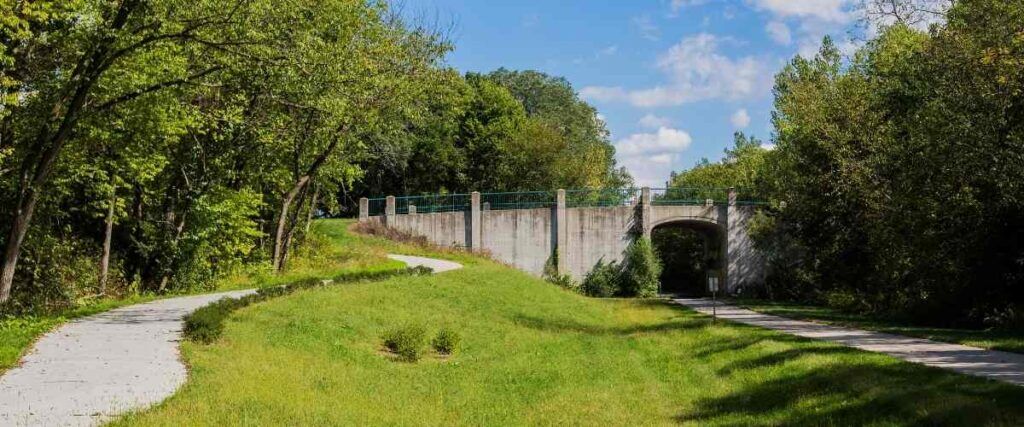 The Fairfield Loop Trail is a 15.9-mile loop around the town of Fairfield, featuring the stunning rural landscapes of the state's southern portion. It passes through several local parks, including Witham Woods, Bonnifield Lake, and Chautauqua Park. It also traverses the area's wetlands and stretches over a few different bridges, including the Louden Bridge, which features a public art display by local students. The trail begins and ends next to the Maasdam Barns next to the Jefferson County Health Center, at Highway 1 and US 34. The Fairfield Loop is highly customizable, allowing you to bike smaller portions of it or the entire loop in one go. If you want more mileage, it also intersects with the Cedar View Trail.
Tips: After your ride, grab a cup of award-winning coffee at the famous Cafe Paradiso, one of the best coffee shops in the state!
8. Sugar Bottom Recreation Area – Solon, IA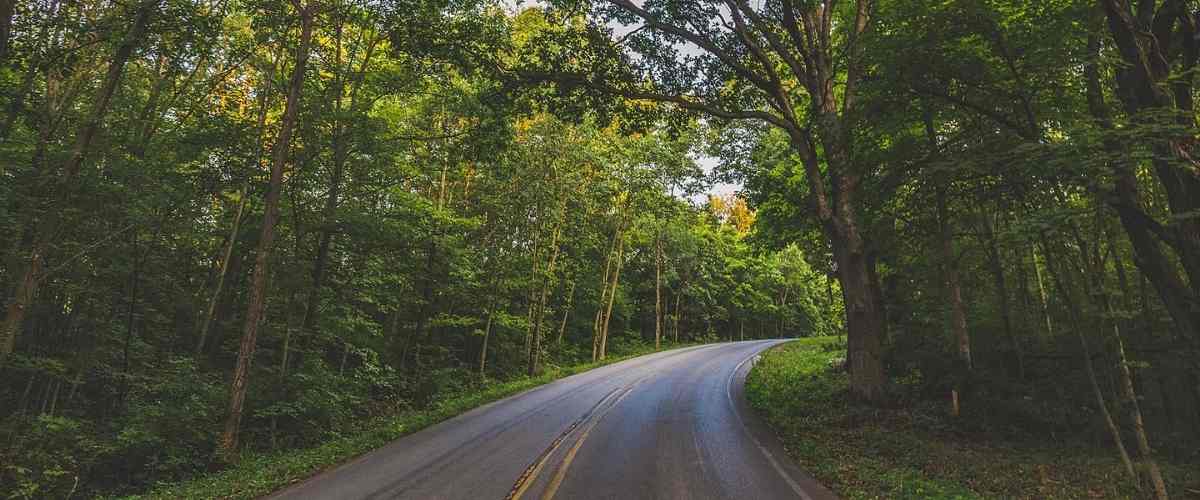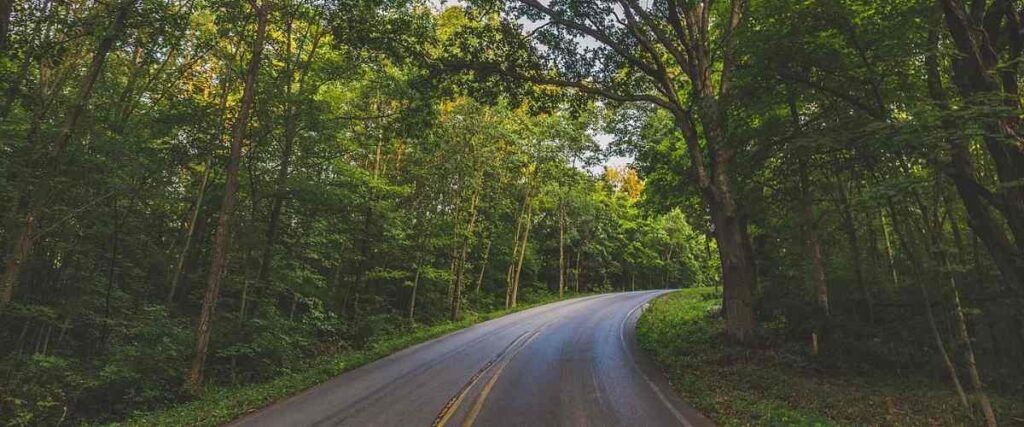 The Sugar Bottom Recreation Area offers some of the best mountain biking trails in the state. It provides about 12 miles of singletrack trails and is known by cyclists to be very fast, fun, and well-maintained by the Iowa Coalition of Off-Road Riders. Cyclists of all experience levels will find something to enjoy at Sugar Bottom, from fast and flowy loops to challenging technical rock gardens. The trails weave in and out of the thick forest and feature fascinating local wildlife, including deer, wild turkeys, owls, and other birds. There's also a designated parking area with public restrooms and vending machines.
Tips: Following the Indian Cave Trail will lead you to a cave where Native Americans lived thousands of years ago.
9. Heritage Trail – Dubuque to Dyersville, IA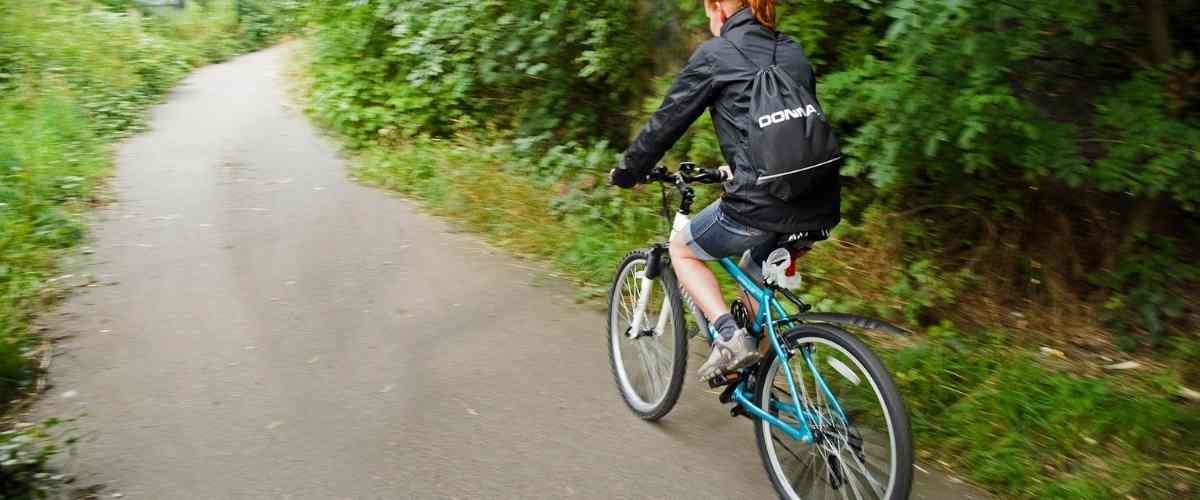 The Heritage Trail is a 30-mile ride that stretches from Dubuque to Dyersville. From its start on the east end of Iowa at the Mississippi River, it takes you through a valley, past several historical sites, old farming, and mining communities, and follows an old railroad line. As you're surrounded by stunning, scenic views of hills, pastures, running creeks, and more, you'll enjoy riding over-restored railroad bridges and through small communities, including Sageville, Durango, Graf, Epworth, and Farley. Near Sageville, you'll only be about two miles south of the 41-acre Little Maquoketa River Mounds Preserve, which is worth a side trip! It's a Native American Cultural landmark. It's home to 32 ancient burial mounds.
Tips: Cyclists ages 12 and older must carry a trail pass to ride on the Heritage Trail. You can purchase one at most trailhead parking lots, local sporting goods stores, and bike shops.
10. Three Rivers Trail – Rolfe to Eagle Grove, IA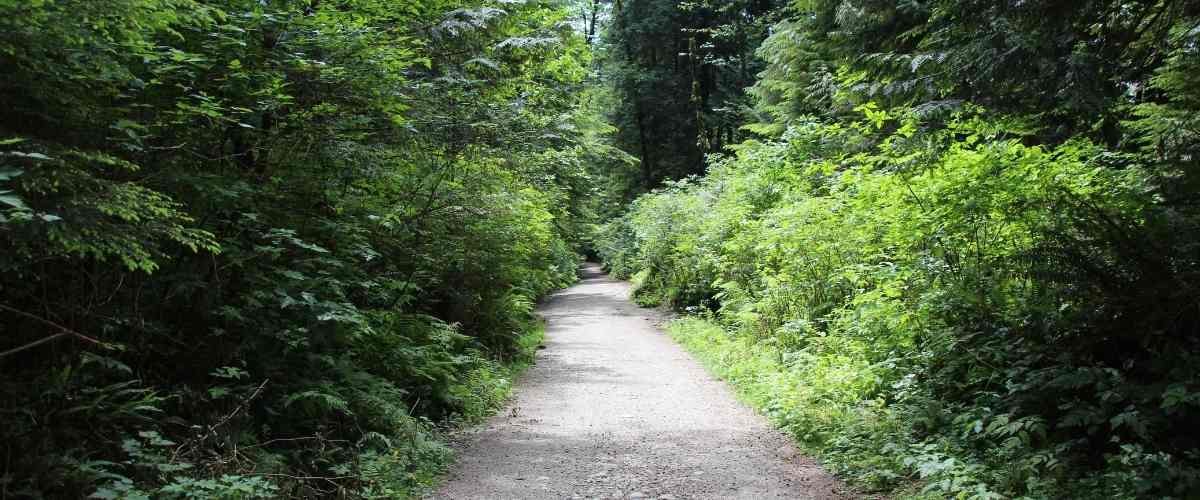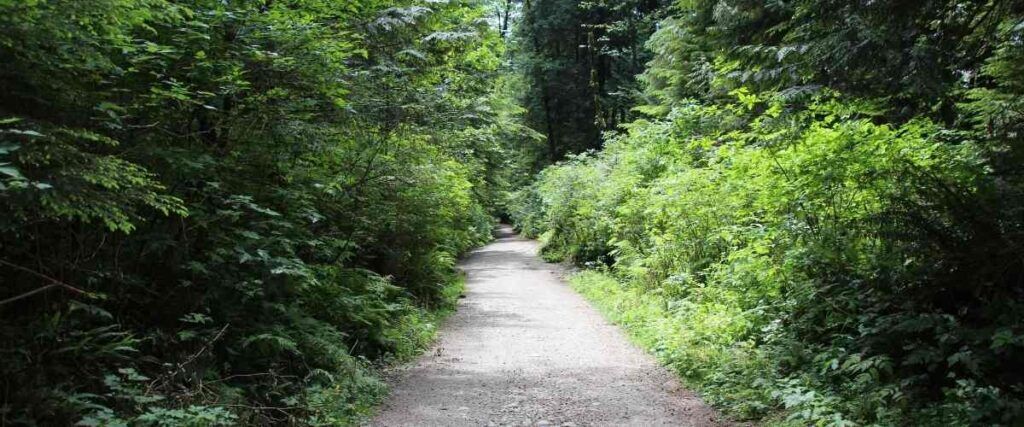 The Three Rivers Trail is a 33-mile trail that runs along the Old Chicago and Northwestern Railroad, passing through scenic woodlands, grasslands, and stunning open prairies. As its name implies, the trail features three river crossings: the west branch of the Des Moines River, the east branch of the Des Moines River, and the Boone River. Along the route, you'll pass many railroad trestles and historic sites, including the marked site of a battle between the Winnebago and Sioux Indians in 1854. The Three Rivers Trail also features a 6-mile spur trail that takes you north to open farmland or south to Frank A. Gotch State Park and campground.
Tips: Some stretches of this trail lack access to food or water, so make sure to bring plenty along with you.
Interested in another state?
Discover the best US places to ride a bike: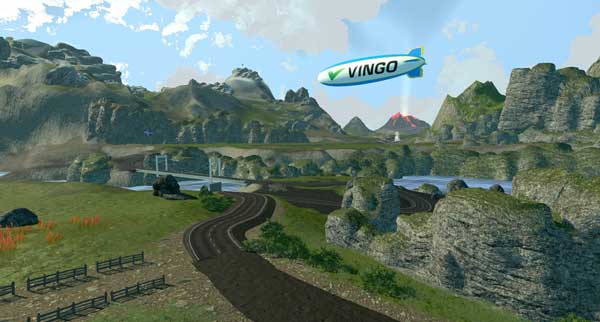 Sources:
Photo Sources: