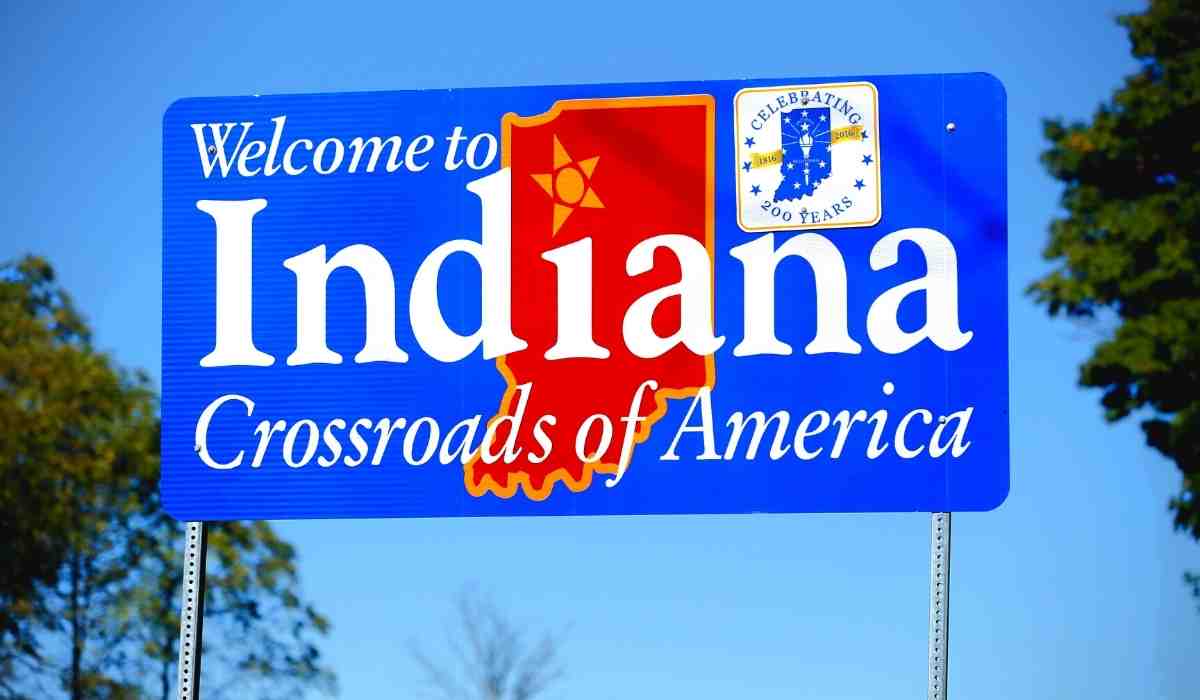 Top 10 Bike Trails in Indiana
Biking through the Hoosier State is one of the best ways to experience its midwestern farmland, the state capital, Amish communities, cultural and historical attractions, and much more. Check out these top 10 highly-rated biking trails and experience the best Indiana has to offer.
1. Indianapolis Cultural Trail – Indianapolis, IN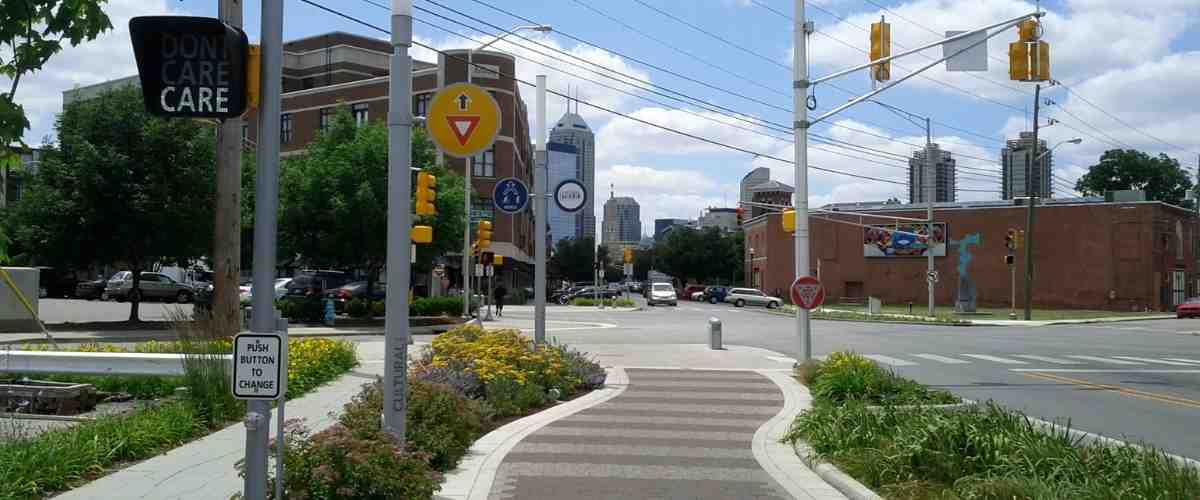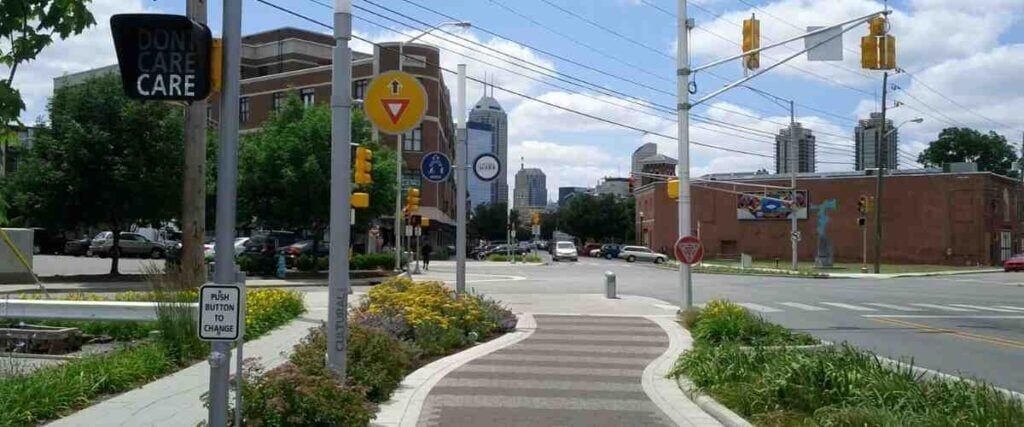 The Indianapolis Cultural Trail is an 8-mile urban greenway that connects the six cultural districts in downtown Indianapolis. Visitors and residents love that this trail is family-friendly and provides a safe and fun way to explore the city and its unique restaurants and attractions.
While you bike the Indianapolis Cultural Trail, you'll learn about its history and enjoy public art displays along the route. If you bike the entire trail, you'll pass exciting attractions like the Phoenix Theatre Cultural Centre, the Stunning Scottish Rite Cathedral, and Veterans Memorial Plaza, among many others. There are also plenty of delicious local eateries where you can stop for lunch or a drink, including Quills Coffee, Asian Harbor, and Downtown Olly's.
You can access the Indianapolis Cultural Trail from several parts of the downtown area, but here's a map to help you plan your ride.
Tips: This route takes you near the Indianapolis City Market, which has been a staple in downtown Indianapolis for many years. You can grab lunch here, play bocce ball, explore the catacombs beneath Whistler Plaza, or visit Bicycle Garage Indy (BGI), a full-service bicycle shop offering accessories, repairs, and bike rentals.
2. The Cardinal Greenway – Marion to Richmond, IN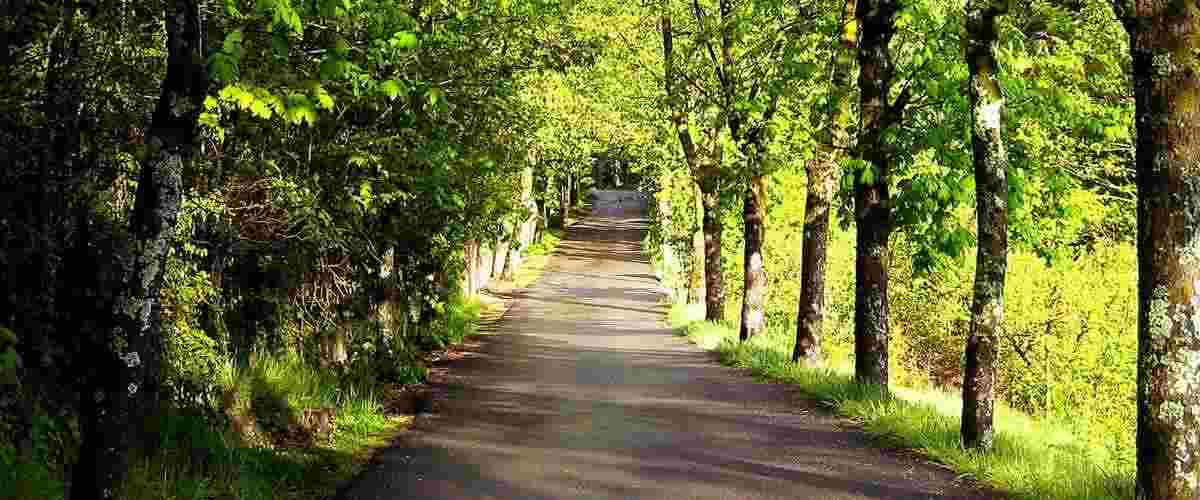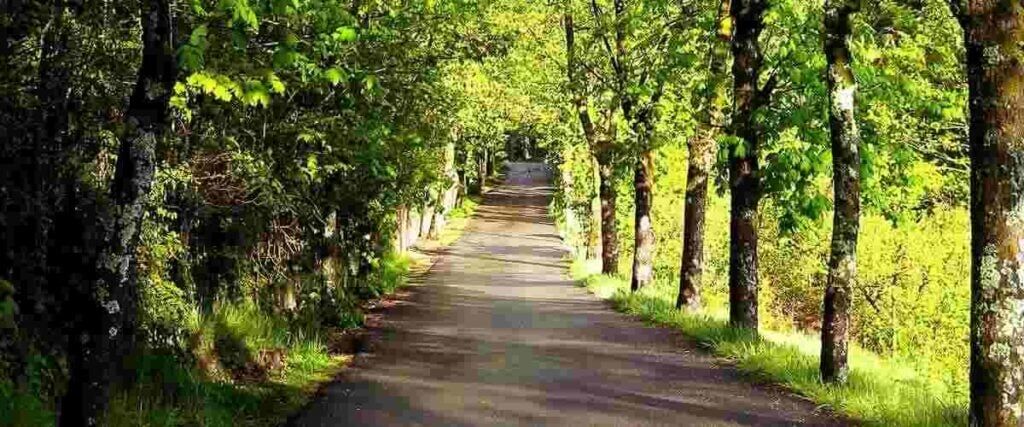 The Cardinal Greenway is a part of the Great American Rail Trail and gets its name from a passenger train called the Cardinal that used to run the same route. As the longest rail-trail in Indiana, it stretches about 62 miles through Delaware, Grant, Henry, Randolph, and Wayne counties.
Known for easy and scenic riding, the Cardinal Greenway features primarily flat terrain and an asphalt surface with few traffic crossings. The scenery is mostly rural farmland, although you will also pass through the city of Muncie, Indiana. The greenway takes you over nine bridges, including a few that overlook the Mississinewa River, the White River, and the East Fork Whitewater River. Sections of the route also feature vibrant-colored wildflowers during the spring and summer.
This map can help you plan your ride on the Cardinal Greenway, as there are many access points along the route.
Tips: The Cardinal Greenway also connects to the 3.5-mile Whitewater Gorge Trail. If you venture off the main path by foot, you'll get to experience vertical cliffs and waterfalls in the area.
3. Pumpkinvine Nature Trail – Goshen, IN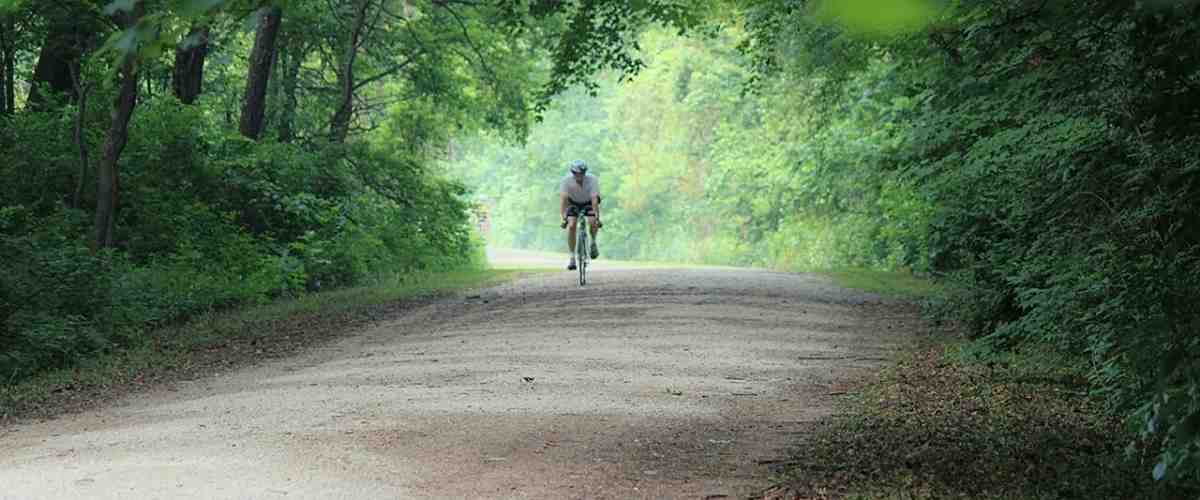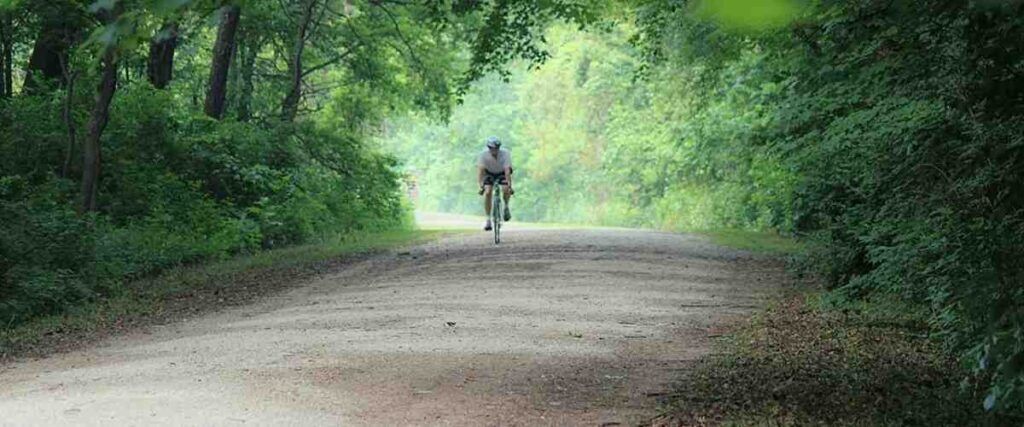 The Pumpkinvine Nature Trail is a curvy and beautiful route that connects several communities in the Michiana area. The more than 17-mile route features rolling hills dotted by farmland and fields, offering a scenic and enjoyable ride for cyclists of all skill levels.
Open dawn to dusk year-round, the Pumpkinvine Nature Trail is a favorite among Indiana visitors and residents. It's a linear park and greenway along the former Pumpkinvine railroad corridor that's primarily asphalt, with some areas of packed limestone surfaces. As you bike, you'll travel through urban areas, agricultural communities, and charming small towns, with beautiful tree-lined corridors that change colors in the fall. You'll also enjoy glimpses into Indiana's large Amish communities in Goshen, Middlebury, and Shipshewana.
This trail starts in downtown Goshen, Indiana, close to the existing active rail line. The historic downtown district is also home to plenty of restaurants, bars, shops, and frequent local festivals, which you can enjoy before or after your ride.
Tips: The Pumpkinvine Nature Trail connects to the 3.2-mile Wilden Avenue Trail. If you extend your ride for the entirety of that trail, you'll reach the MapleHeart Trail, which you can follow to Elkhart if you want to continue your journey.
4. Brown County State Park – Nashville, IN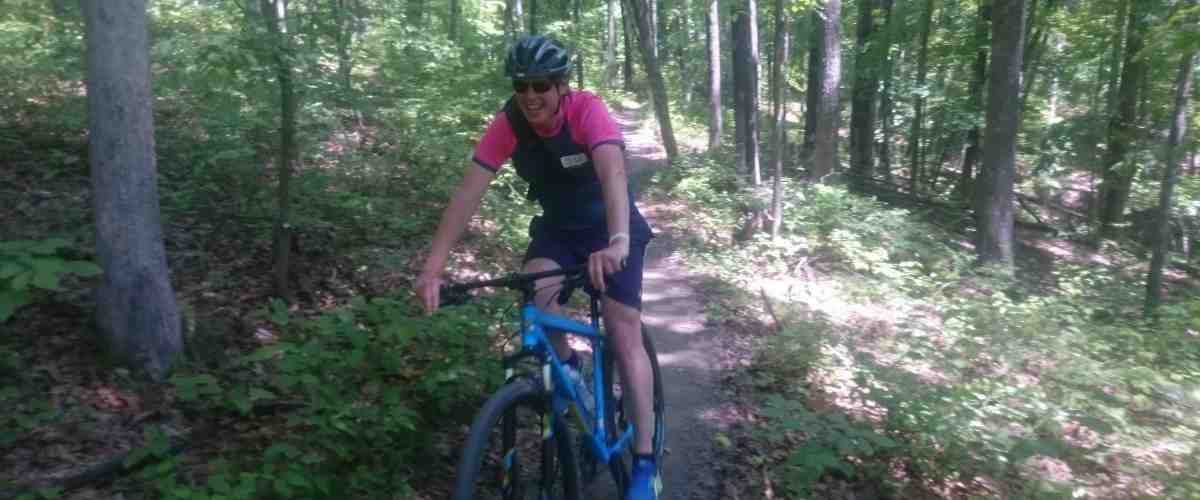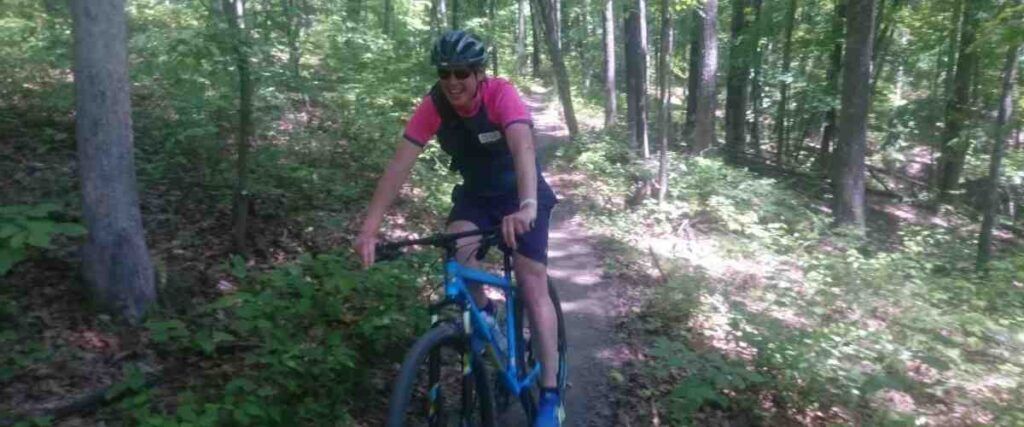 Brown County State Park offers about 30 miles of mountain biking trails suitable for experts and beginners. Bikers from all over the country head here to enjoy the trails, which boast glacier-carved hills, ravines, and ridges that offer fantastic riding opportunities.
The mountain biking trails at Brown County State Park have about 400 feet of elevation change and plenty of exciting challenges in store for bikers. If you're a beginner, try the Pine Loop (1.2 miles) or the North Gate Trail (1.2 miles). More experienced cyclists will enjoy the Schooner Trace trail (4.1 miles) or Hobbs Hollow (5.2 miles). With camping and lodging close to the trails, you can easily spend several days exploring the biking routes out in this state park.
There are several gate entrances to the park, and you'll need to pay a small daily gate fee to access the trails. Here's an information sheet with all the details and directions.
Tips: Bikers may ride these trails at night until 11 p.m. when the park closes. Even if you're familiar with Brown County State Park's trail network, biking them in the dark can make them feel brand new!
5. Nickel Plate Trail – Rochester to Peru, IN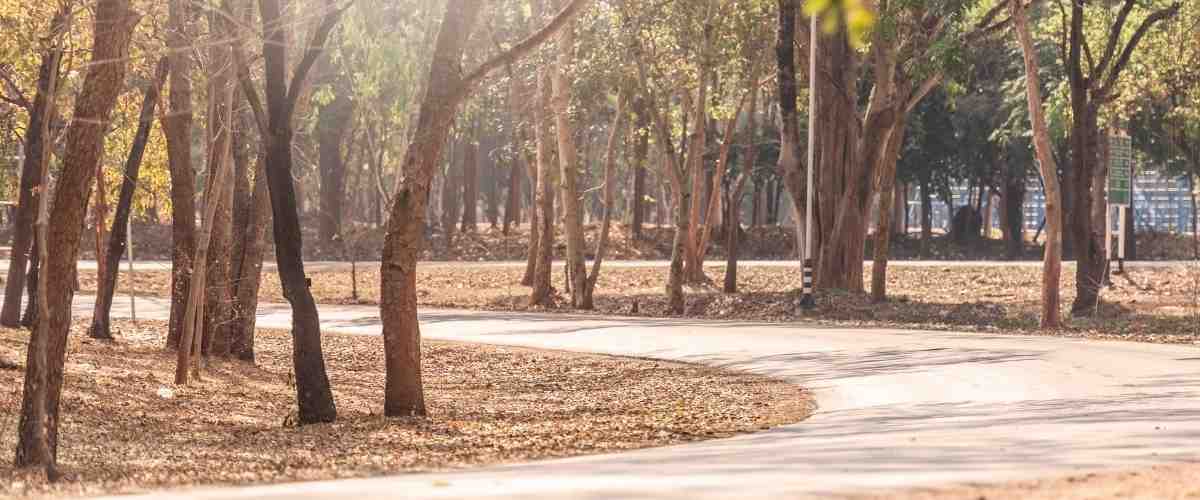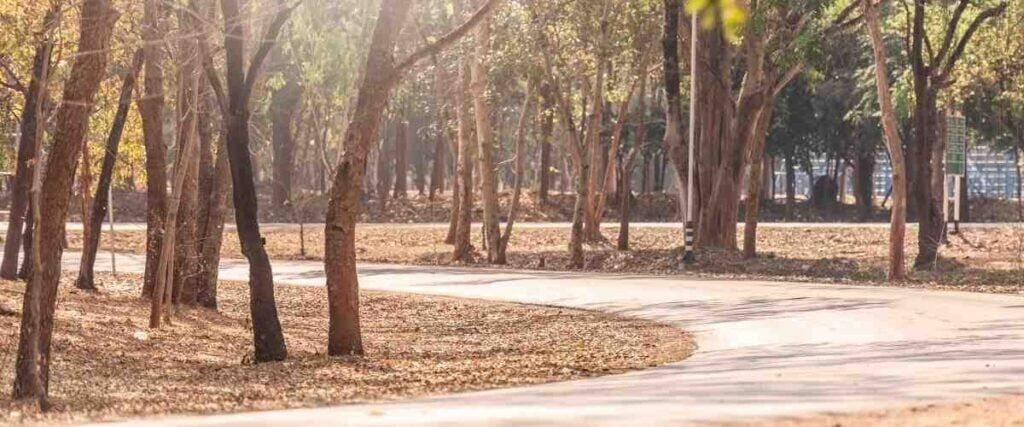 The Nickel Plate Trail runs about 37 miles from Rochester to Kokomo, with a short gap in the middle in the town of Peru. With very little traffic throughout the entire trail and a moderately easy ride on an asphalt surface, this route is great for beginners, advanced riders, and families.
The Nickel Plate Trail primarily carves its way through forested corridors that turn beautiful shades of orange, red, and yellow in the fall, open farmland, and small-town neighborhoods in Northern Indiana. Shortly after you bike through Peru, you'll cross over a historic trestle bridge that stretches over the Wabash River and continue through the communities of Bunker Hill, Miami, and Cassville. This section of the ride is mainly through dense forest and wetlands, featuring plenty of calming water views and local wildlife.
Several parking lots along the route make it easy to access the trail from multiple areas, whether you bike the entire thing or enjoy just a portion of it.
Tips: There are also several fascinating historical attractions along this route, including the International Circus Hall of Fame in Peru, Grissom Air Museum in Bunker Hill, and the Kokomo Automotive Museum and Elwood Haynes Museum in Kokomo.
6. Buffalo Trace Mountain Bike Trail – Bloomington, IN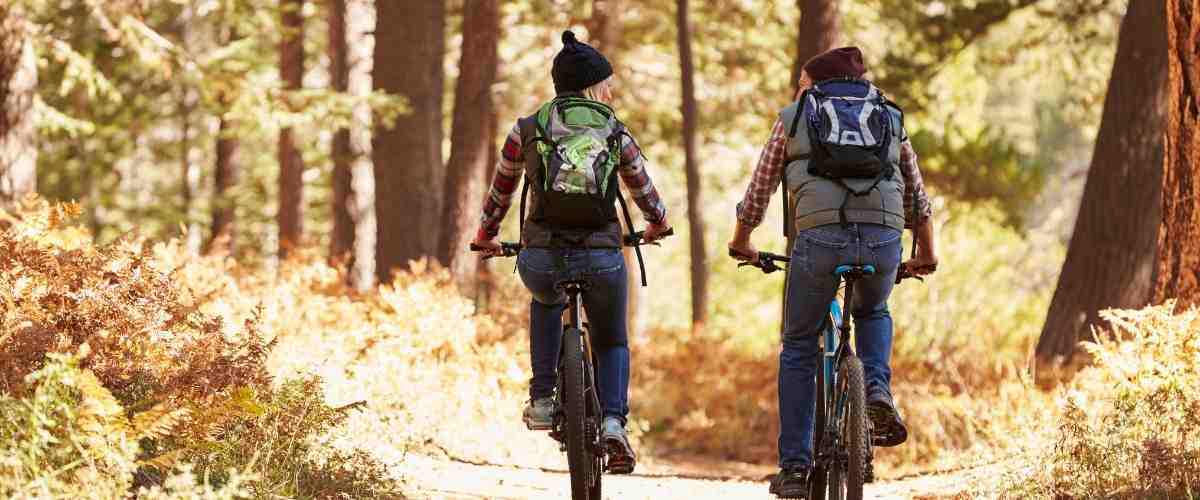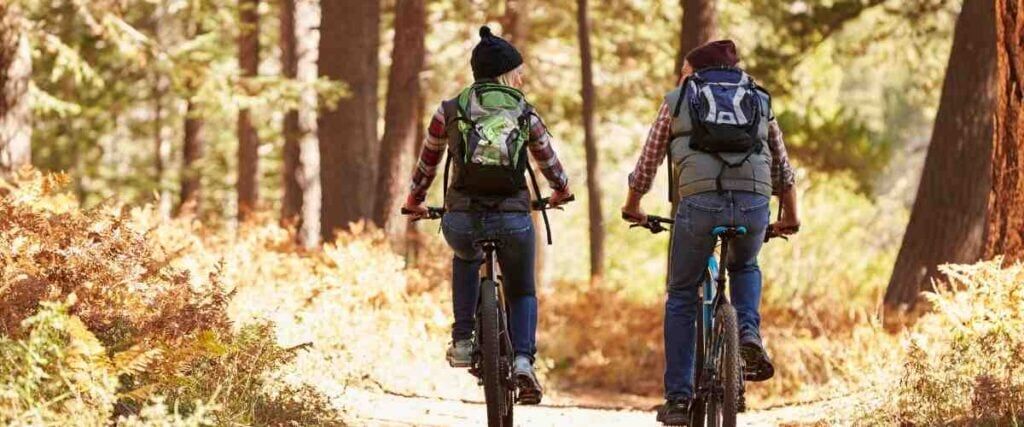 Buffalo Trace Mountain Bike Trail is a fun and beginner-friendly mountain biking route in Indiana. Featuring about 5 miles of singletrack trail, it's challenging enough to still be enjoyable for seasoned riders, but beginners love it too.
This adventurous bike route is located on 3,200 scenic acres at the beautiful French Lick Resort in French Lick, Indiana. It takes you on a steady but easy climb up the loop and past the top of the west side of Mt. Airie before you head down a fast and flowing descent to the trailhead on West Country Road 25 South. The average grade on this trail is less than 5%, so although it offers a pretty good climb, it's not too taxing for beginners, and more experienced riders can get great speed on the descent.
Head to the trail by entering the French Lick Resort property and checking in at the rider registration desk inside the golf pro shop. The resort also offers bike rentals.
Tips: The French Lick Resort is a beautiful and historic landmark worth a weekend stay! Consider booking a visit and exploring the resort, which is home to a casino, live music and entertainment, historical tours, bowling lanes, a shooting range, and much more.
7. Panhandle Pathway – Winamac to Kenneth, IN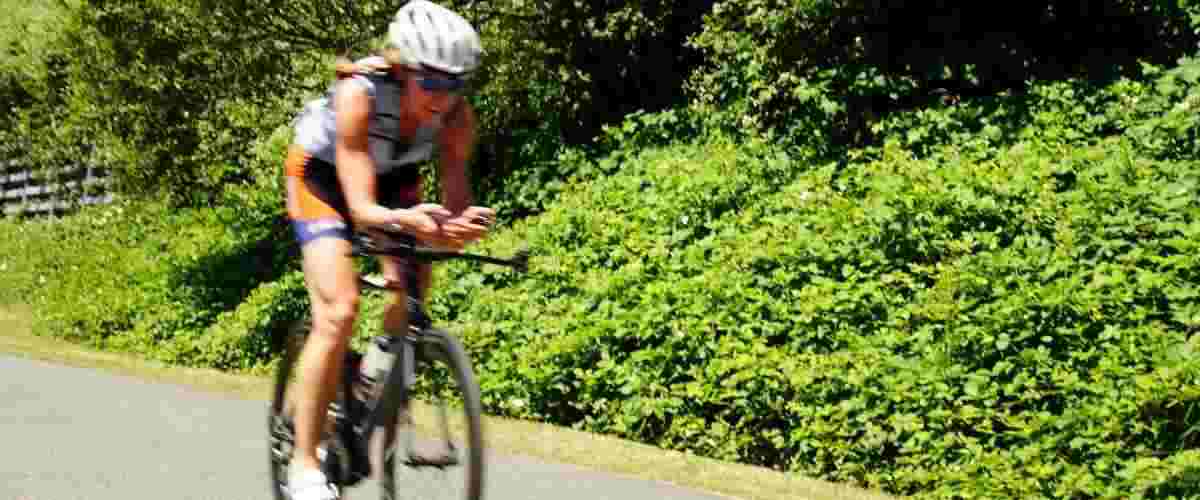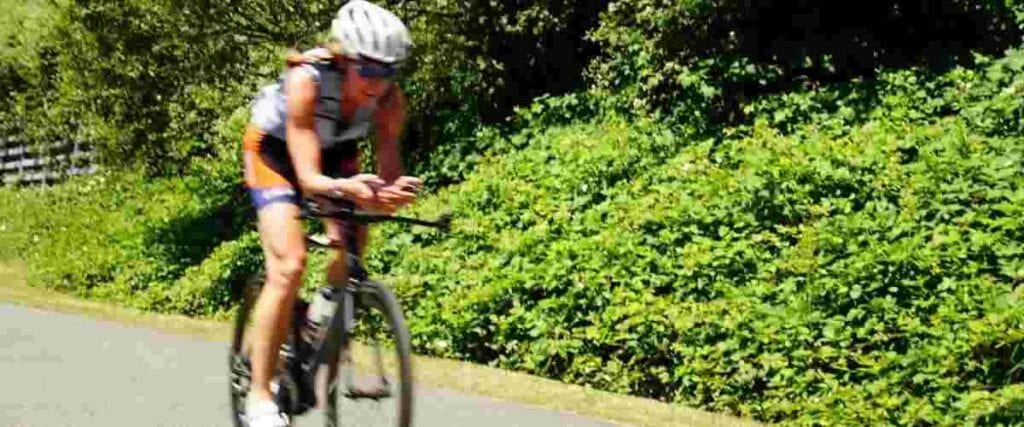 The Panhandle Pathway is a 22-mile rail-trail that meanders through Pulaski and Cass Counties in Indiana. It's a well-maintained and paved path that links the small communities of Winamac, Star City, Thornhope, Royal Center, and Kenneth, featuring abundant wildlife and plant life along the way.
While biking the Panhandle Pathway, you'll enjoy the sights and sounds of midwestern farmland, dotted with barns and silos. Just over a mile past the Winamac trailhead, you'll reach a long concrete bridge that offers picturesque views of the Tippecanoe River. Further down the route, the bike path also crosses both Little Indian Creek and Crooked Creek, so you can anticipate some peaceful views of the running water. Don't forget to check out the interpretive signs along the trail, which tell the story of the region's history.
Whether you want to bike the entirety of the Panhandle Pathway or just a portion of it, you can pick up the trail at the following trailheads:
Winamac Depot in Winamac
CR 150 S in Winamac
Key Street in Star City
Kramer Street in Royal Center
CR 50 near Kenneth
Tips: This route also has bathrooms, benches, and picnic tables, making it easy and convenient to stop for a lunch break or to rest.
8. DePauw Creekside and Quarry Trails – Greencastle, IN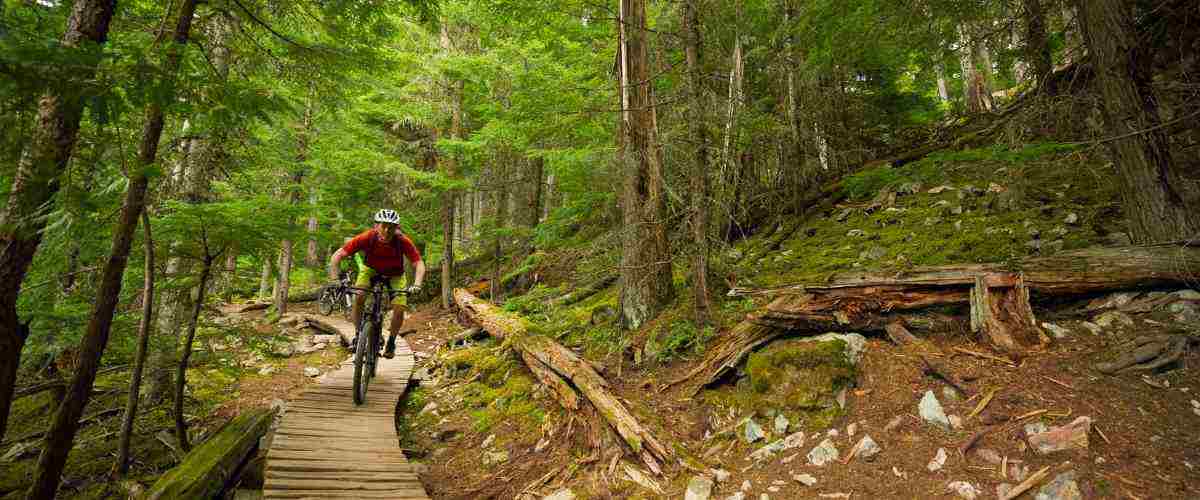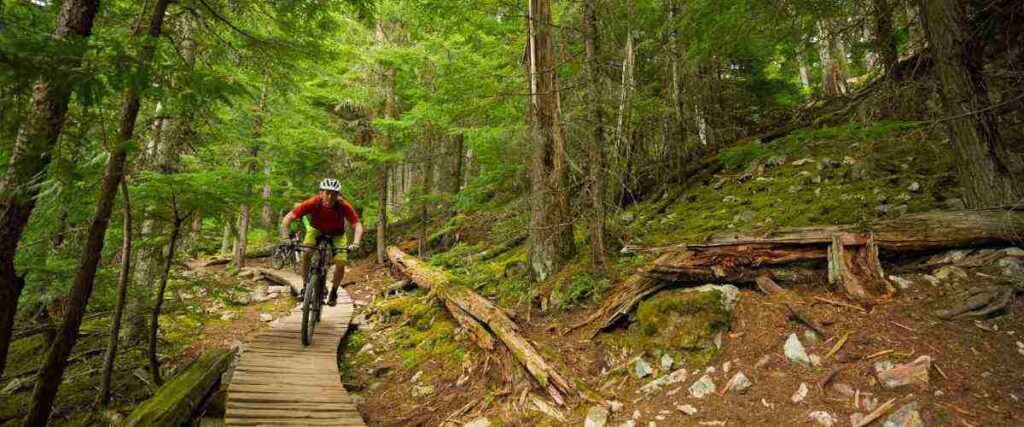 The DePauw Creekside and Quarry Trails are in the beautiful DePauw Nature Park, near downtown Greencastle. The park features 520 acres of forest, an abandoned limestone quarry, and more than eight miles of hiking and biking trails for visitors to explore.
There are several different hiking and biking trails in the park, but the Creekside Trails (1.7 miles) and Quarry Trails (1.2 miles) are some that come highly recommended. While there are some steep sections, most of the trails here are a gentle grade of 5% or less, and the path surfaces are either gravel or natural (dirt or rocks).
The DePauw Nature Park is open every day, but the hours vary depending on the season. To get to the park from downtown Greencastle, head south on Jackson Street and turn right onto West Walnut Street (going west). In about 0.6 miles, the driveway to the nature park will be on your left.
Tips: The DePauw Nature Park also offers amenities like workshops, guided hikes, a sheltered picnic area, and primitive camping.
9. Monon Trail – Carmel to Sheridan, IN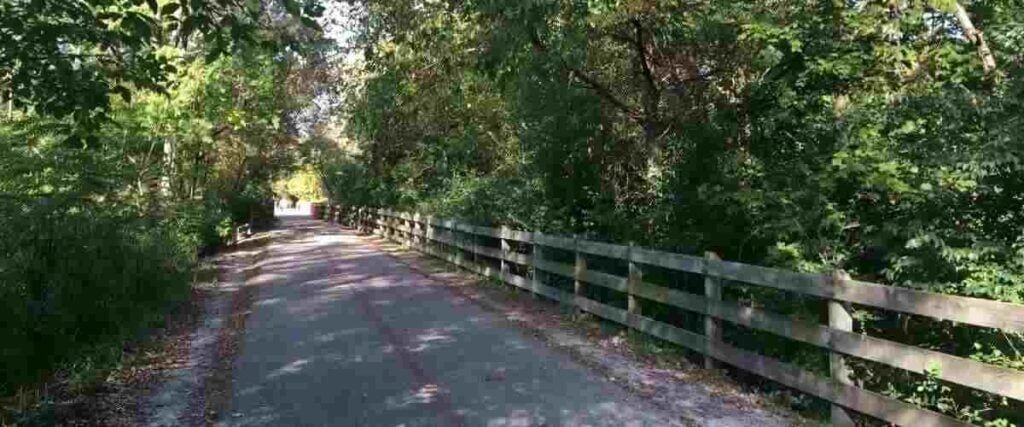 The impressive Monon Trail is a well-loved rail-trail that stretches 25 miles through central Indiana, connecting Carmel to Sheridan and several other communities along the way. This route is recognized by the "Rail Trail Hall of Fame" and is part of USBR35, an official bike interstate that spans Michigan, Indiana, and Kentucky.
Biking the Monon Trail is a fantastic urban biking adventure featuring plenty of arts, culture, and tourist attractions to explore along the route. The path is paved and moderately easy, with tunnels, bridges, forested corridors, and riverside views galore. It also offers access to some of the area's best attractions and communities, like the Broad Ripple Cultural District, downtown Indianapolis, the Grand Park Sports Complex in Westfield, and more.
There are plenty of places to park and hop right onto the Monon Trail, but this map provides details on some of the best parking areas. Many of the parking areas have bathrooms and other convenient amenities.
Tips: Expand your adventure by hopping on one of the following trails, which are easily accessible from the Monon Trail:
Midland Trace Trail
Natalie Wheeler Trail
Central Canal Towpath
Fall Creek Trail
Pogues Run Trail
Indianapolis Cultural Trail
10. B-Line Trail – Bloomington, IN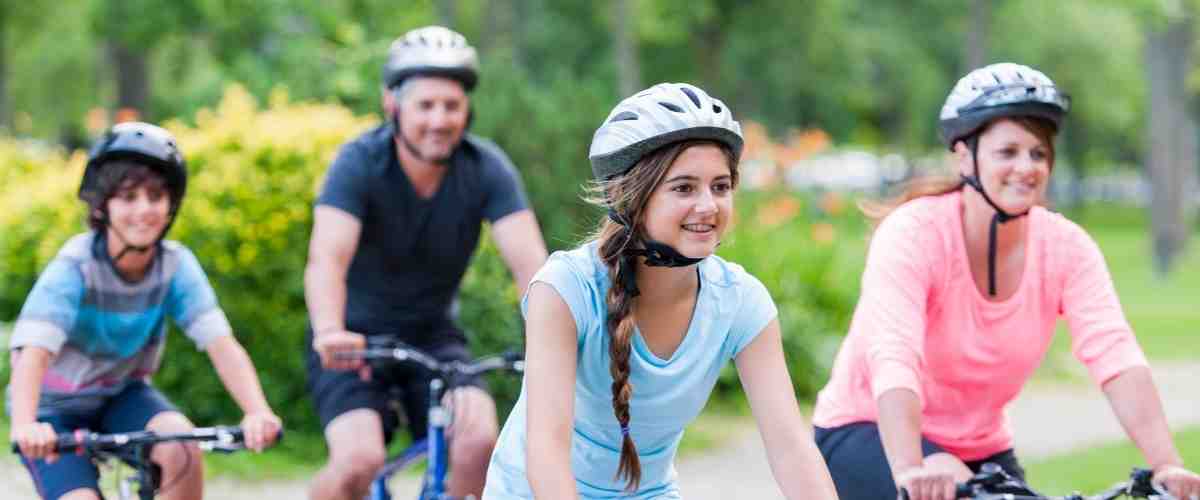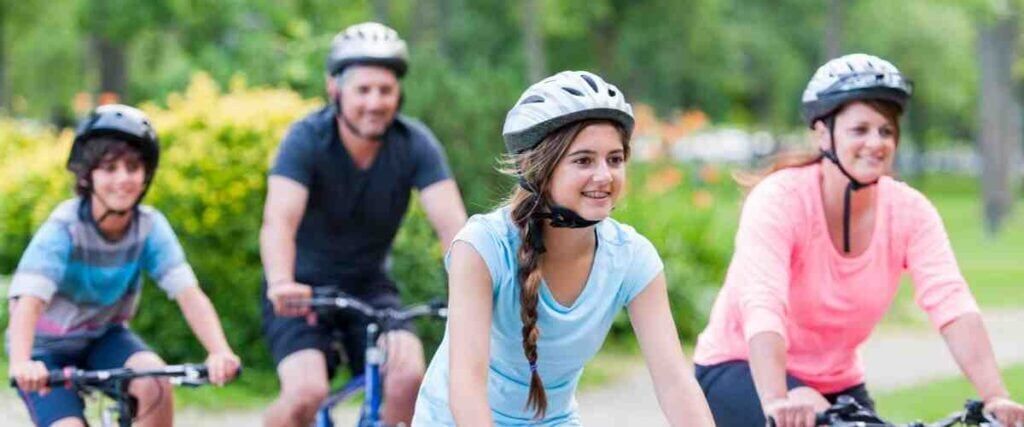 The B-Line Trail is a 3-mile trail in Bloomington, a college town home to Indiana University. Even though it makes for a short bike ride, students, visitors, and residents love this trail, and it's very well-maintained, offering an enjoyable biking experience every time.
The B-Line Trail meanders through downtown Bloomington, featuring amenities like benches, drinking fountains, a pet water bowl, public art, and LED lights for night bike rides or walks on the path. The university also sponsors a few fitness stations along the route, making it easy to stop and switch up your workout after your bike ride.
The best place to park for trail access is on Fairview Street at Rev. Ernest D. Butler Park (812 W. 9th Street, Bloomington, IN 47404).
Tips: Extend your ride by following the B-Line Trail to the Bloomington Rail Trail and the Clear Creek Trail afterward. Combining the three routes provides a continuous 7.4-mile bike ride.
Interested in another state?
Discover the best US places to ride a bike: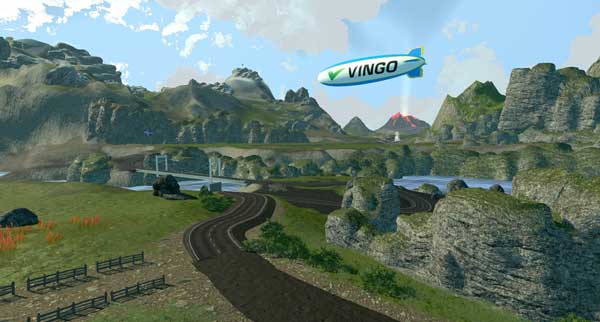 References:
Photo Sources:
Eric Fischer, CC BY 2.0, via Wikimedia Commons
Bbeachy2001, CC BY-SA 3.0, via Wikimedia Commons
jwbruijn, CC BY 2.0, via Wikimedia Commons
Eric Fischer, CC BY 2.0, via Wikimedia Commons