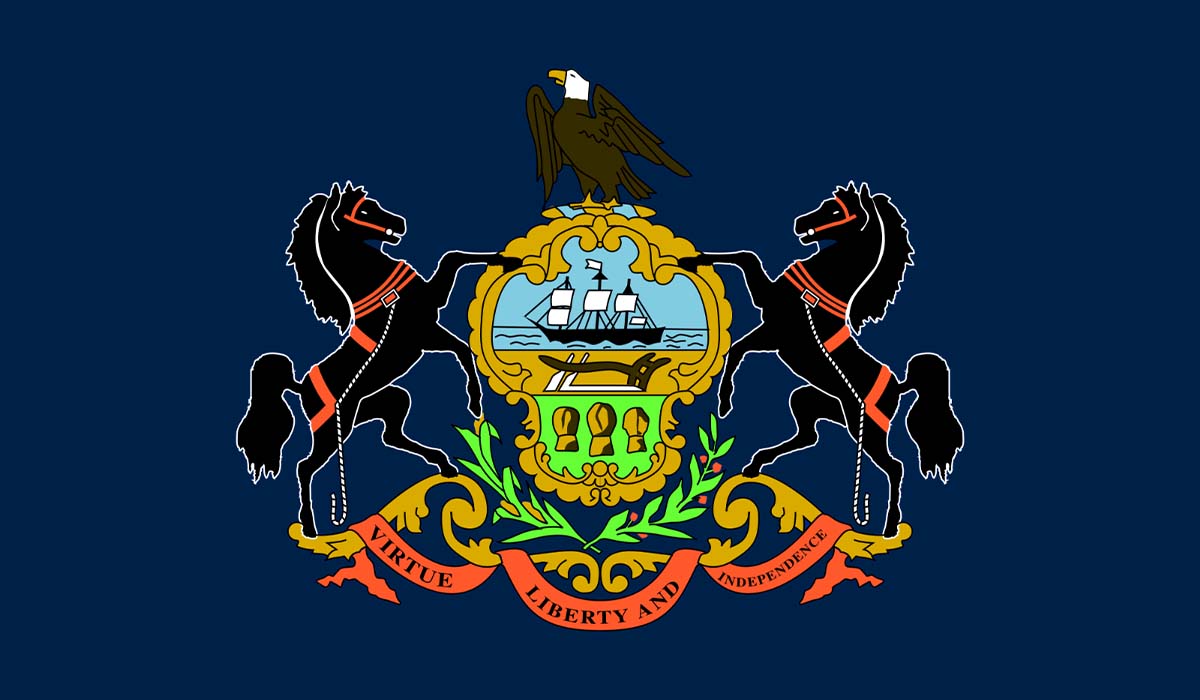 Top 10 Bike Trails In Pennsylvania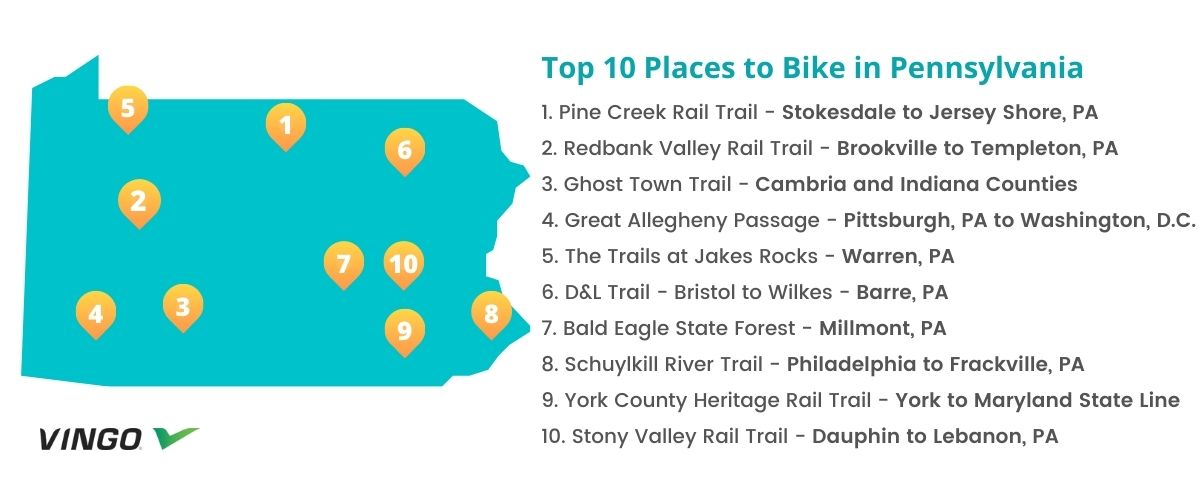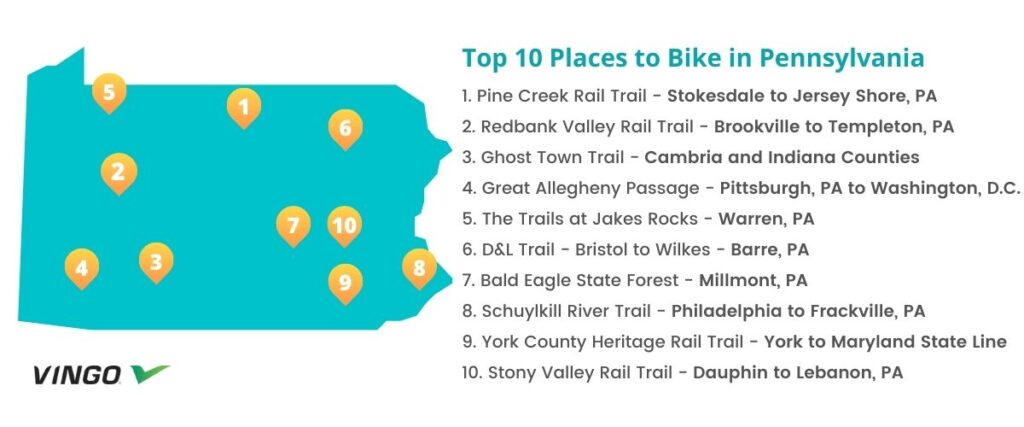 The state of Pennsylvania is a cyclist's heaven, with plenty of gorgeous views, stunning landscapes, incredible historic landmarks, and thousands of miles of trails to explore. If you're ready to bike Pennsylvania, here are 10 of the best trails to check out.
1. Pine Creek Rail Trail – Stokesdale to Jersey Shore, PA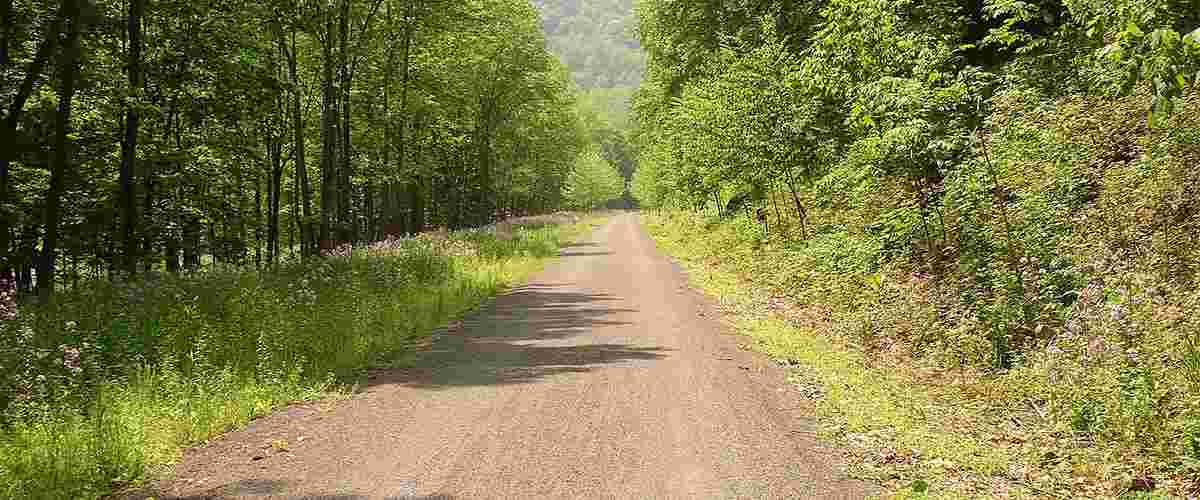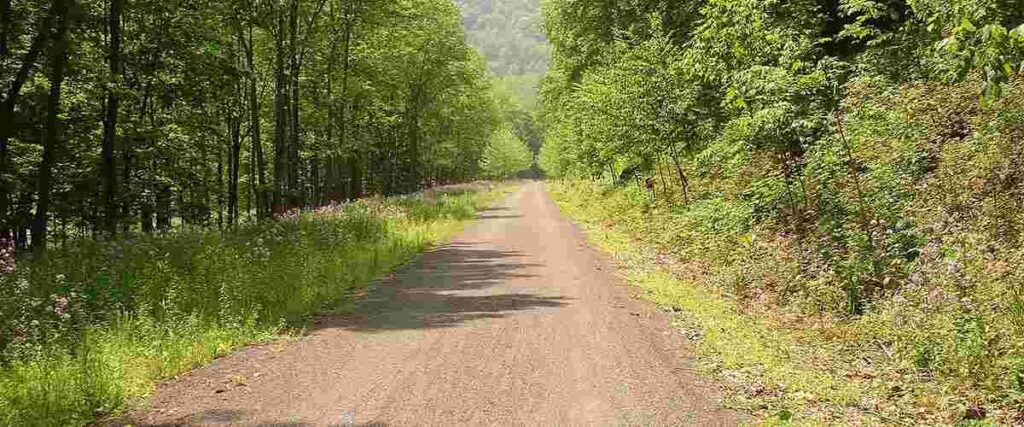 The Pine Creek Rail Trail was named one of the "10 Best Places to Take a Bike Tour" by USA Today, and it lives up to its reputation. This bike route runs right through the Pine Creek Gorge, or the "Grand Canyon of Pennsylvania," encompassing 62 miles of beautiful scenery.
Once used by trains, this route features a hard-packed stone surface, making it an easy and enjoyable ride. With a slight grade of about 2%, it's perfect for cyclists of all experience levels and promises breathtaking scenery any time of the year.
Several different parking areas for the Pine Creek Rail Trail are listed here on the Pine Creek Valley website.
Tips: Cyclists recommend bringing a mountain bike or a bike with wide tires, as they will fare best on the packed fine gravel surface. Dogs are also allowed on the trail, but you must keep them leashed at all times.
2. Redbank Valley Rail Trail – Brookville to Templeton, PA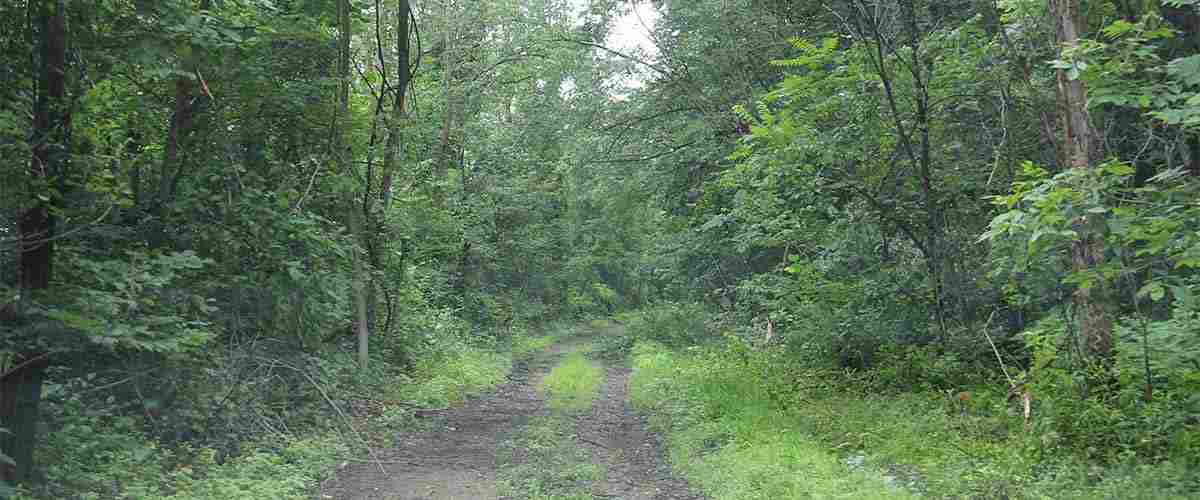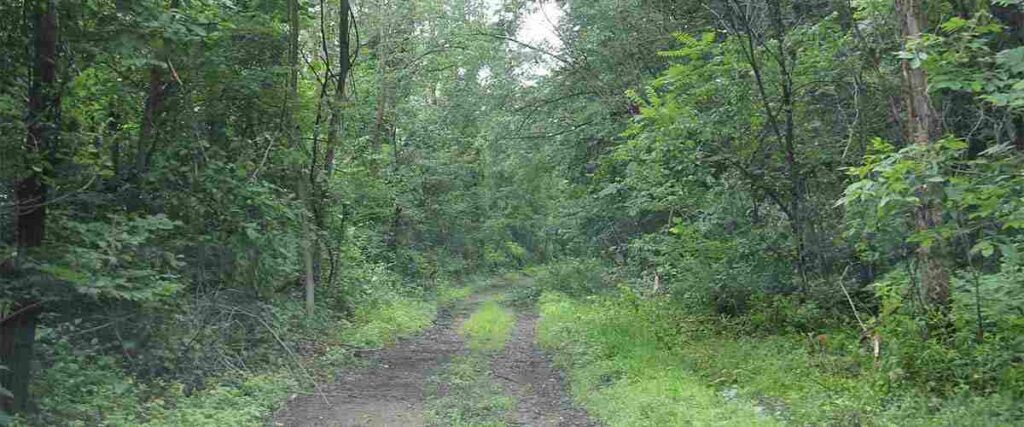 The Redbank Valley Rail Trail offers 51 miles of scenic cycling, with most of the route parallelling the Red Bank Creek. This rail trail was Pennsylvania's first-ever "Trail of the Year" in 2014, designated for its scenic beauty, connection to other trail systems, the efficient pace of development, and the countless hours of work put forth by volunteers to develop it.
This packed crushed limestone trail passes through primarily natural areas over many bridges and stone arches. In fact, in addition to its 27 bridges, the Redbank Valley Rail Trail also winds through three former train tunnels! If you want more adventure after completing the 51-mile ride, the Redbank Valley Rail Trail connects to the Armstrong Trail, which then continues with the Erie and Pittsburgh Trail Alliance routes, as well as the Great Allegheny Passage.
You can use one of four different trailheads listed here to access this trail.
Tips: Consider bringing a light to brighten your way as you pass through the tunnels on this trail. The Redbank Valley Trails Association's Facebook page also posts regular updates on the trail's condition if you want to check before you head out for a ride.
3. Ghost Town Trail – Cambria and Indiana Counties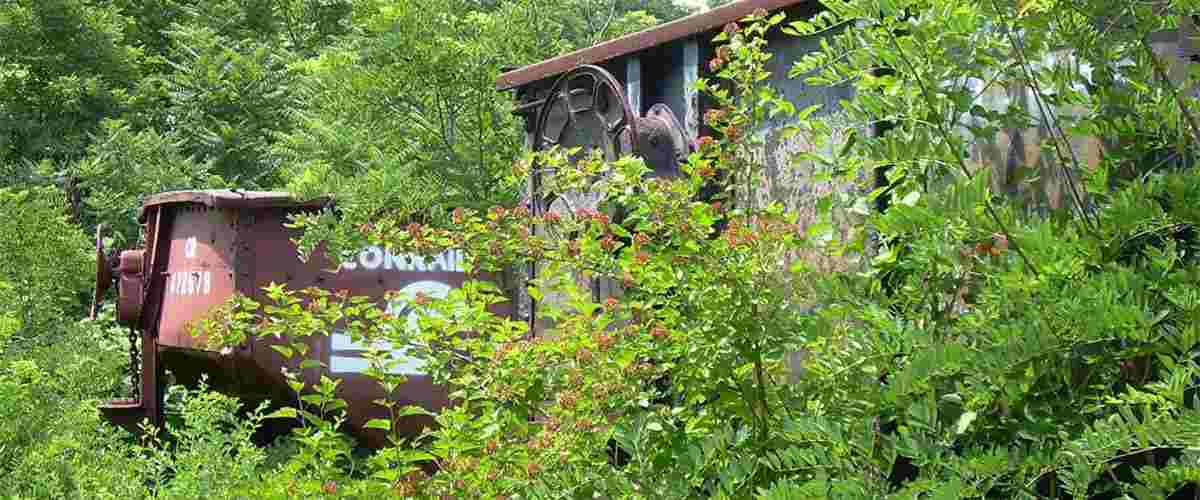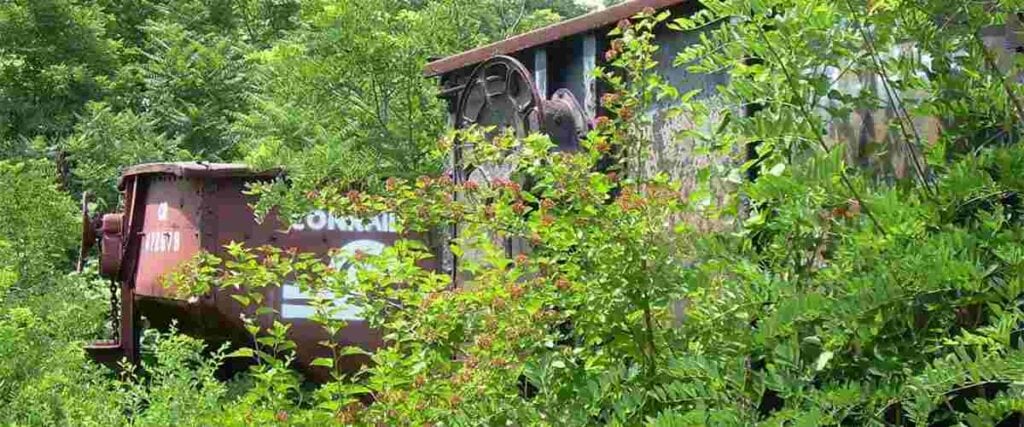 The incredible 46-mile Ghost Town Trail was Pennsylvania's 2020 Trail of the Year and got its name from the deserted coal mine communities along the route. It's also a federally designated National Recreation Trail, which are some of the nation's highest-caliber trails.
The Ghost Town Trail features an abundance of natural beauty in the Blacklick Creek Valley, including gorgeous wildflowers, mountain streams, and floodplain forests. Not to mention irresistibly captivating old coal mines and abandoned coal mining towns. With gentle inclines of less than a 3% grade and a rich industrial history, this trail is well worth a trip to Pennsylvania to experience.
You can access the Ghost Town Trail via one of eight trailheads. The GPS coordinates for each trailhead are listed here.
Tips: Instead of starting at the eastern trailhead and riding downhill, gear up and ride the gradual incline up to Ebensburg (the largest town along the route), where you'll have plenty of dining and brewery options after your ride. Bikers have also spotted black bears crossing this trail, so watch out!
4. Great Allegheny Passage – Pittsburgh, PA to Washington, D.C.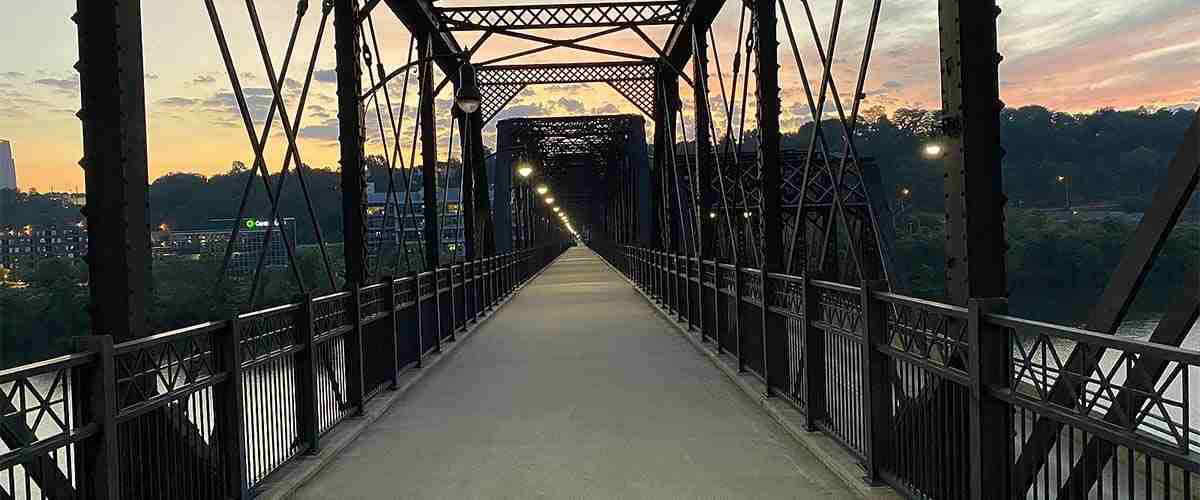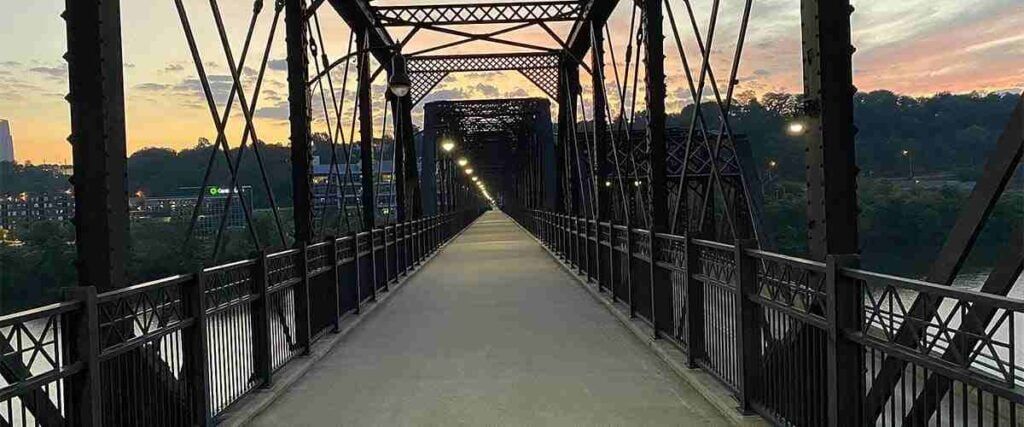 The Great Allegheny Passage (GAP) is a 150-mile rail trail and the fourth-longest rail-trail in the United States. It runs from downtown Pittsburgh to Cumberland, Maryland, and has a 185-mile extension that runs to Washington, D.C.
About 130 miles of the Great Allegheny Passage stretch through Pennsylvania, offering gorgeous views of the state's southwestern portion and western Maryland. Whether you choose to complete the ride in a few short days or you take it slow and enjoy a longer ride, you'll pass through some of the most incredible lands in the state, Pennsylvania's deepest gorge, fourteen major bridges, and countless beautiful vistas.
There are dozens of places to park and start your ride along the Great Allegheny Passage. Visit the GAP trail website for a complete list of parking areas and lodging options along the way.
Tips: This is a very long ride, so you'll want to plan before you head out. Get a TrailGuide to plan out your stops in advance as well as your overnight lodging.
5. The Trails at Jakes Rocks – Warren, PA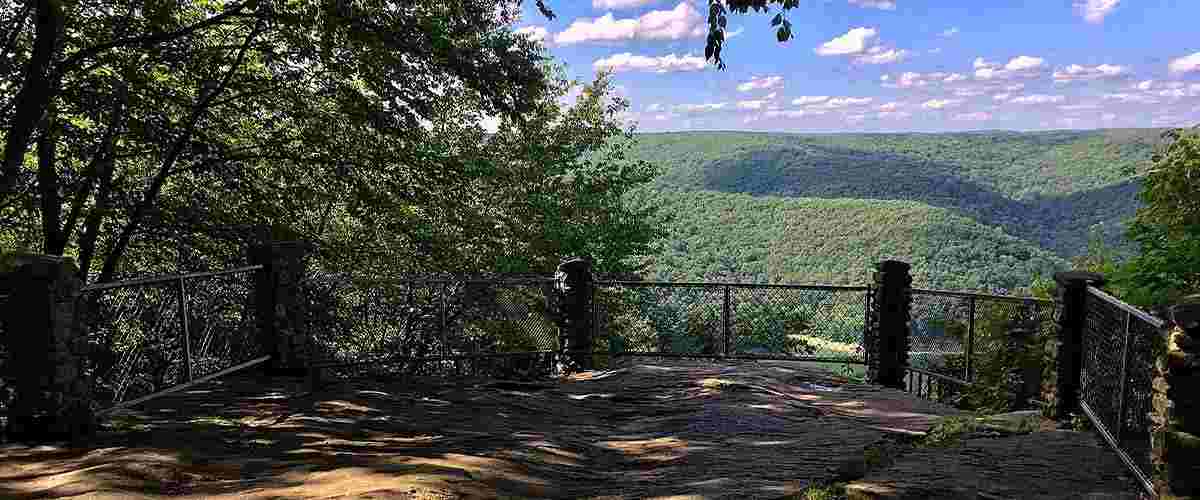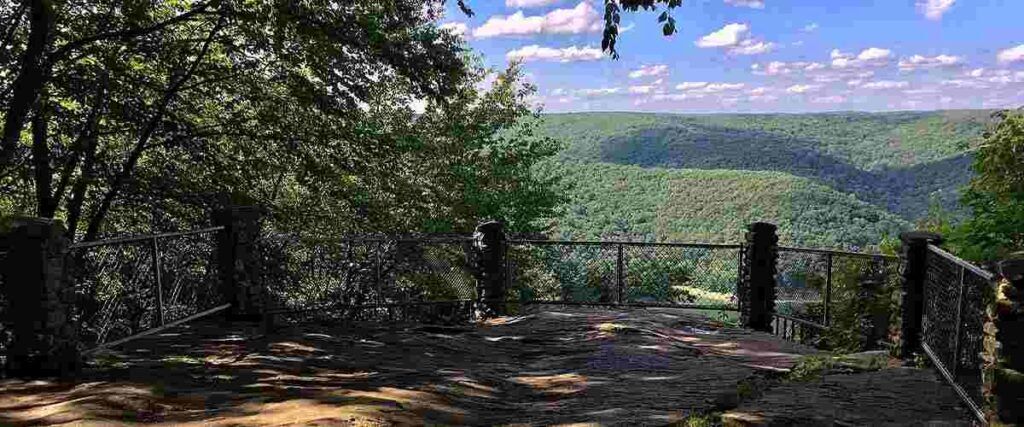 The Trails at Jakes Rocks is a premier system of mountain biking trails popular with cyclists of all levels and gives them the chance to explore a beautiful area of northern Pennsylvania.
Offering some of the best views of Jackson Bay on the Allegheny Reservoir, Kinzua Dam, and the surrounding forest, the Trails at Jakes Rocks have more than 30 miles of adventure biking trails. The loop is entirely smooth and fast singletrack and winds through massive natural boulders and thick, scenic forested landscape for a beautiful and thrilling ride.
These mountain biking trails are located off the Longhouse National Scenic Byway in the Allegheny National Forest. To get there, head to Forest Road 610 Warren, PA 16365 and enjoy the ride!
Tips: While you're in the area, make sure to check out the Kinzua Dam, one of the largest dams in the U.S. east of the Mississippi River. It's just a 14-minute drive from the Trails at Jakes Rocks.
6. D&L Trail – Bristol to Wilkes – Barre, PA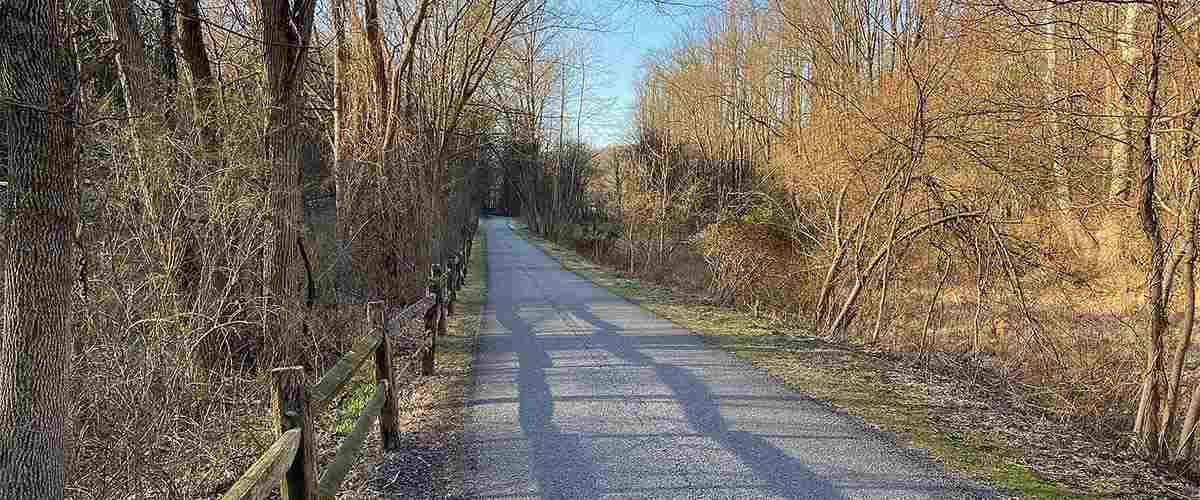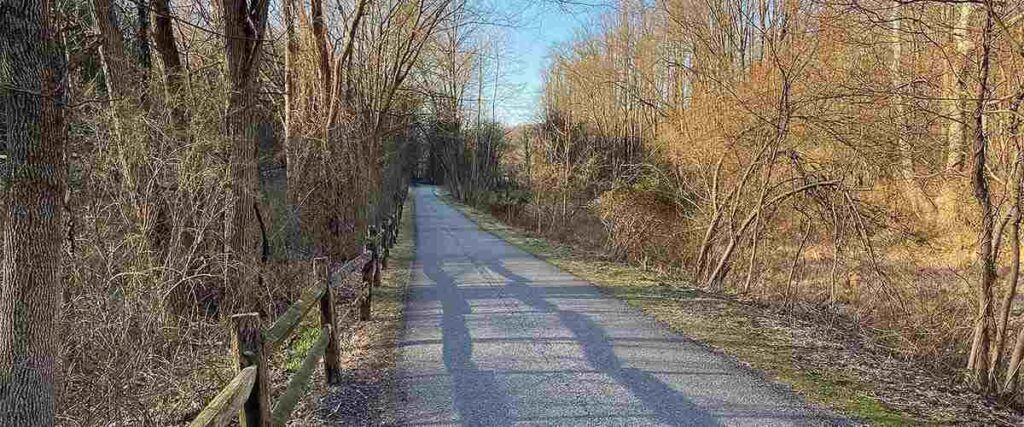 The beautiful D&L Trail spans more than 140 miles through eastern Pennsylvania. It runs from Philadelphia's northern metro area to the Appalachians, following the historic canal and railroad routes used to transport the coal and iron that fueled the American Industrial Revolution.
In addition to enjoying the scenery, there's plenty to see and do while biking the D&L Trail. You'll pass through several different towns featuring a variety of historic sites, including the restored early 19th century Locktender's House and Lock No. 11, the National Canal Museum, the Freemansburg Canal Education Center, breathtaking river gorge views, and much, much more. You'll even pass through the beautiful town of Jim Thorpe, named after the legendary athlete.
Although the trail technically starts at Bristol Lions Park in Bristol, Pennsylvania, you should start your journey at Jefferson Avenue because there is a gap between the park and the Jefferson Avenue trailhead.
Tips: Cyclists are encouraged to walk their bikes through certain sections of the trail, so watch for the signs. To make the most of your ride, it's best to plan your trip in advance, as there are so many sights and things to do along the way.
7. Bald Eagle State Forest – Millmont, PA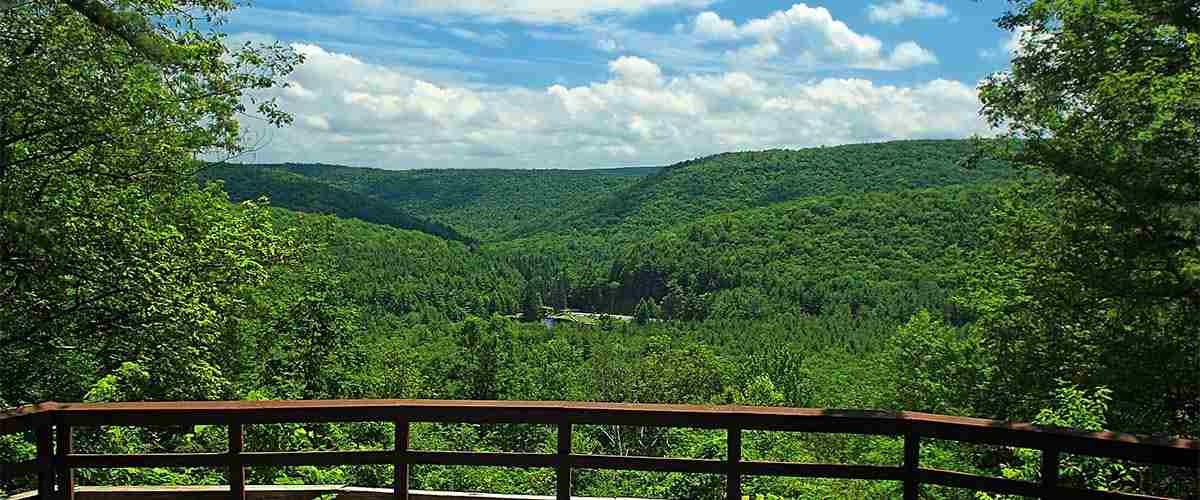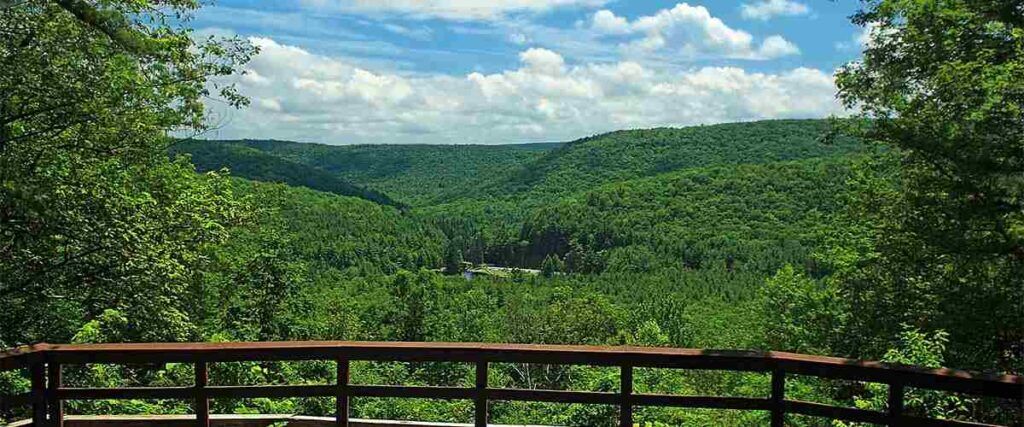 The Bald Eagle State Forest is a utopia for mountain bikers, featuring almost 200,000 acres of forested trails for cyclists of all ability levels. Whether you want a gently sloping path, a rocky ridgetop course, or a steep climb to test your endurance, Bald Eagle State Forest has it all.
Most of the trails in this state forest are dedicated to mountain bikers, and it has played host to several awesome races over the last few years. Not only will the trails test your skills, but you'll also enjoy breathtaking scenery, massive old trees, and free-flowing mountain streams.
To get to Bald Eagle State Forest, head to 18865 Old Turnpike Road, Millmont, PA 17845.
Tips: If you plan on riding an e-bike, make sure you check out the requirements set forth by the Pennsylvania Department of Conservation & Natural Resources first. They also offer a trail blaze guide to help you understand the color-coded trail signs along the trails.
8. Schuylkill River Trail – Philadelphia to Frackville, PA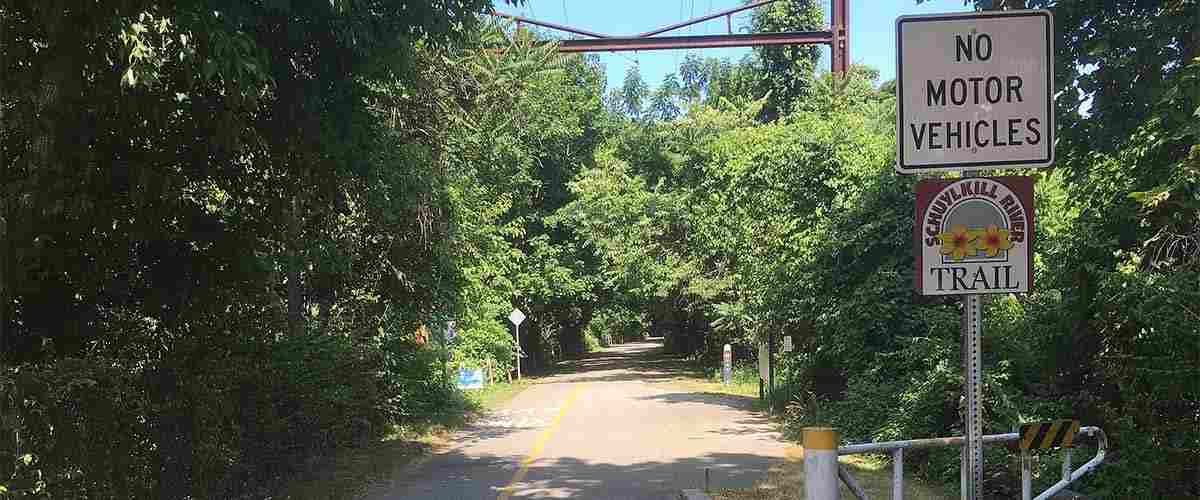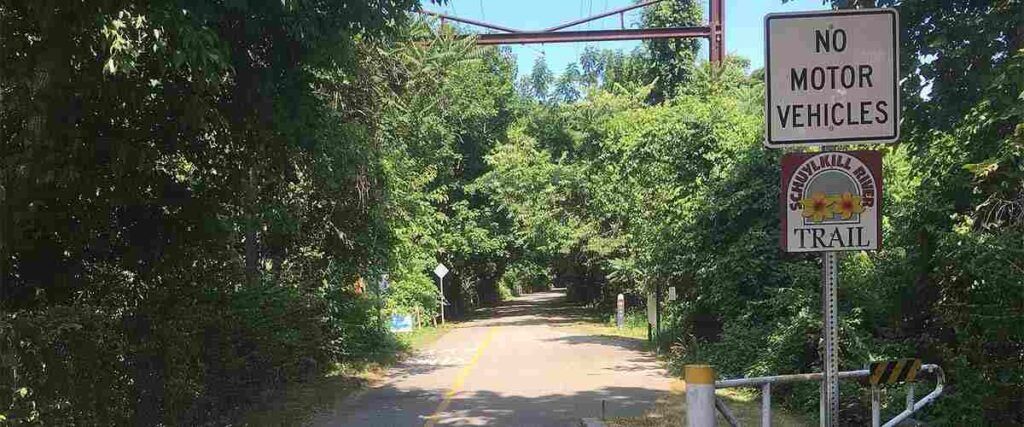 The beautiful Schuylkill River Trail was voted "Best Urban Trail" in the U.S. by readers of USA Today and 10Best. It was also voted one of the best riverwalks in the nation. The route parallels the Schuylkill River, featuring a completed 75 miles of paved and crushed stone trails, with plans to extend it more than 130 miles between Philadelphia and Frackville.
Most of the Schuylkill River Trail is built over abandoned railroad lines and passes through southern Pennsylvania, where the history of industrial development is very evident. As you cycle this route, you'll pass through rural and agricultural areas, Valley Forge National Historical Park, as well as urban, suburban, and industrial landscapes. It's an easy and shady ride with plenty of opportunities to stop for food or drink along the way.
Several different trailheads provide access to the Schuylkill River Trail. Please visit the Schuylkill River Greenways website for detailed maps and directions.
Tips: This trail is currently being expanded, so some gaps haven't been filled in yet. Accessing Philadelphia from the north can be difficult with the various gaps, so you may want to start riding from Philadelphia. This trail is also very busy on weekends, so keep that in mind when planning!
9. York County Heritage Rail Trail – York to Maryland State Line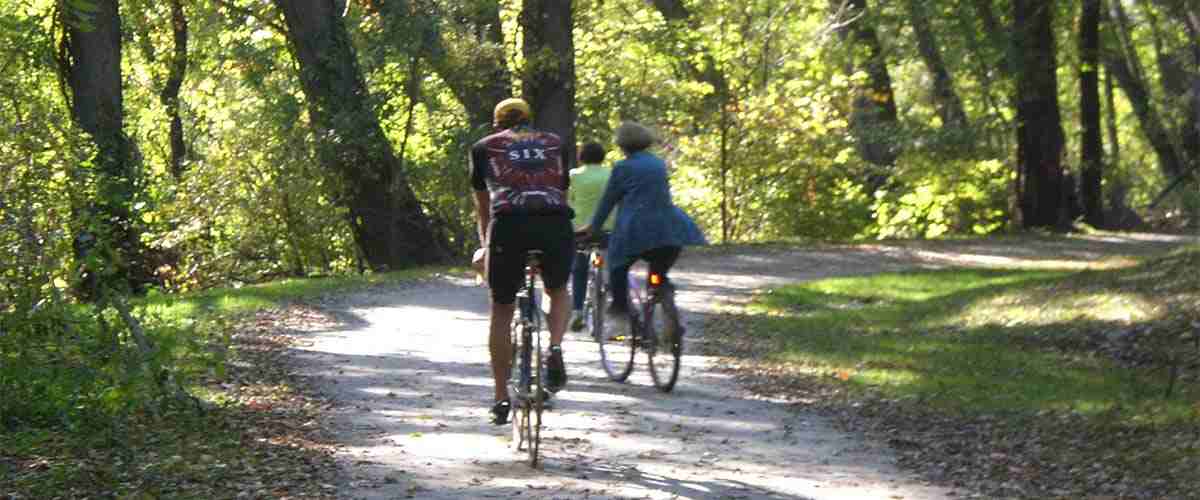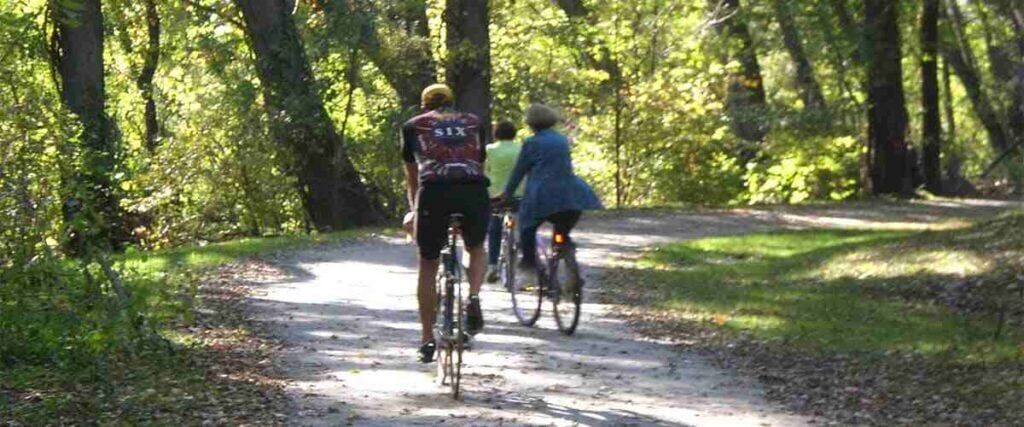 The York County Heritage Rail Trail is a 21.5-mile trail that runs from York to the border of Maryland, where it connects with the 20-mile Torrey C. Brown Trail. Not only is it a fantastic place to ride, but it's also a fun opportunity to experience some of our nation's history up close and personally.
While you bike this trail, you'll pass several historic structures, including the Colonial Courthouse, Hanover Junction and New Freedom Train Stations, and Howard Tunnel. The railway is also operational, so you're bound to see a train while you're cycling this route. The trail is made of crushed stone, but it's well-maintained and smooth for an easy and enjoyable ride. When riding from York, you'll enjoy a decent ascent for an excellent workout too!
For parking and trail access information, visit the York County Pennsylvania website.
Tips: There are several benches along the York County Heritage Rail Trail if you need to stop and rest. The communities you'll pass through also offer some eateries where you can stop and enjoy a bite to eat.
10. Stony Valley Rail Trail – Dauphin to Lebanon, PA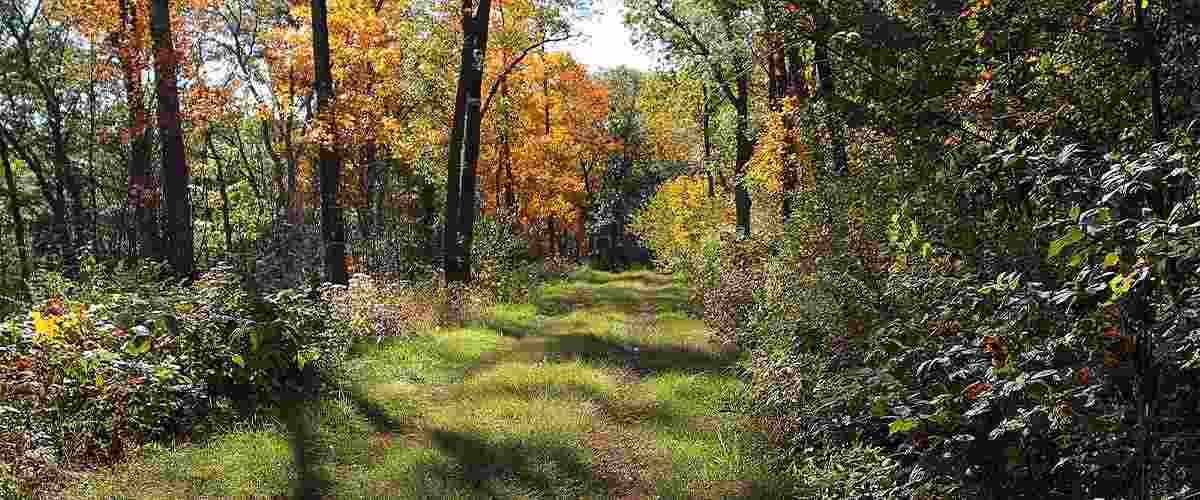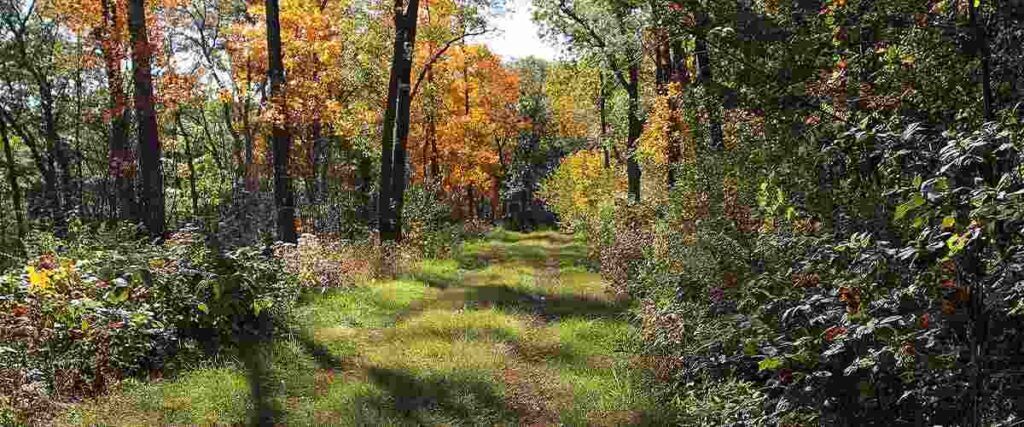 The Stony Valley Rail Trail is a fantastic way to explore the Stony Valley and surrounding nature. Another popular rail-trail in Pennsylvania, this 19.5-mile route is situated in the Appalachian Ridge and Valley area and parallels the Schuylkill & Susquehanna Railroad lines.
Cyclists of all experience levels will enjoy this dirt and gravel trail with a slight grade. It winds through State Game Lands No. 211, several former coal mining communities, and the haunting remains of the Cold Spring Hotel and Summer Resort that was nearly swept off the map by a fire in 1900. Although the trail is relatively level, it's very rocky, so it's not for the faint of heart.
The Ellendale Road trailhead for the Stony Valley Rail Trail is at 2680 Stony Valley Railroad Grade, Dauphin, PA 17018. On the opposite end of the trail, the Gold Mine Road trailhead is located at the Lebanon Reservoir.
Tips: This trail is unsafe to cycle during hunting season, so plan wisely if you're making a trip to the area! The path is best for bikers when used from March through September.
Interested in another state?
Discover the best US places to ride a bike: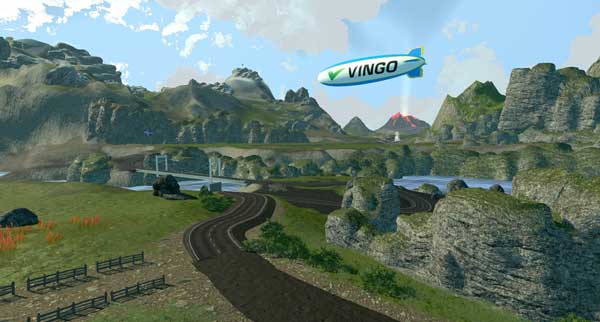 References:
Photo Sources:
Simtropolitan, Jean-Pierre Demailly (old version)permission=This image Marmocet, CC BY-SA 3.0 https://creativecommons.org/licenses/by-sa/3.0, via Wikimedia Commons
Thomaswagner, CC BY-SA 3.0 https://creativecommons.org/licenses/by-sa/3.0, via Wikimedia Commons
Ron Shawley, CC BY 3.0 https://creativecommons.org/licenses/by/3.0, via Wikimedia Commons
Kordite, CC BY-SA 2.0 https://creativecommons.org/licenses/by-sa/2.0, via Wikimedia Commons
daveynin from United States, CC BY 2.0 https://creativecommons.org/licenses/by/2.0, via Wikimedia Commons
Andre Carrotflower, CC BY-SA 4.0 https://creativecommons.org/licenses/by-sa/4.0, via Wikimedia Commons
Nolabob, CC BY-SA 4.0 https://creativecommons.org/licenses/by-sa/4.0, via Wikimedia Commons
Nicholas A. Tonelli from Northeast Pennsylvania, USA, CC BY 2.0 https://creativecommons.org/licenses/by/2.0, via Wikimedia Commons
Dough4872, CC BY-SA 4.0 https://creativecommons.org/licenses/by-sa/4.0, via Wikimedia Commons
Jfen20, CC BY-SA 3.0 https://creativecommons.org/licenses/by-sa/3.0, via Wikimedia Commons
Jakec, CC BY-SA 4.0 https://creativecommons.org/licenses/by-sa/4.0, via Wikimedia Commons