Top 10 Running Trails in Charlotte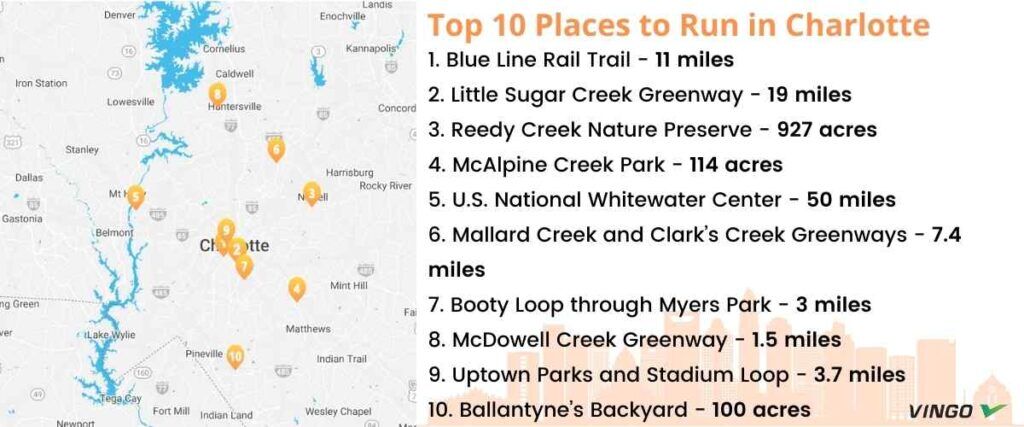 Charlotte is home to many excellent running routes, whether you prefer to jog through a historic neighborhood, tour the bustling Uptown area, or venture out into one of the local wildlife areas. Next time you head out for a run in Queen City, check out these top 10 destinations. You won't be disappointed!
1. Blue Line Rail Trail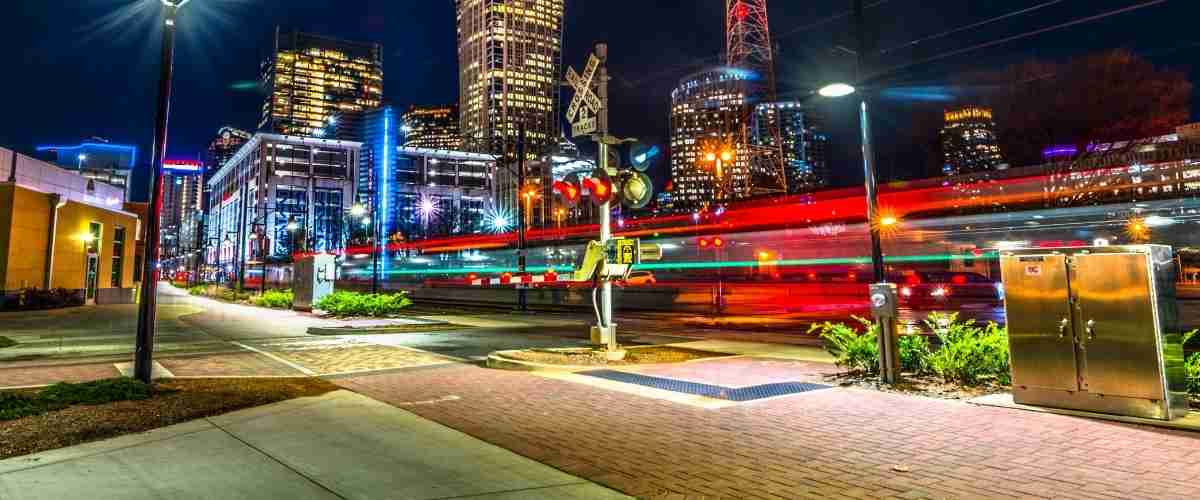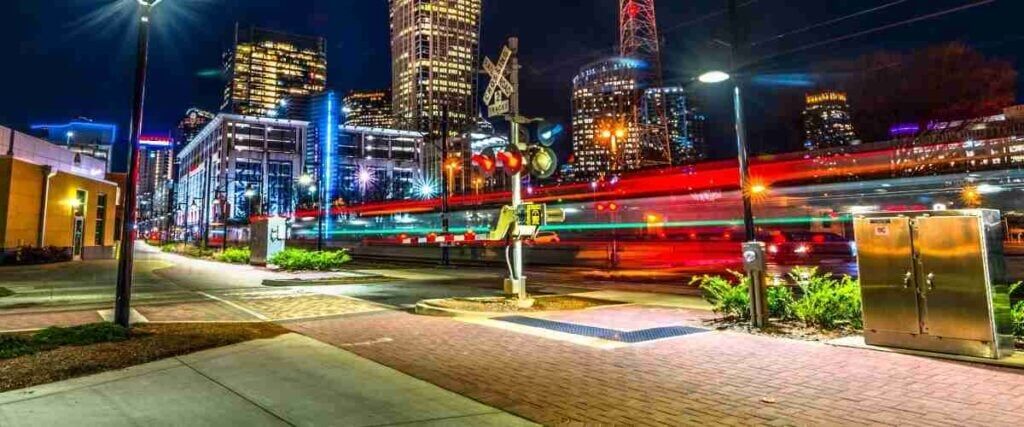 Charlotte's Blue Line Rail Trail is an 11-mile running, walking, and biking path that runs parallel to the LYNX Blue Line light rail and knits together several Charlotte neighborhoods and businesses. More than 2,000 people use the trail daily, and it connects to 15 different bike routes and significant destinations in Queen City. In some areas, the path is lined with shops, restaurants, outdoor seating areas, and games, making it a fun and dynamic place to exercise alongside other tourists and locals. The Blue Line Rail Trail is a vibrant and busy running trail for those who love urban running, and there's plenty to see and do in the area once you've completed your run.
Tips: There are a few gaps along the trail, but the city of Charlotte is working to fill them so Blue Line Rail Trail users can enjoy one continuous, uninterrupted route.
2. Little Sugar Creek Greenway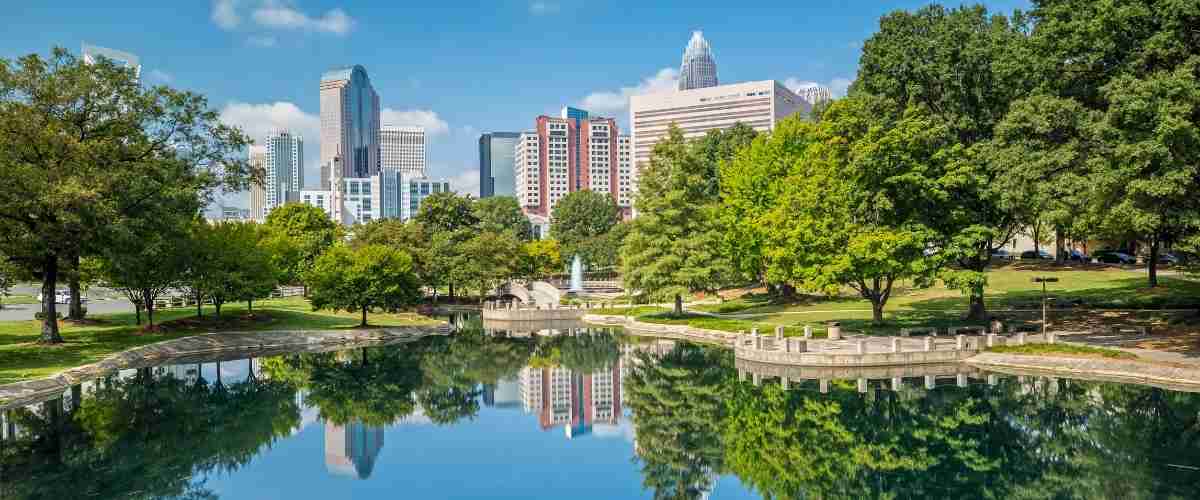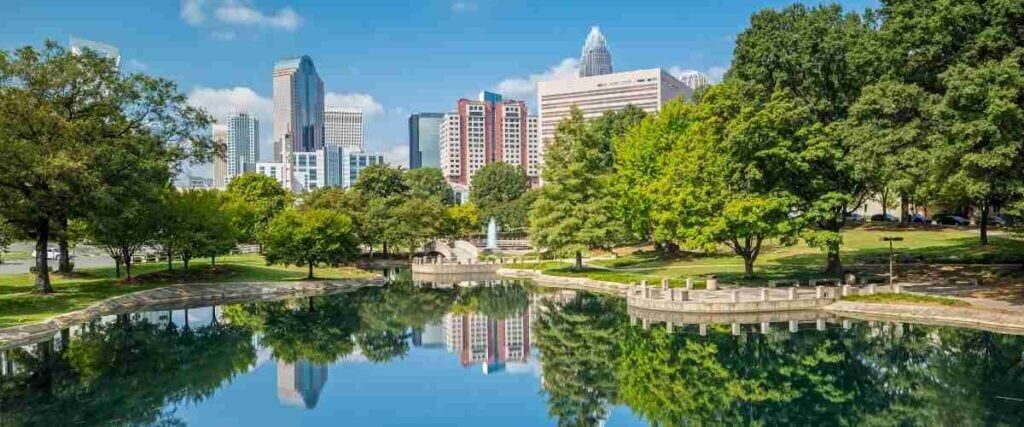 The Little Sugar Creek Greenway is a trail that's currently in progress but already has a lot to offer! It will feature 19 miles of pathways from Toby Creek Greenway to Cordelia Park when completed. The trail is split into five sections, weaving through parks, outdoor plazas, sports fields, playgrounds, shopping centers, neighborhoods, and more. Ample parking at each section of the greenway makes it easy to hop on any part of it for a quick run or an extended training session. A fantastic way to explore Charlotte on foot, the Little Sugar Creek Greenway is a favorite among runners, walkers, and cyclists.
Tips: We highly recommend checking out several parks along this route, including Freedom Park, Elizabeth Park, Thompson Park, Alexander Street Park, and Cordelia Park.
3. Reedy Creek Nature Preserve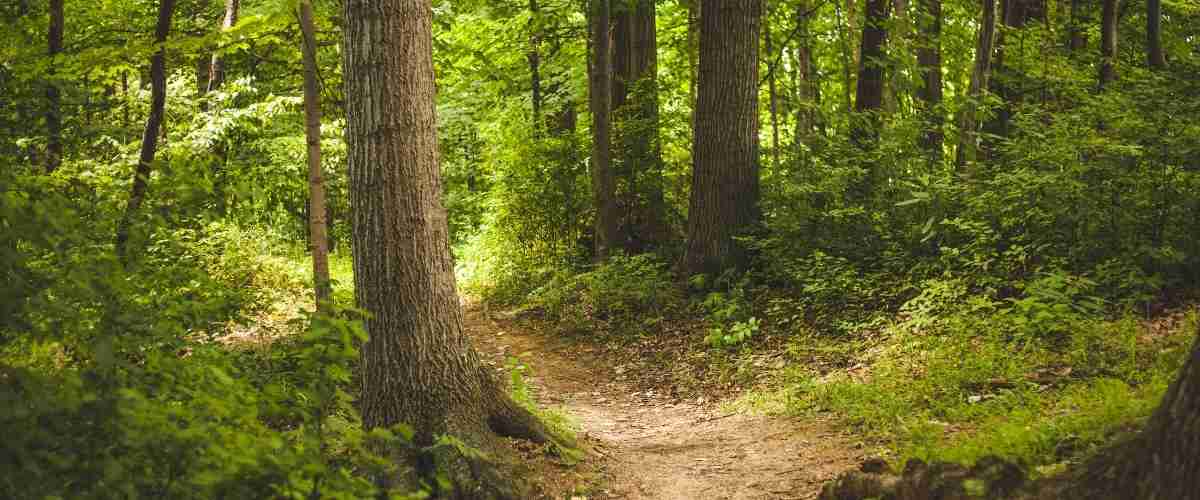 Reedy Creek Nature Preserve is a protected 927-acre area of natural forest. It's home to more than 10 miles of hiking trails, boasting terrific views of lakes, streams, forests, and fields. One of the preserve's most popular trails, the Robinson Rockhouse Trail, leads to the ruins of the historic Robinson Rockhouse, which was built in 1790 and was a part of a large plantation. The Reedy Creek Nature Preserve also features several great amenities in Reedy Creek Park, including athletic fields, playgrounds for children, and picnic areas. There's even a dog park if you bring your pup along for your run and they want to explore off-leash.
Tips: The preserve is also home to the Reedy Creek Nature Center, which features an exhibit hall, live native animals, and a gift shop.
4. McAlpine Creek Park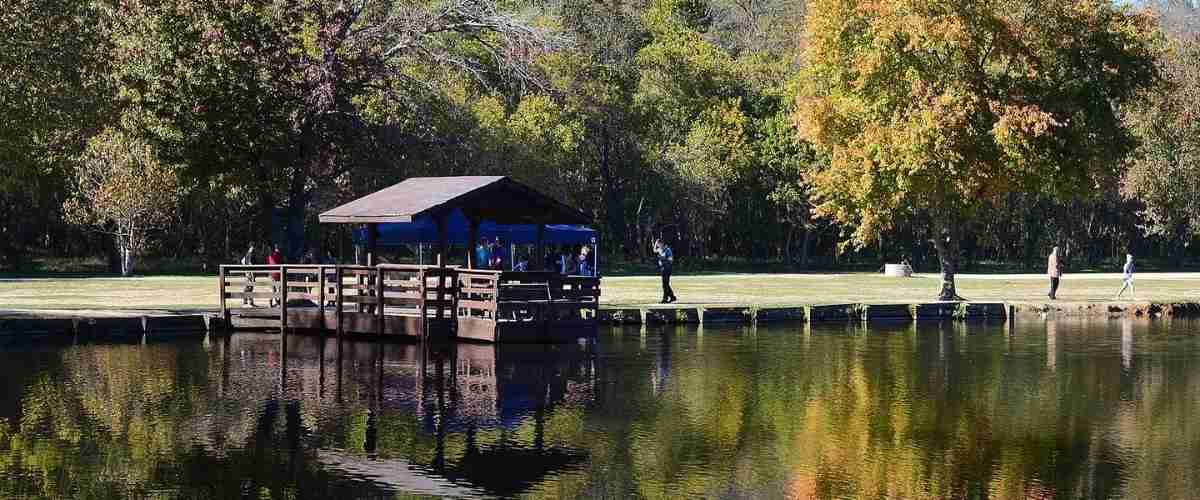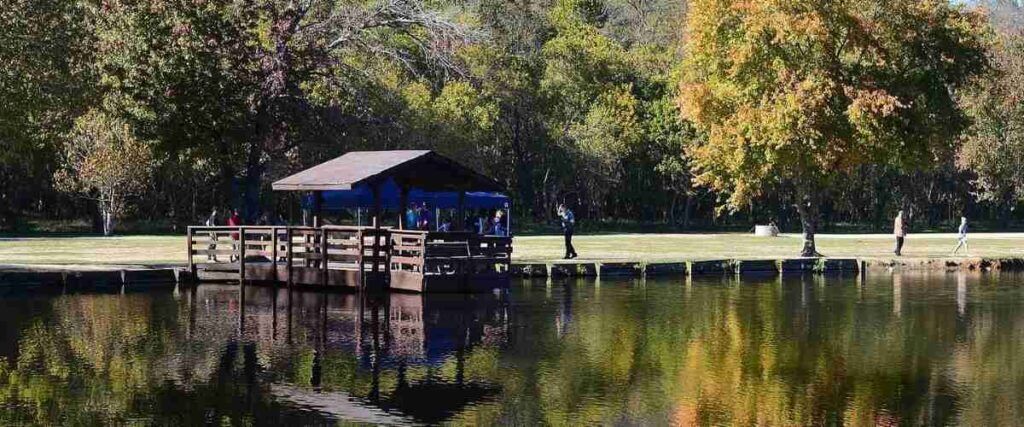 McAlpine Creek Park is just 15 minutes southeast of Uptown (Charlotte's downtown area), and it's a favorite spot among local runners. If you're looking for a beautiful and serene place to run near Charlotte, this is it. Aside from the marked 5K championship cross-country course at McAlpine Creek Park, the Paved Greenway (4.76 miles) and the Cottonwood Nature Trail (1.5 miles) are also great trails to run. The Campbell Creek Greenway also connects to the park, giving you plenty of options to expand your route and explore various trails while you run. The area is also rich with wildlife, including river otters, beavers, minks, and the native larkspur flower, a pretty and rare, purple wildflower that blooms in the spring.
Tips: About midway along the Campbell Creek Greenway Trail, you'll also pass the remains of the abandoned turn-of-the-century Lucas family gristmill. Take a moment to read the educational plaque at the site to learn more about the Lucas Family Gristmill and its history.
5. U.S. National Whitewater Center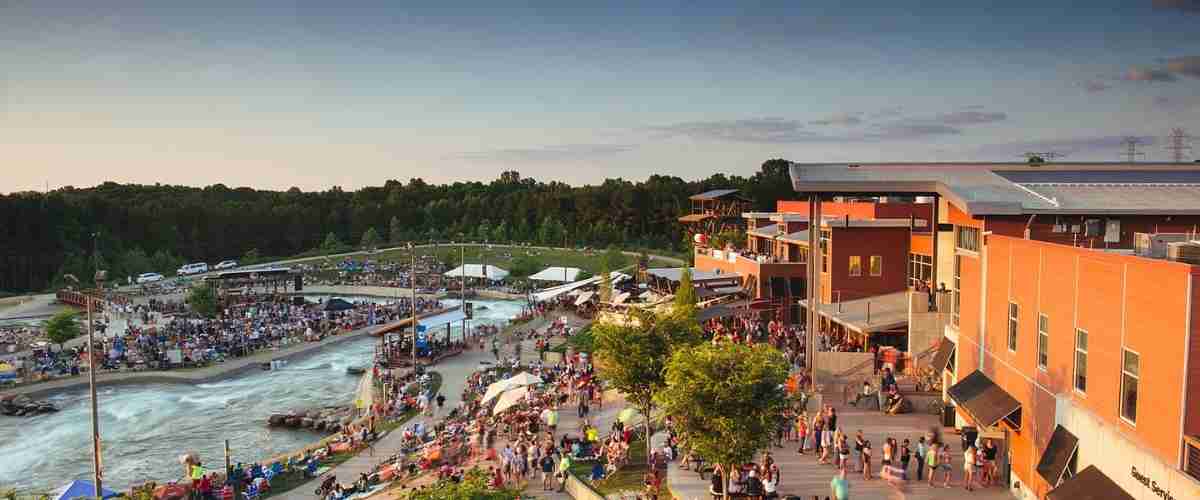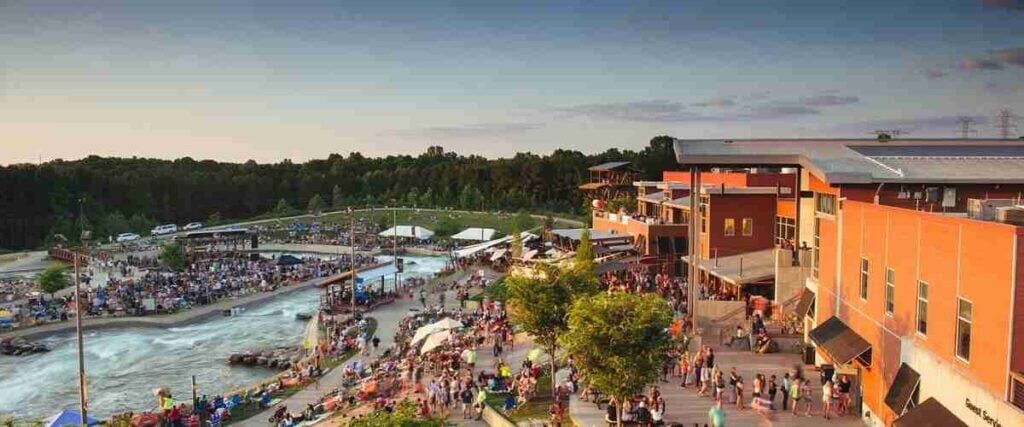 For some fantastic trail running, head to the U.S. National Whitewater Center, just 20 minutes west of Uptown. The center is home to more than 50 miles of trails, popular among runners, hikers, and mountain bikers. Choose from several different loop options of varying difficulty to test your endurance and enjoy the natural landscape surrounding you. Try the Lake path (3 miles) for a gentler run with water views. Or, for more of a challenge, try the Tortuga trail (2.7 miles) or the Carpet route (1.4 miles). Here's a great trail system map that will help you plan for your runs at the center.
Tips: If you want to cross-train, check out some other great activities offered at the U.S. National Whitewater Center, including whitewater rafting, kayaking, zip-lining, canoeing, rock climbing, and mountain biking.
6. Mallard Creek and Clark's Creek Greenways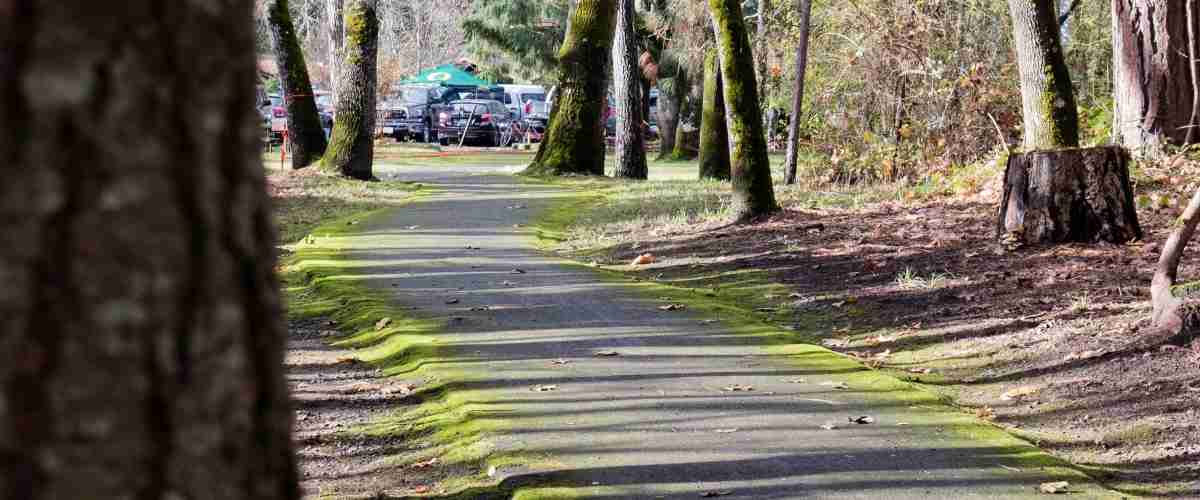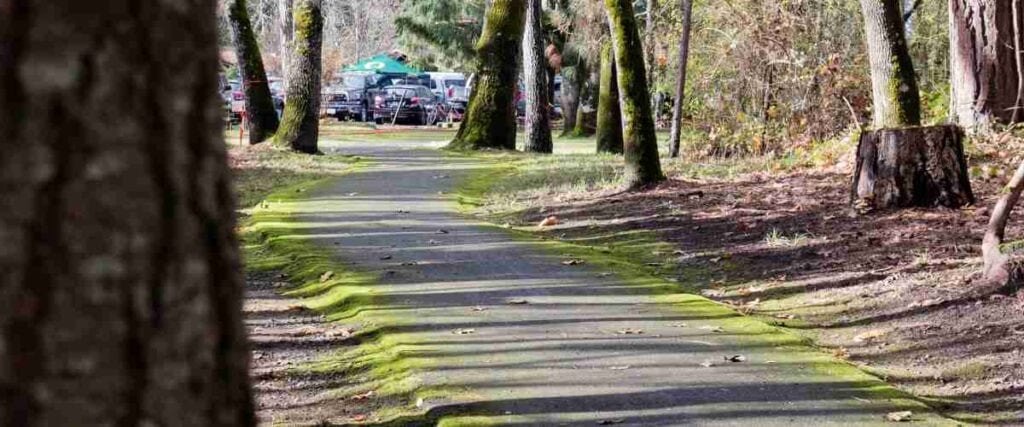 The Mallard Creek and Clark's Creek Greenways merge to form one long trail that spans 7.4 miles, one of the longest greenways in Charlotte. On the west end of this route, the paved path runs through many university area neighborhoods. The middle of the trail winds through University Research Park and continues to the eastern end, which cuts through the forest and under I-85 and Highway 29 to the soccer fields near UNC-Charlotte. Nearby, the greenway connects to Toby Creek Greenway, which continues for 2.64 more miles. No matter what time of year you run on these greenways, you're also bound to see plenty of wildlife! From foxes, deer, and great blue herons, to beavers, muskrats, and a variety of birds, keep an eye out for these beautiful local creatures.
Tips: The Mallard Creek Greenway is also a part of the Cross-Charlotte Trail, which will span 26 miles and connect the South Carolina and North Carolina state lines to Cabarrus County in south-central North Carolina.
7. Booty Loop through Myers Park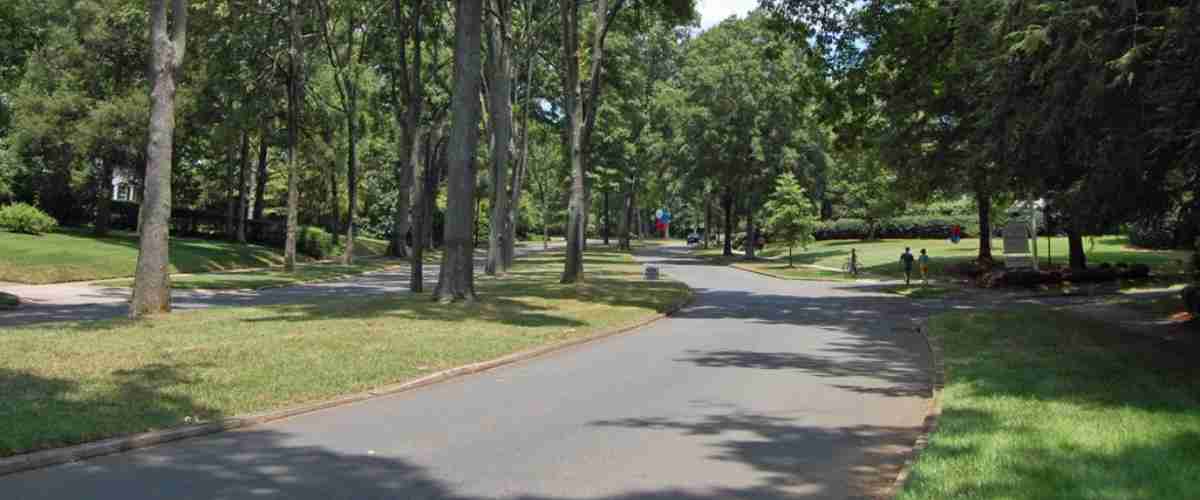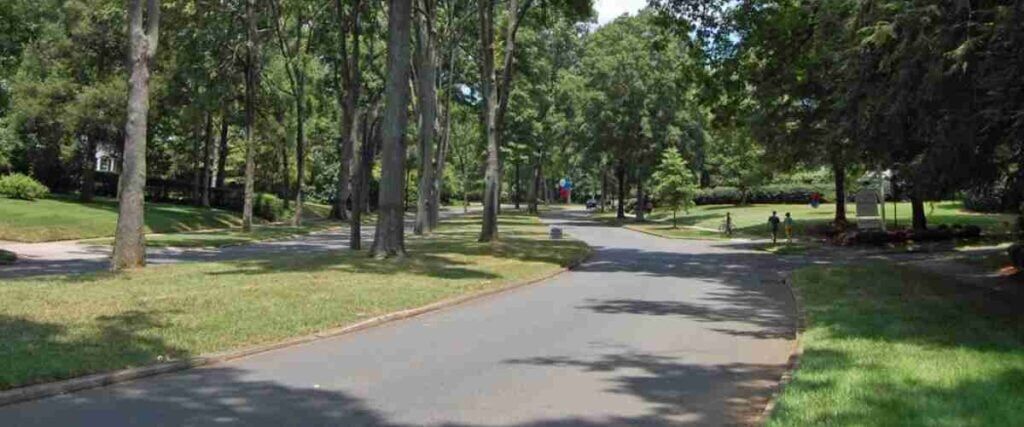 The Booty Loop is a locally famous running route known to be one of the best in Queen City. Where it got its name continues to be a mystery (although it may have something to do with the fact that the route will kick yours into shape). This 3-mile loop is a moderate run for any level of jogger and it takes you through the scenic 100-year-old oak tree-lined neighborhood of Myers Park. The pleasant route offers a few steady hills with lovely views of gorgeous Tudor homes and historic mansions along the way. Whether you run first thing in the morning, on your lunch break, or after work in the evening, you'll always see other runners on this route, making it a very safe and reliable loop for a great workout.
Tips: Locals say one of the best places to start your run in the Myers Park neighborhood is the nearby Freedom Park or Myers Park Church. You can park your car at either location.
8. McDowell Creek Greenway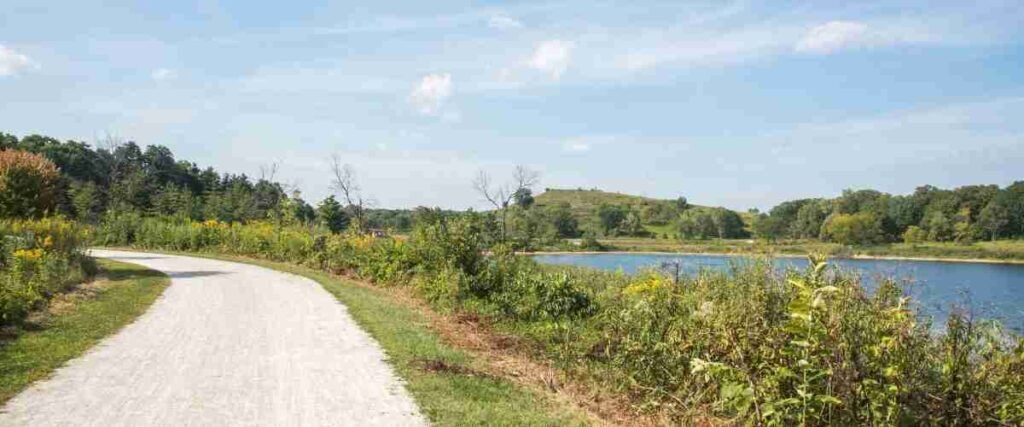 The McDowell Creek Greenway features 1.5 miles of paved trail and is also a part of the Carolina Thread Trail and the Lake Norman Bike Route. The greenway connects the towns of Huntersville and Cornelius, linking several neighborhoods and parks along the way, including Robbins Park and Westmore Regional Park. As you run this route, you'll also pass through stunning natural environments, including woodlands, fields, and meadows, home to local wildlife like several species of birds, frogs, toads, and butterflies.
Tips: This trail is on the edge of the bustling Birkdale Village, a premier destination for shopping, dining, and other recreational activities. So take some time to explore while you're in the area!
9. Uptown Parks and Stadium Loop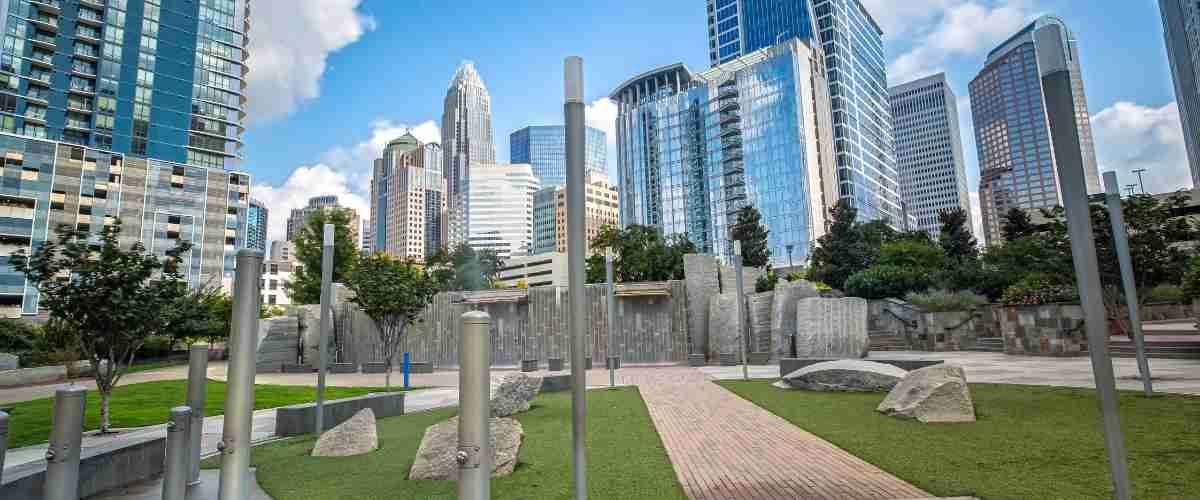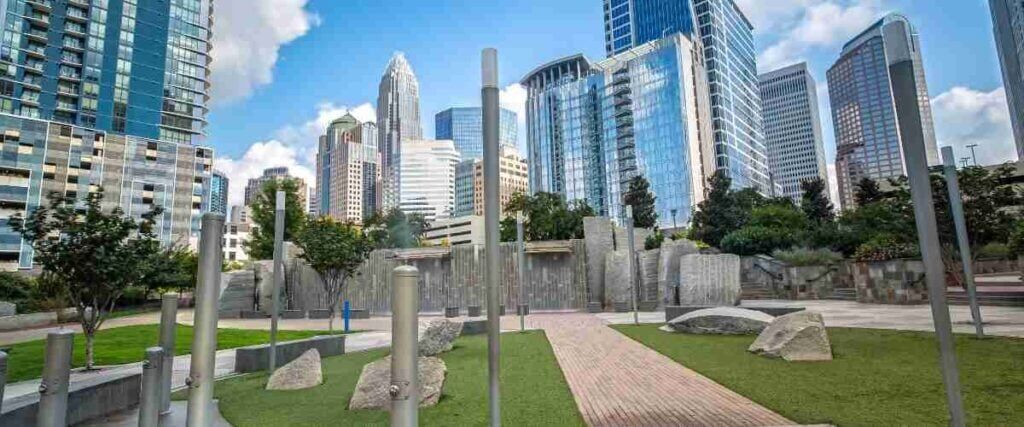 This loop is another local favorite that will take you past Uptown's major parks, stadiums, and several iconic city landmarks for a fun tour of the downtown area. You can start this 3.7-mile loop at any stadium in Uptown and follow this route through the city. You'll pass by the Nascar Hall of Fame, Marshall Park, Truist Field, Bank of America Stadium, Romare Bearden Park, Fourth Ward Park, First Ward Park, Marshall Park, Spectrum Center, Mint Museum Uptown, Discovery Place Science, and much more.
Tips: Since you'll be running through the heart of downtown Charlotte, you can expect to stop at plenty of traffic lights. However, on a more positive note, you'll get some nice views of the city, and there are plenty of places to stop and refuel after your run.
10. Ballantyne's Backyard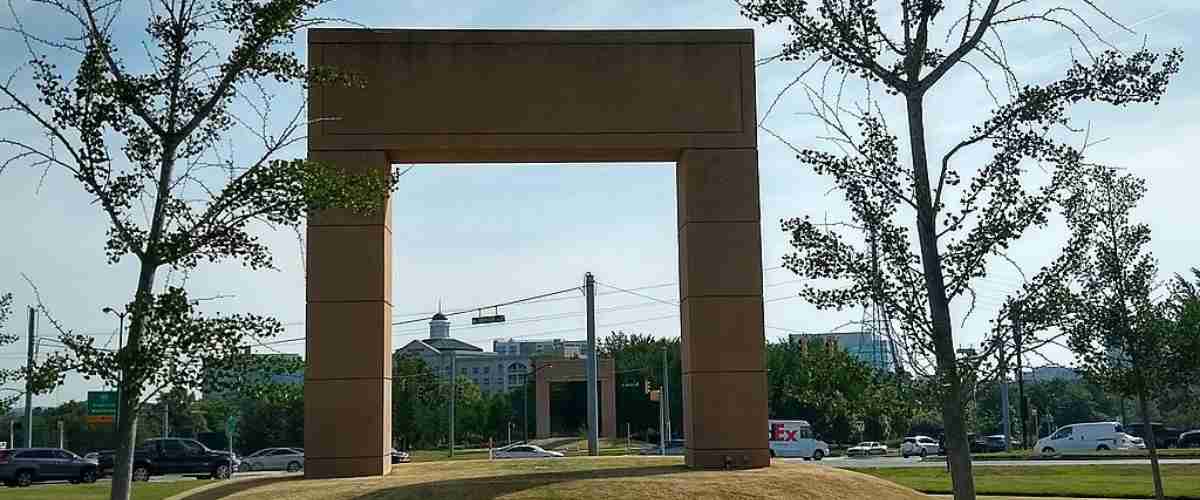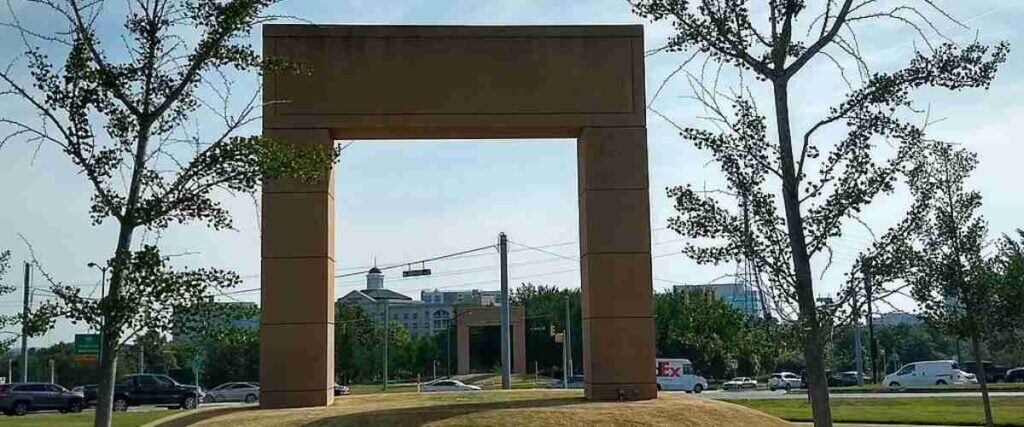 What used to be the Ballantyne Golf Course is now Ballantyne's Backyard, a beautiful privately-owned community park and green space in the center of Ballantyne Corporate Park. The park spans over 100 acres, and all the former golf cart trails have been transformed into running, walking, and biking paths for you to enjoy! The rolling hills and fishing ponds create a peaceful and serene environment for running, and there is a public restroom onsite for your convenience. The park also features several trail access points, so you can easily access the specific parts of the trails you'd like to explore. If you get hungry or thirsty after your run, you don't have to venture far to find great dining options in the Ballantyne area, including a variety of food trucks.
Tips: Designated parking for the trails at Ballantyne's Backyard is available at the main entrance at 11611 North Community House Road.
Interested in another city?
Discover the best cities to run in the US: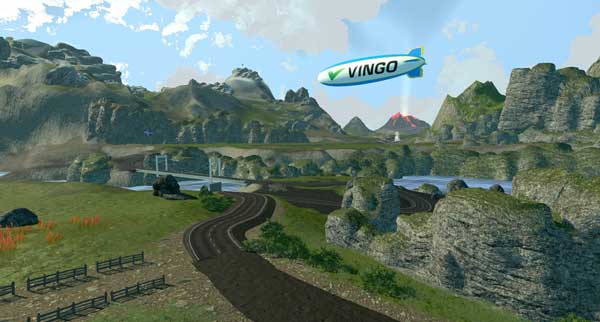 References:
Photo Sources:
CLTmatt, CC BY-SA 4.0, via Wikimedia Commons
the US National Whitewater Center, CC BY-SA 4.0, via Wikimedia Commons
Bz3rk, CC BY-SA 3.0, via Wikimedia Commons
City Dweller 2, CC BY-SA 4.0, via Wikimedia Commons