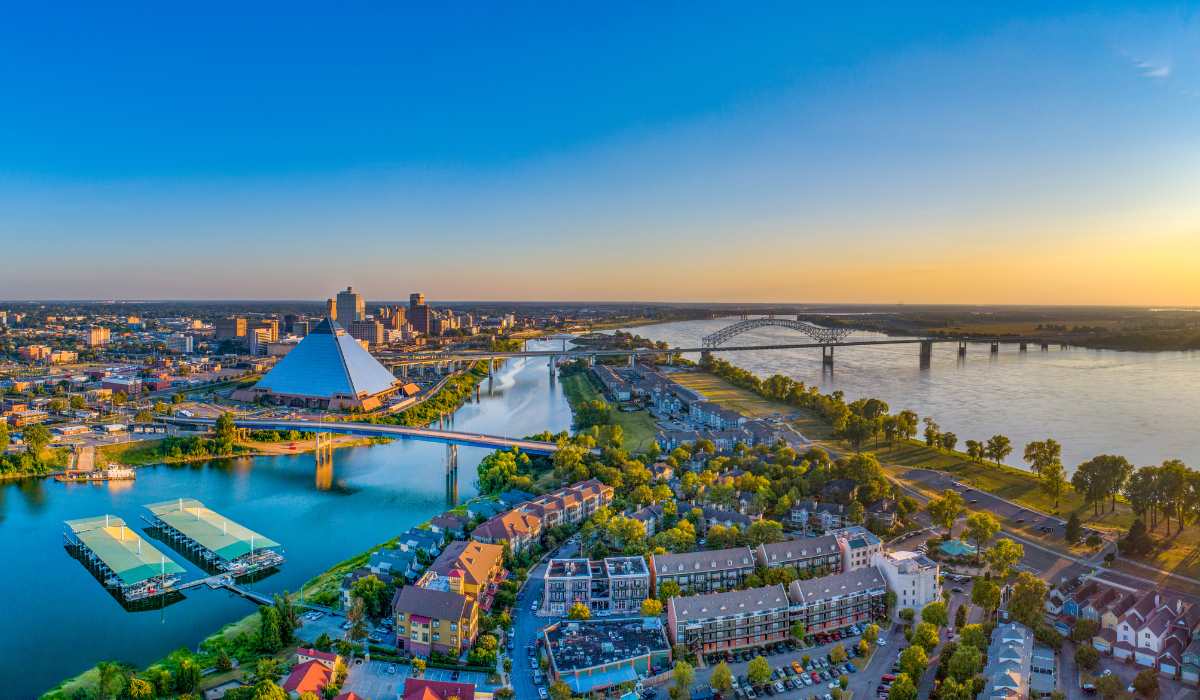 Top 10 Running Trails in Memphis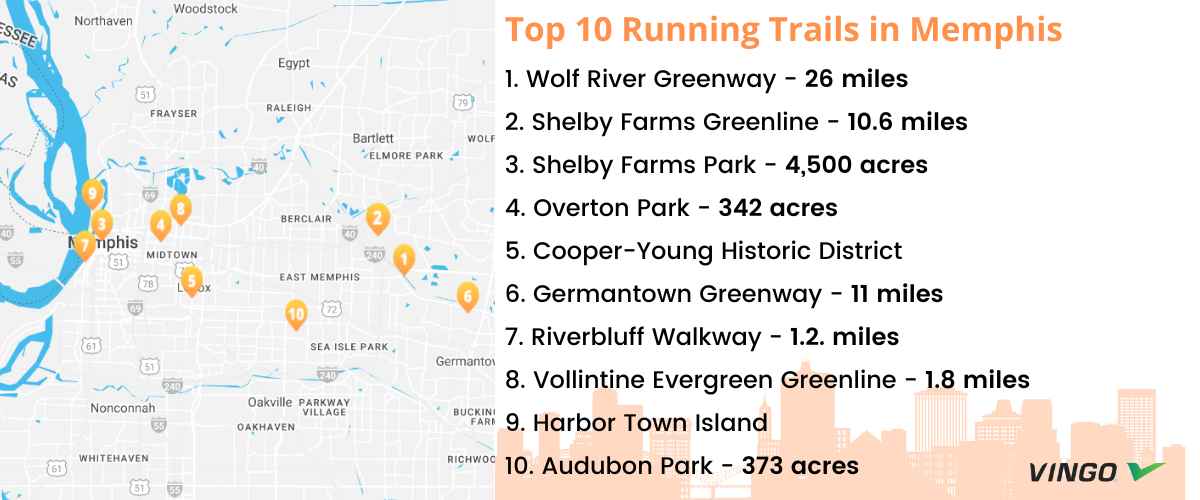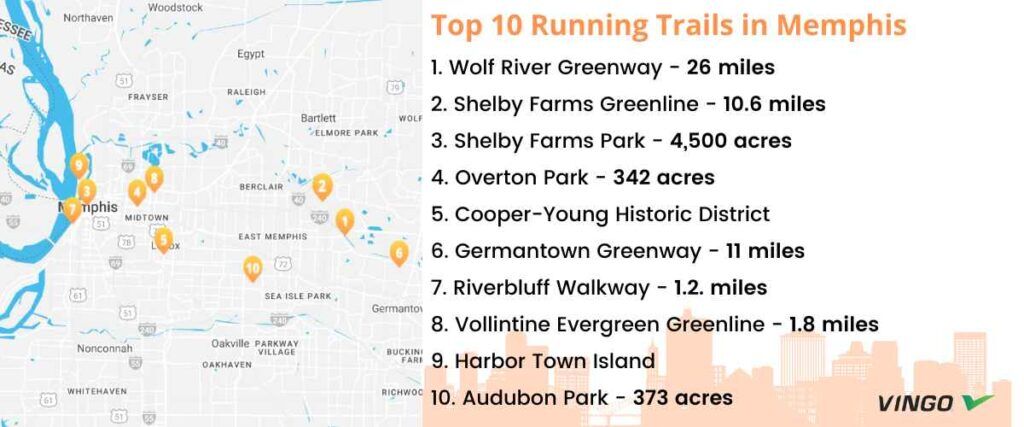 Memphis, Tennessee, is home to several incredible greenway trails, offering plenty of outdoor space to explore on foot. With miles of trails, parks, and beautiful residential areas, picking just one spot to run can be challenging. To help you choose, we've curated a list of the top 10 running trails in Memphis.
1. Wolf River Greenway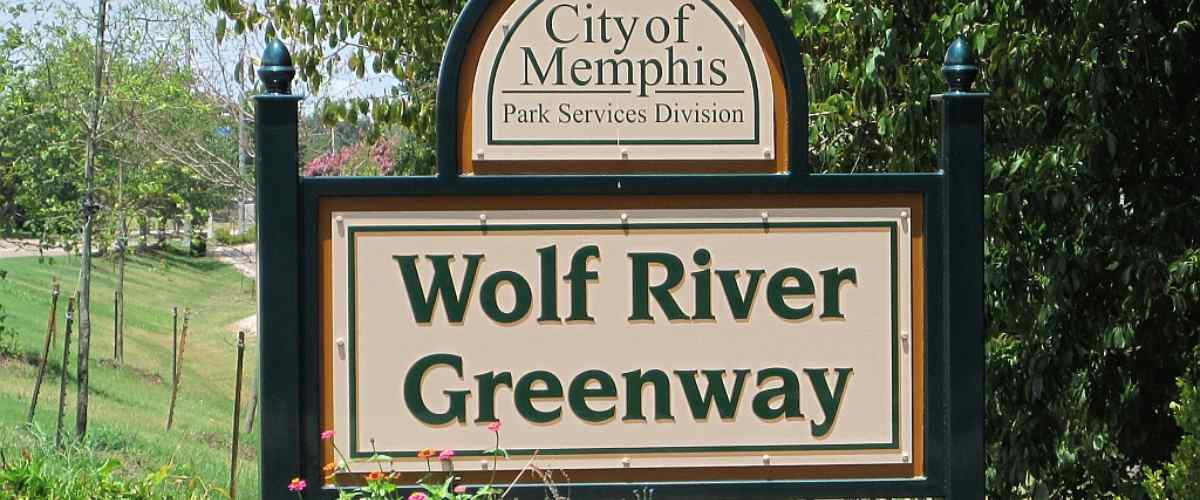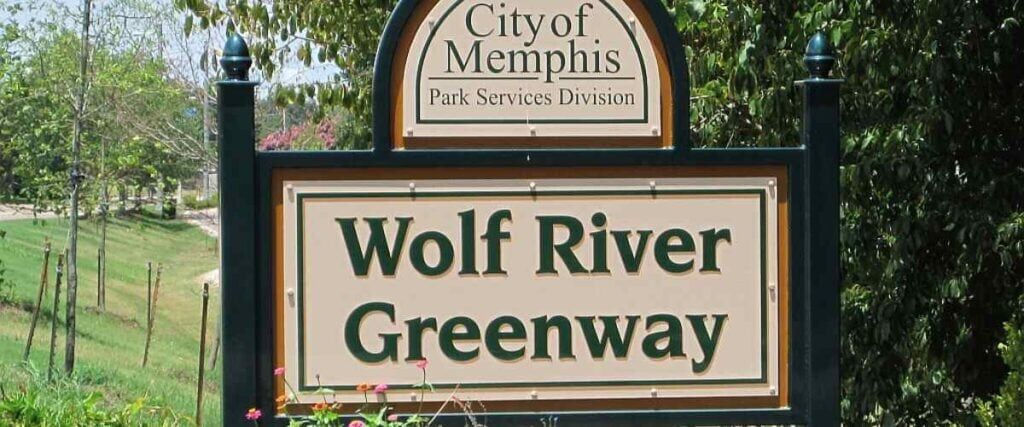 The Wolf River Greenway is a stunning protected green space that will eventually span 26 miles along the Wolf River. Once completed, the trail will connect 22 communities across Memphis, Germantown, and Collierville. Although there are only 14 miles completed (as of 2022), a run along this route features highlights like the Wolf River Levee, Rodney Baber Park, John F. Kennedy Park, and Lucius Burch State Natural Area. You'll also enjoy plenty of waterside views and scenic bridges.
Tips: The Kennedy Park section of Wolf River Greenway also has a 20-acre fishing lake with an additional unpaved nature trail.
2. Shelby Farms Greenline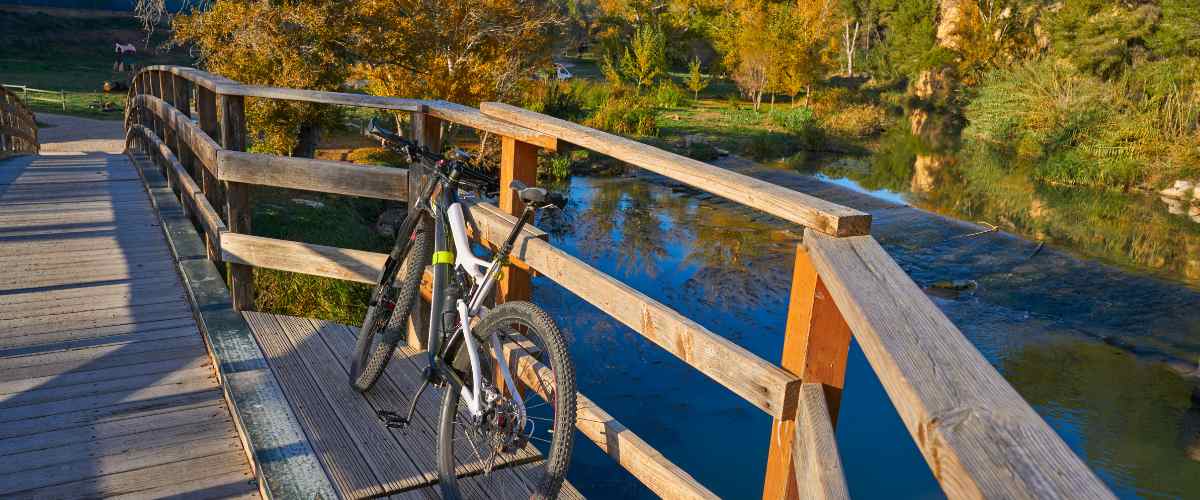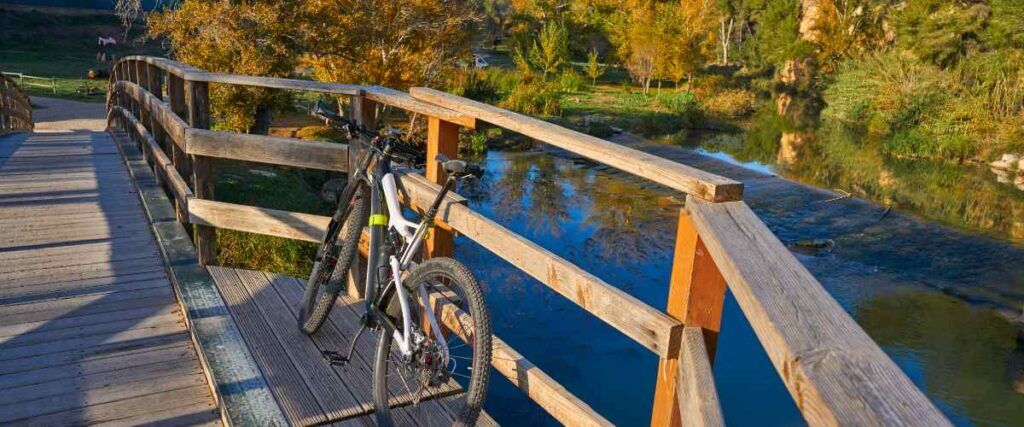 The Shelby Farms Greenline is a 10.6-mile urban trail that stretches from Midtown Memphis through Shelby Farms Park to Cordova in East Memphis. Previously, this route was an unused railroad line, but today, it has been transformed into a well-loved trail for runners, cyclists, and local pedestrians. The Greenline begins at Tillman Street at Walnut Grove Road in Midtown, but there are several access points along the route, so you can hop on it from different parts of the city.
Tips: If you ever want to switch things up and bike this trail instead, Shelby Farms Park offers bike rentals.
3. Shelby Farms Park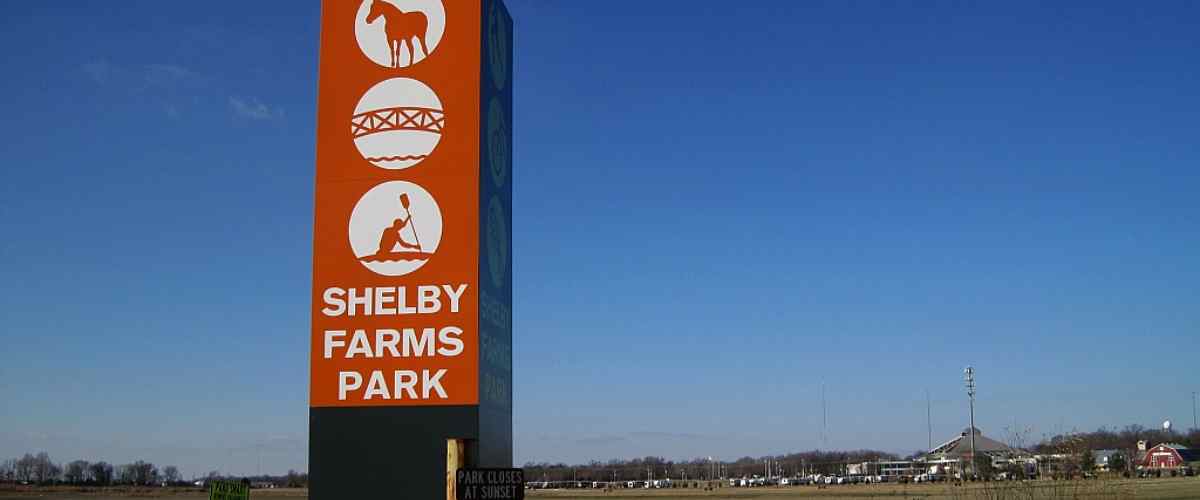 Shelby Farms Park is home to 4,500 acres of green space just west of downtown Memphis. The park features 40 miles of trails to explore, including the Greenline trail mentioned above. All the trails offer a diverse landscape, ranging from forested sections to open fields and rural farmland, with paved and unpaved options. The Baptist Memorial Health Care Promenade (2.34 miles) is a local favorite, featuring separate lanes for cyclists and pedestrians. Other paved options include the Chickasaw Trail (2.75 miles), South Trail (4.1 miles), and the Dunavant Trail (3.6 miles). Unpaved trails include Tour De Wolf (5.79 miles), Wolf River Trails, and North Pine Lake Horse and Walking Trail.
Tips: This park also hosts the Greenline Half Marathon and 5K every November.
4. Overton Park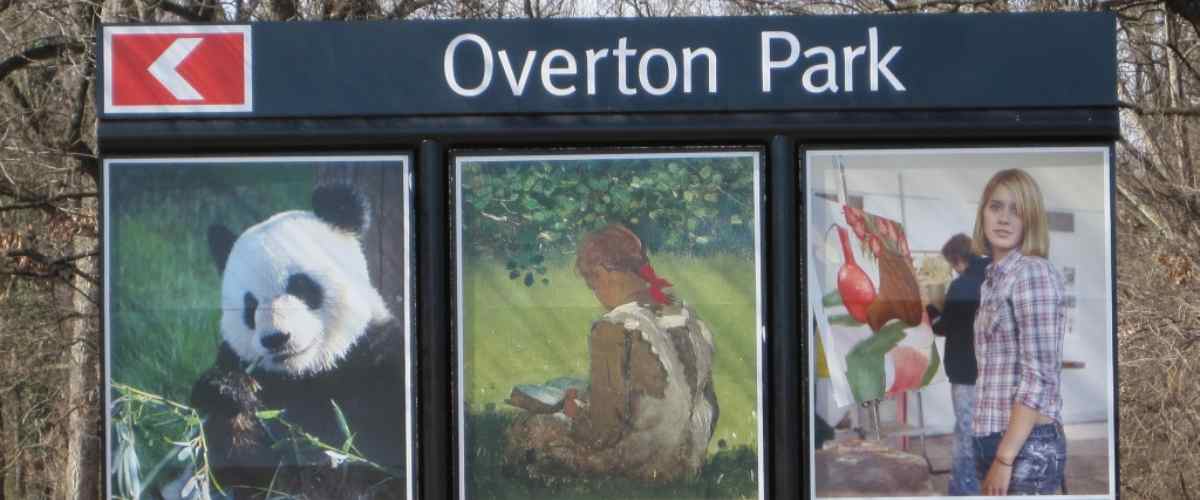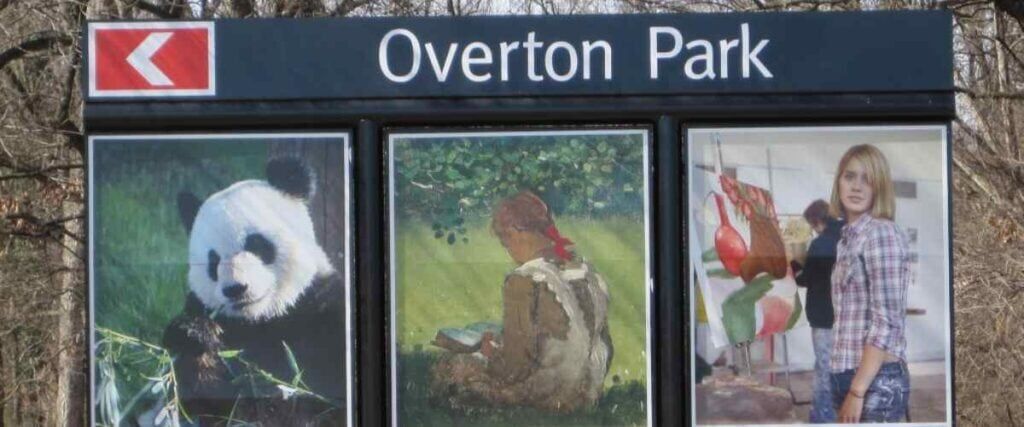 Overton Park is another favorite spot for runners in Memphis. It features 342 acres of open land with miles of winding trails. The park is just four miles west of downtown, and many of the trails are paved. For a more rugged running experience, consider running on the trails through the Old Forest, a stunning and protected designated State Natural Area. With 126 acres of forested land to peruse, it's easy to connect several trails here to create a long or short run, depending on your preferences.
Tips: Overton Park is also home to the Memphis Brooks Museum of Art, Memphis College of Art, a zoo, and lakes.
5. Cooper-Young Historic District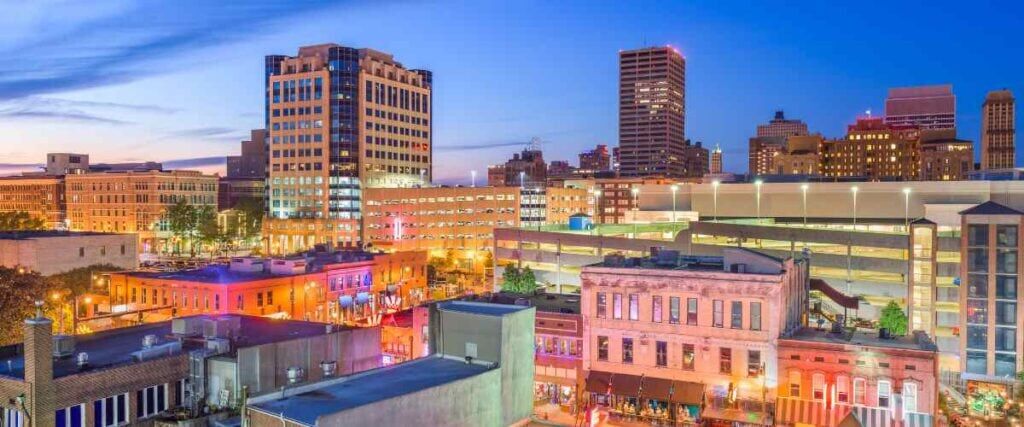 If you prefer running through urban Memphis, check out the Cooper-Young Historic District. Known by locals to be one of the trendiest spots in the city, this area is chock full of art, culture, and beautiful, historic architecture. For a top-rate run along the city streets and a fantastic tour of the area, start on the corner of Cooper and Young Street and make your way east on Nelson Avenue. Turn right on McClean and run west on Peabody until you hit Cooper Street again, where you can return to your starting point.
Tips: After your run, don't forget to check out this area's restaurants, shops, bars, and galleries.
6. Germantown Greenway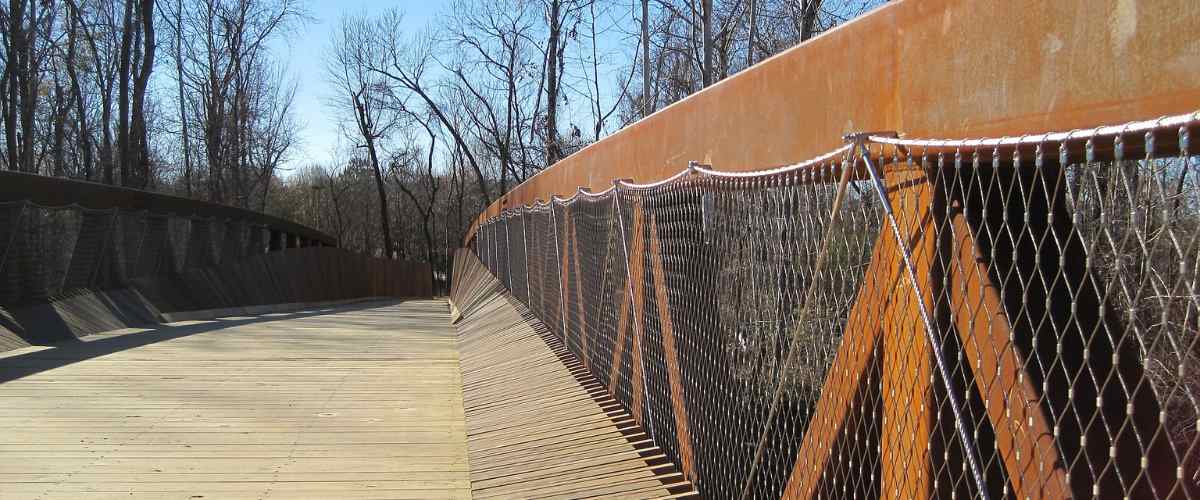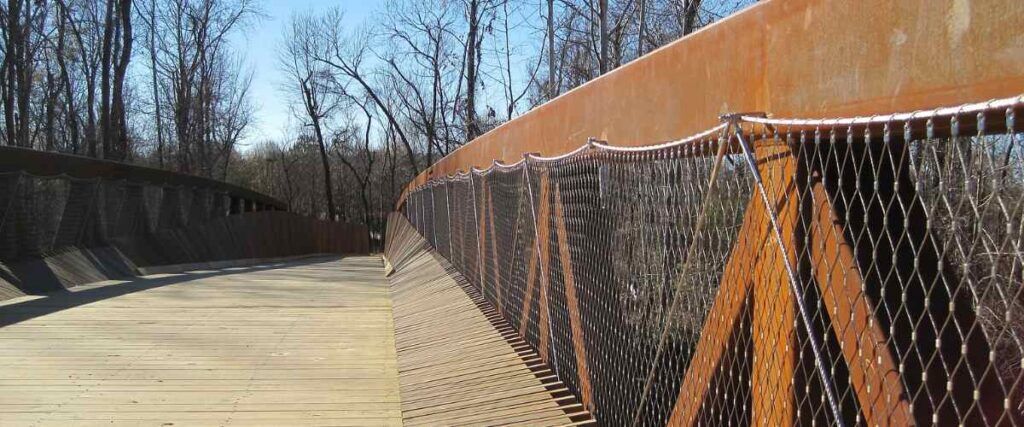 The Germantown Greenway is an 11-mile paved running trail that meanders through a forested area of suburban Germantown, southeast of Memphis. The route links schools, residential areas, and area parks, including the popular Riverdale Park. For a peaceful pause and a short hiatus, head to Turtle Bayou, a scenic boardwalk over the Wolf River where you can soak up the water views.
Tips: The Germantown Greenway connects to the end of the Wolf River Greenway, offering additional mileage for running.
7. Riverbluff Walkway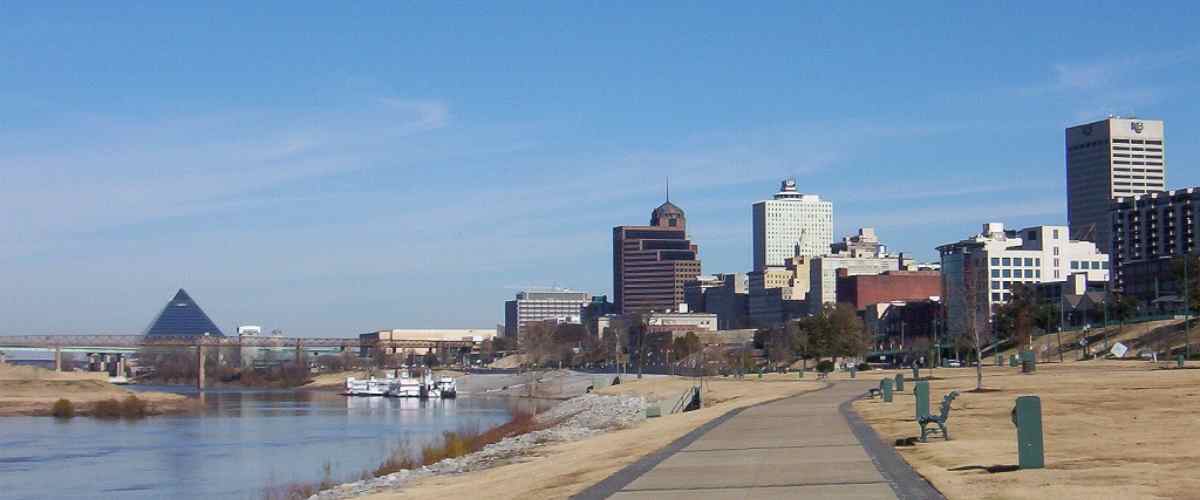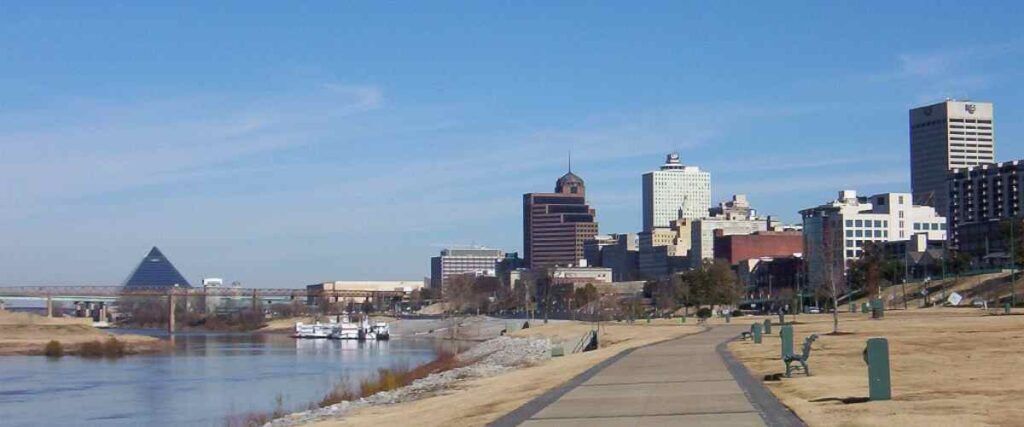 The Riverbluff Walkway is a short running route that winds along the fourth Chickasaw Bluff. This walkway offers an excellent tour of the southern edge of downtown Memphis, offering beautiful views of the Mississippi River and a peek at some of the most gorgeous homes in the city. The route also provides easy access to Tom Lee Park, a popular riverfront park with more paved areas and longer running routes along the river's edge. Or, you can use the walkway to connect to Butler Park via a steep staircase. (Try some stair workouts here!)
Tips: The nearby Mud Island Park offers additional attractions and riverside areas to explore.
8. Vollintine Evergreen Greenline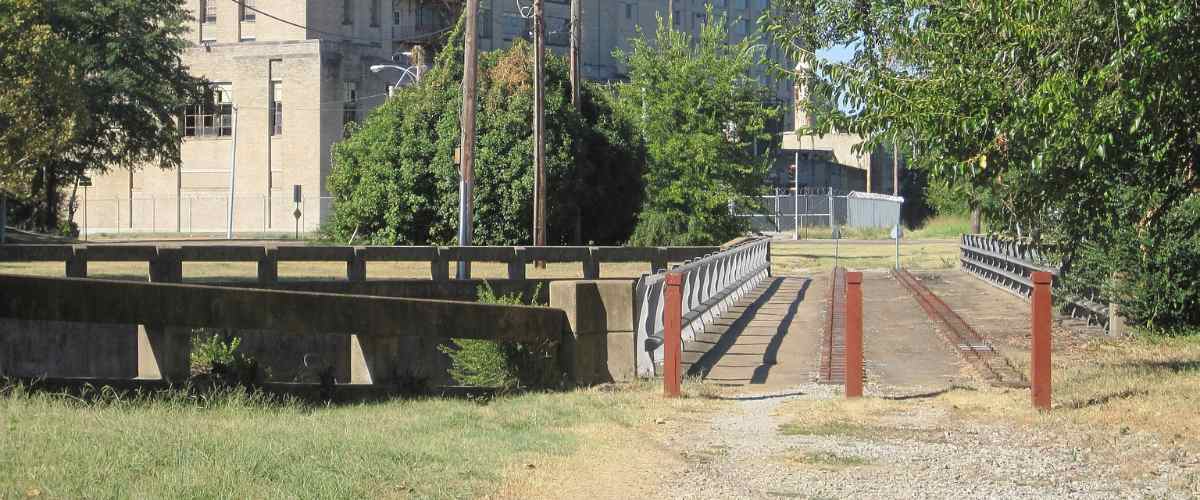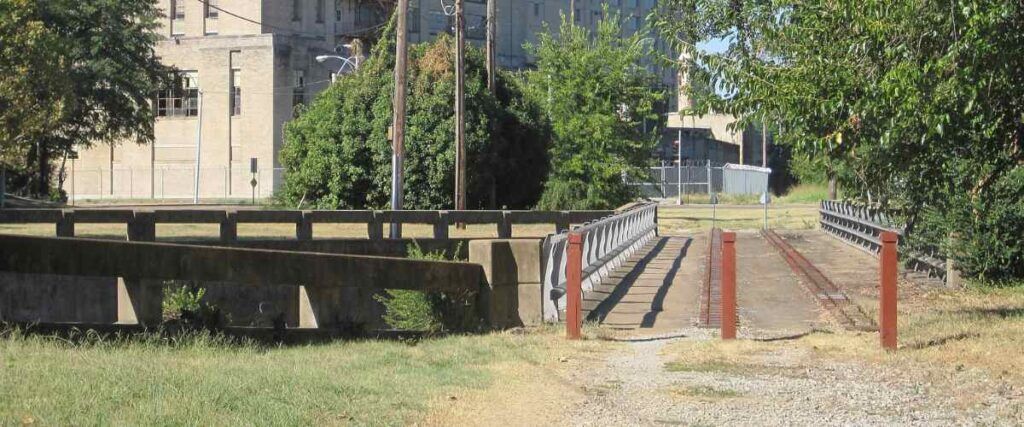 The Vollintine Evergreen Greenline, also called the V&E Greenline, is a beautiful 1.8-mile natural surface trail just north of Overton Park. It features seven distinct sections:
The West End section of the trail starts at the bridge near Watkins and N. Parkway and ends at Stonewall Street. It's full of greenery and trees and features the "Big Kids" sculptures, designed and built by a Rhodes College art class.
The Keeler Bridge section from Stonewall Street to Avalon Street has a large iron bridge that connects nearby neighborhoods to the V&E Greenline.
The Station house section runs from Avalon Street to Belvedere Street and is aptly named for an old-style railroad station house along the route. It's also home to the Woodland Garden, featuring a people and pet-friendly water fountain and public art.
The Lick Creek section winds from Dickinson Street to Tutwiler Avenue, crossing over the creek via a bridge. This area has more public art and is also a haven for local wildlife.
The Arbors and Gardens section between Auburndale Street and McLean Boulevard is home to more than 20 species of trees and a pollinator garden that parallels the trail.
The Cut section runs from McLean Boulevard to University Street and features high earth walls and a beautiful tree canopy.
The Springs is the final section of the trail and offers a peaceful area to rest and cool down with a walk through nature.
Tips: The V&E Greenline intersects with several crosswalks, but they're all very clearly marked for runners and cyclists.
9. Harbor Town Island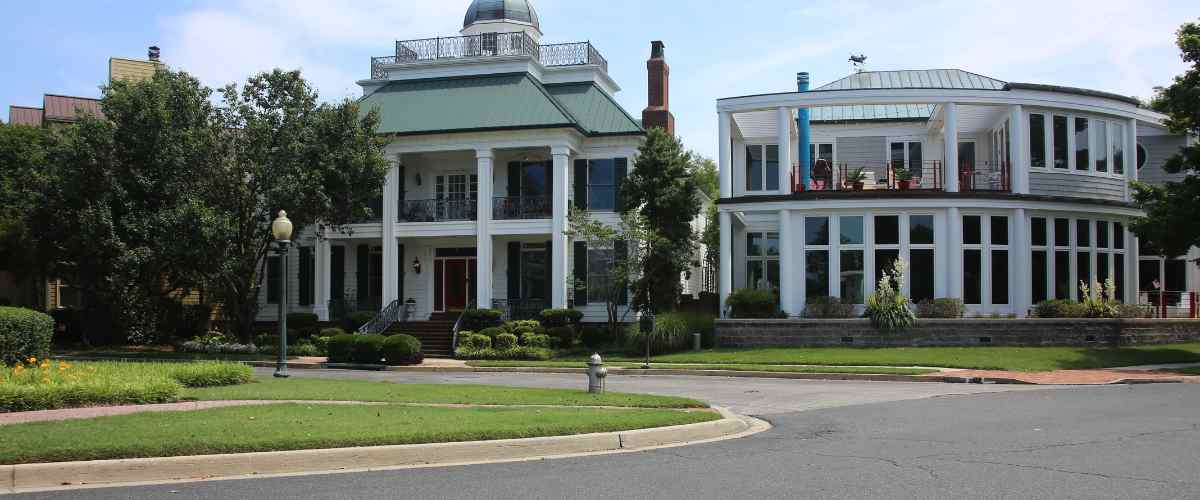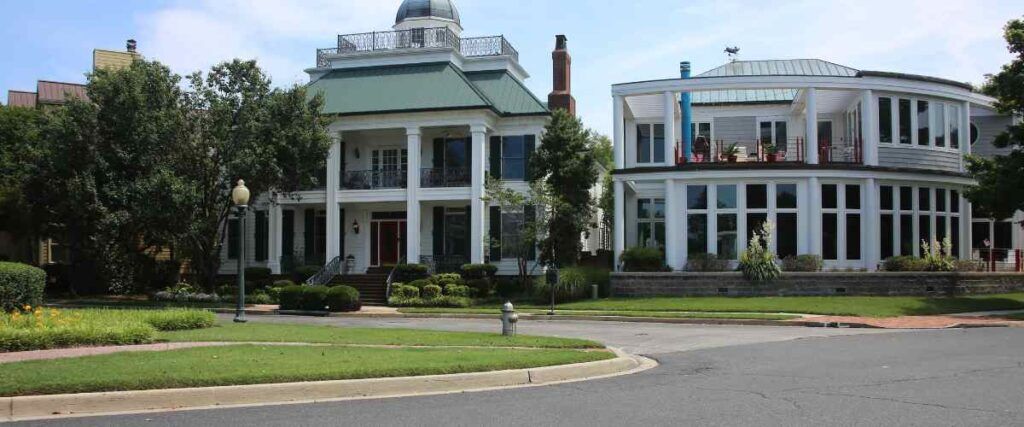 Where the Mississippi and Wolf Rivers meet, you'll find Harbor Town Island, northwest of downtown Memphis. This upscale area is a lovely spot for residential running, as it's known for its beautiful homes and unique culture. The water views and miles of nature trails add to the experience, making it a great getaway if you're tired of your usual Memphis city park or street routes. A running tour of the island offers a distinct view of the area and its green spaces, including Mud Island River Park and the Mississippi River Greenbelt Park. The Mud Island Dog Park is also a great spot to take your fur baby after a long run around the island.
Tips: The downtown Riverwalk area isn't far and is accessible by foot.
10. Audubon Park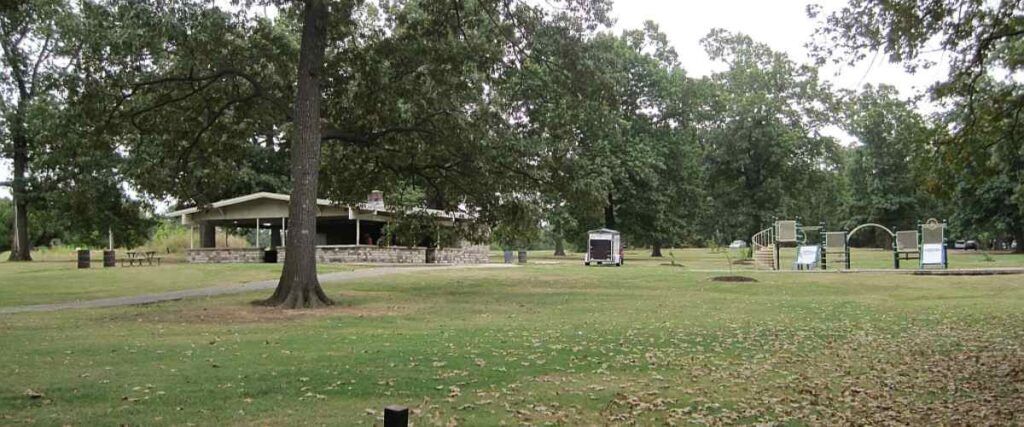 Audubon Park is a 373-acre park with a one-mile paved loop trail. Although the route is short, you can run it as many times as you want for a longer, more challenging workout. In addition to the loop trail for runners and walkers, Audubon Park features amenities like an 18-hole golf course, lake, tennis courts, pavilions, Cancer Survivor Park, and a playground for kids. It's also home to the 96-acre Memphis Botanic Gardens, which is open daily and features 30 specialty gardens.
Tips: The Dixon Gallery and Gardens is just south of Audubon Park and worth exploring.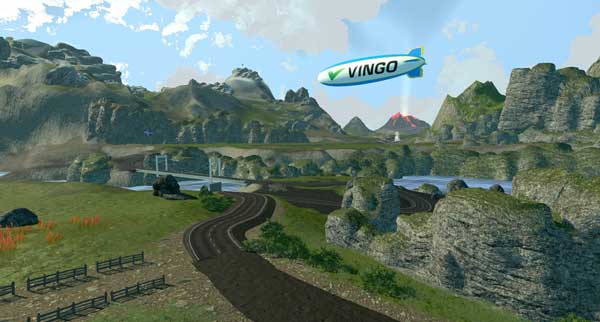 Interested in another city?
Discover the best cities to run in the US:
Sources:
Photo Sources: