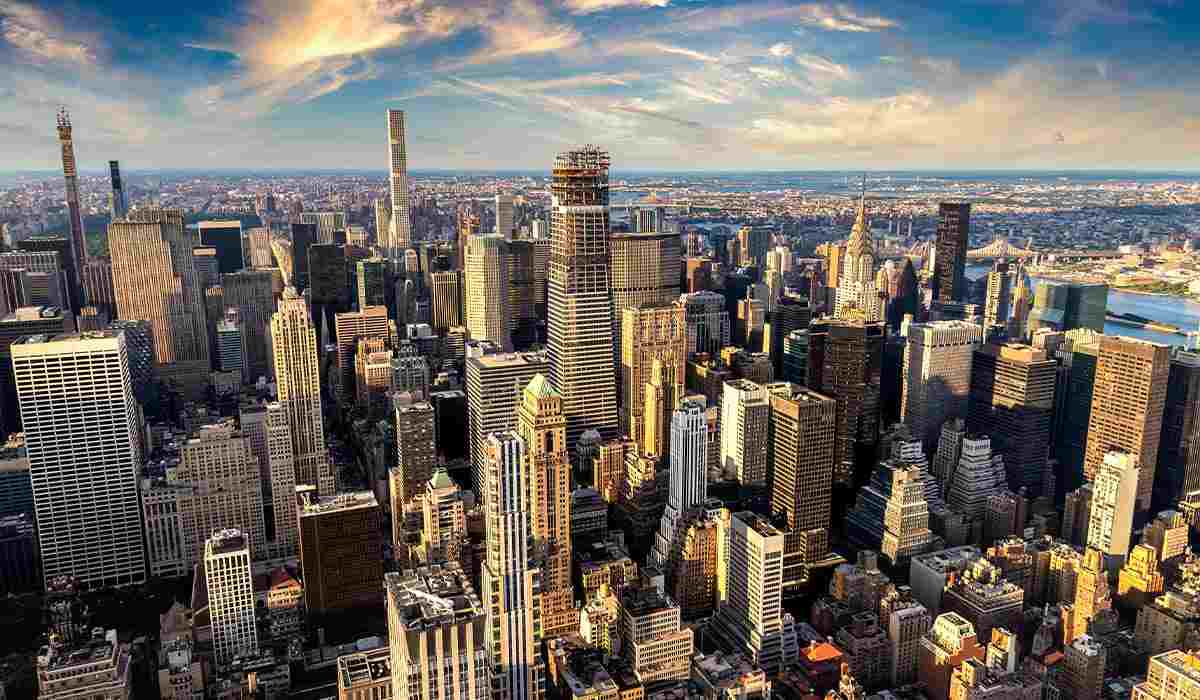 Top 10 Running Trails in New York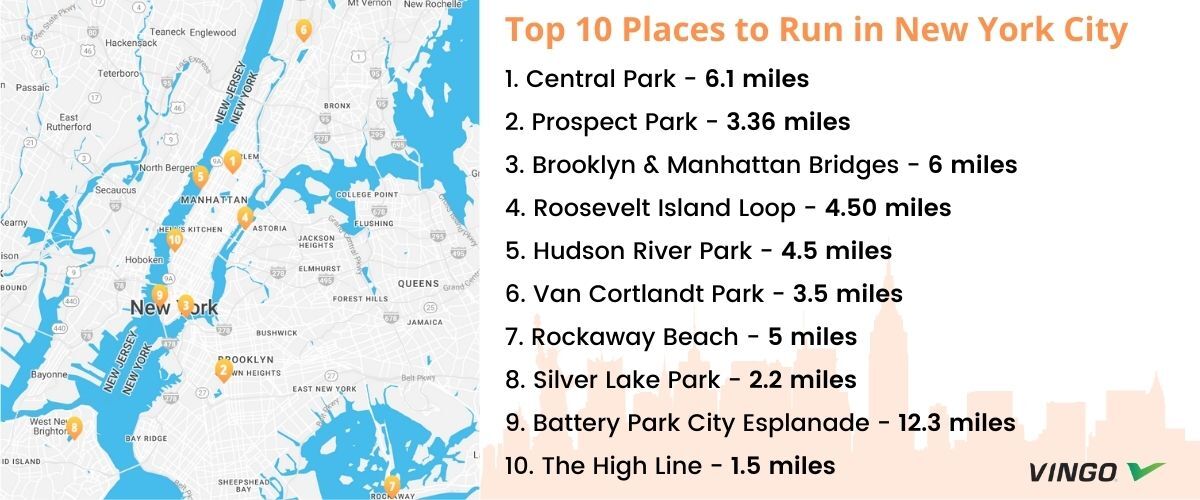 New York City is an excellent place to run, whether you're an avid runner or a beginner testing the waters. With plenty of great attractions to keep the scenery interesting and several incredible parks in the city, there's no shortage of amazing places to hit the pavement. Based on runners' recommendations, here are the top 10 areas to run in New York City.
1. Central Park
Central Park is likely the first place that comes to mind when you think about running in New York City. It's "the" spot to get your heart-pumping cardio in, with several different scenic route options. Check out the popular 1.5-mile Central Park Reservoir route or the longer 6.1-mile full loop around the park for an incredible New York City running experience. With a great blend of hilly and flat terrain, easy access to restrooms and water, fantastic scenery, and iconic landmarks, it's easy to see why Central Park is always swarming with runners.
Tips: Always run counterclockwise here and stay in the designated pedestrian lane unless you're running at a time when the streets are closed to cars, such as on weekends or certain hours during the week.
2. Prospect Park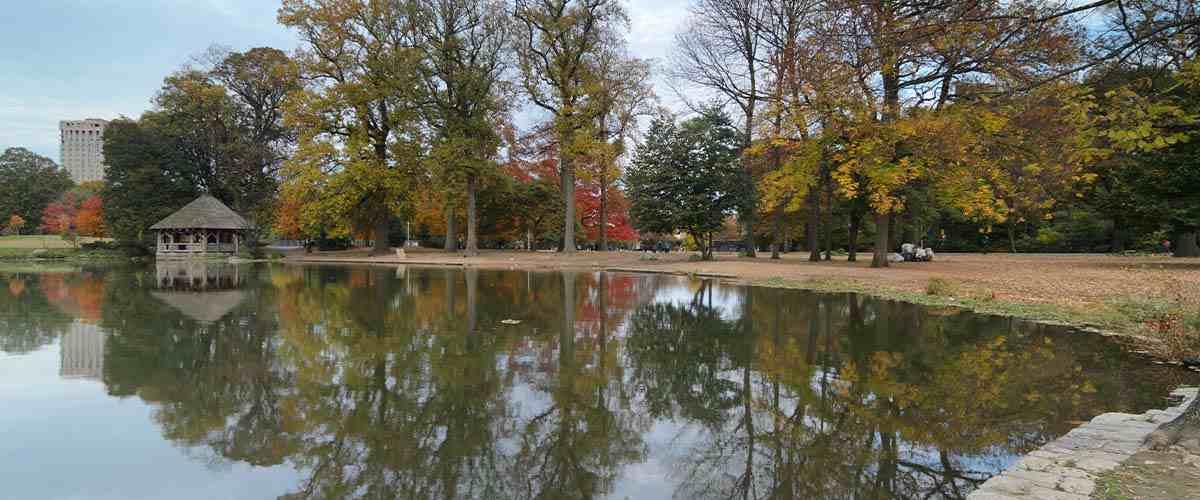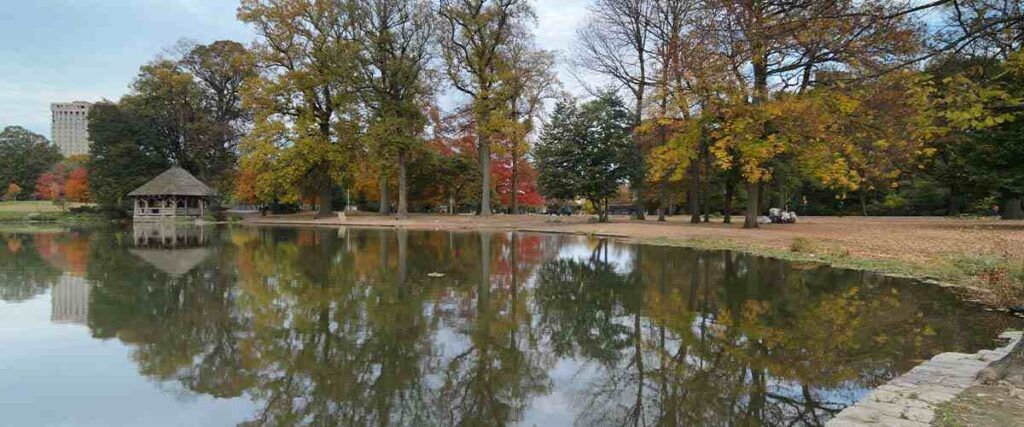 If you want something different from the crowded Central Park, Prospect Park is an amazing destination for runners in New York City. For a scenic run, the park spans 585 acres and is home to picturesque trails that pass through meadows, hills, and scenic waterways. Not only is the varied landscape beautiful, but it's also a great chance to push yourself and get a great workout in. The 3.36-mile Park Drive loop is a popular choice, but there are many other trails to explore. Just take a look at this Prospect Park Alliance running map
Tips: Runners here should stick to the pedestrian lane along with the interior of the park, but you can run in either direction. If you plan to run at night, you should also strongly consider wearing reflective clothing.
3. Brooklyn & Manhattan Bridges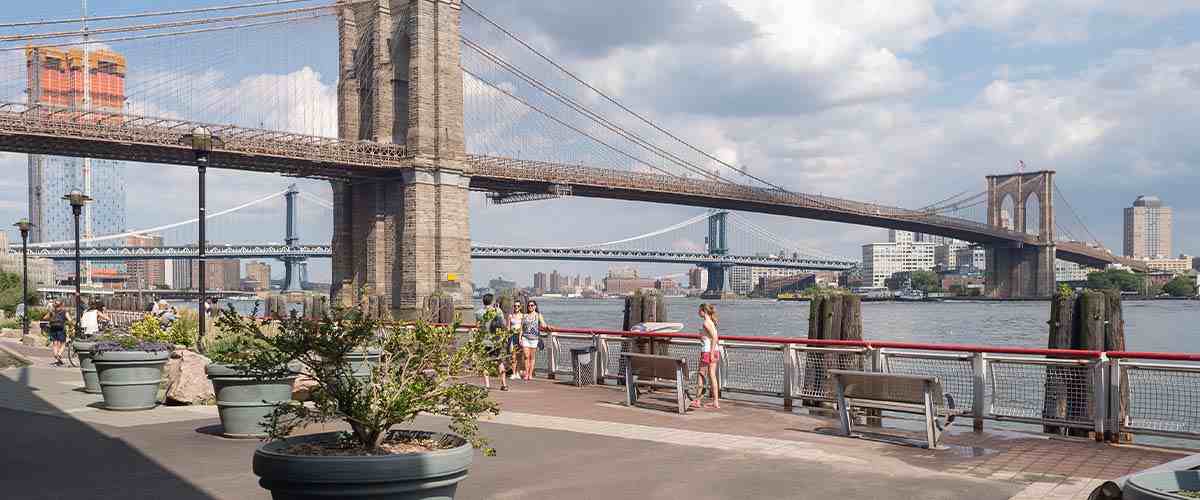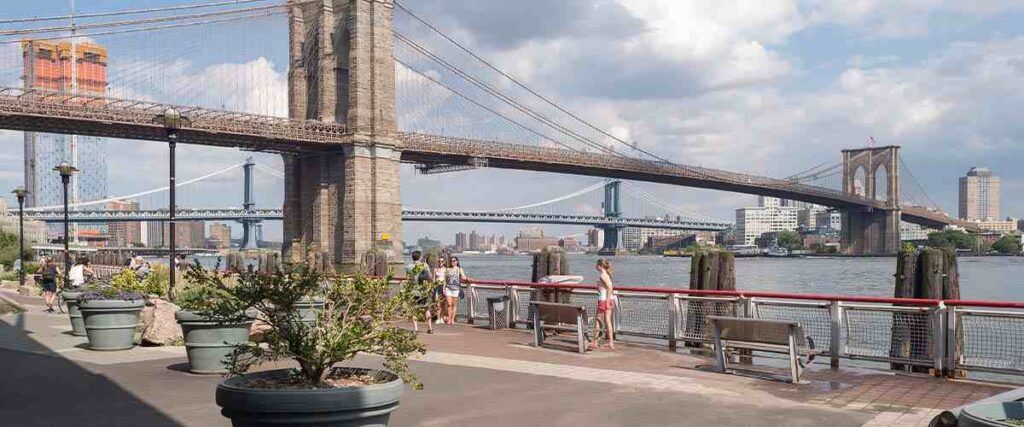 If you're looking for a route with gorgeous views of the city, this is it. Of course, the Brooklyn and Manhattan Bridges are swarming with tourists during the day, so it's best to tackle this run as early as you can. (We're talking sunrise!) For a fun, 6-mile loop, start at Cadman Plaza Park and go over the Brooklyn Bridge, where you can catch views of both Upper and Lower Manhattan. Then, head past New York City Hall, through Foley Square, over the Manhattan Bridge, past the world-famous Grimaldi's Pizza on Old Fulton Street, and back to Cadman Plaza Park. Since there's plenty to see along this route, you'll likely be too distracted to notice how tired you are.
Tips: There are cyclists, cars, runners, and walkers all along this route, so enjoy the sights but also stay alert and aware of what's around you.
4. Roosevelt Island Loop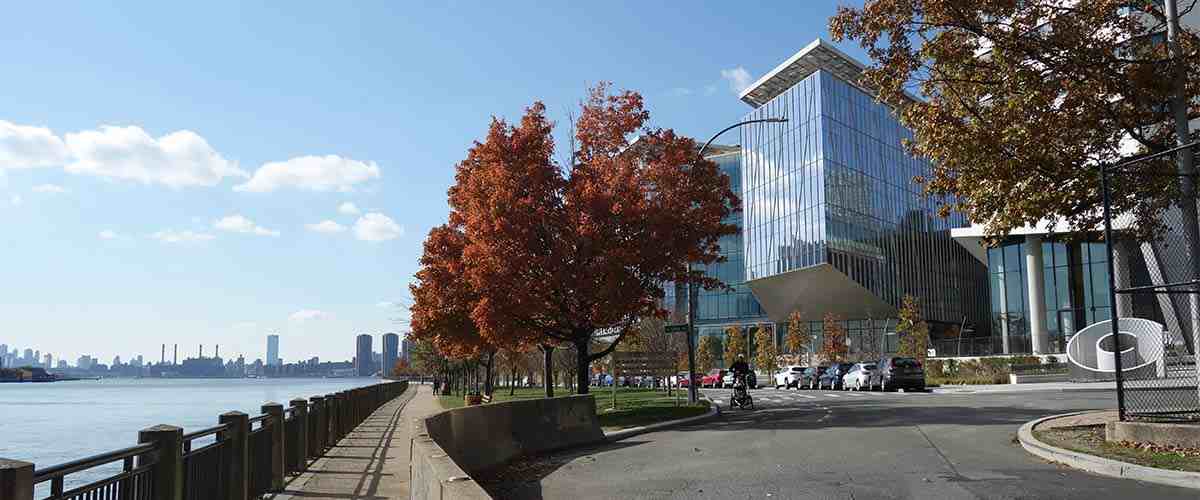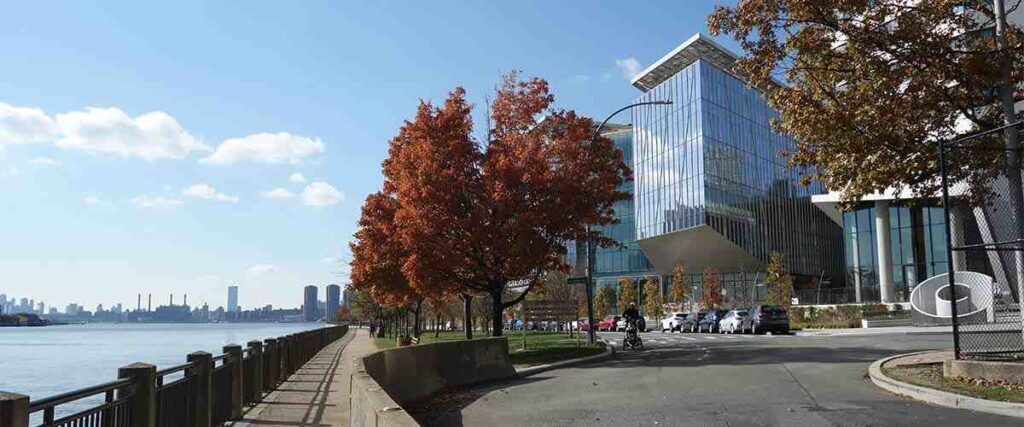 For a more quiet and unique New York City run, try the Roosevelt Island Loop. This route starts with a ride on an aerial tramway and traces a path that lines nearly the entire island. The run through this quiet residential neighborhood offers terrific views of Midtown and less foot traffic than some other famous NYC routes. Start at the tramway from Tramway Plaza East 59 St. and loop around four miles before returning to the same point.
Tips: Don't forget to check out the infamous stone lighthouse at the island's northern end. It's listed on the National Register of Historic Places and has a fascinating history shrouded in mystery.
5. Hudson River Park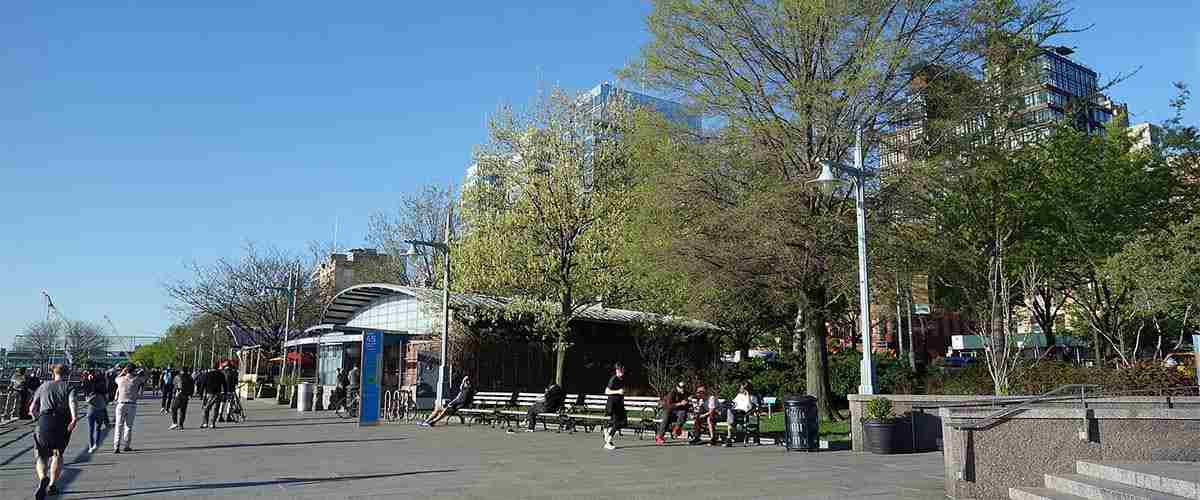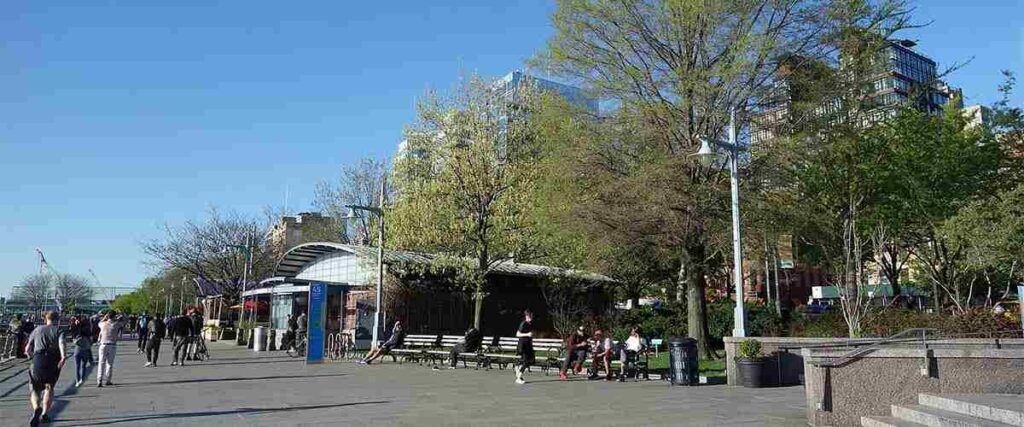 The Hudson River Park is a 550-acre riverfront park and one of Manhattan's most popular places to run. The pedestrian path parallels the Hudson River and provides an excellent place to get in a long, flat, 4-mile run with very few interruptions. With gorgeous river views and serene horticultural landscapes, running the Hudson River Park is the perfect morning, afternoon, or evening activity.
Tips: If you like to run with your dog, please note that dogs are not allowed on the lawns at Hudson River Park. Instead, there are four different dog runs where your fur baby can release their extra energy after your run.
6. Van Cortlandt Park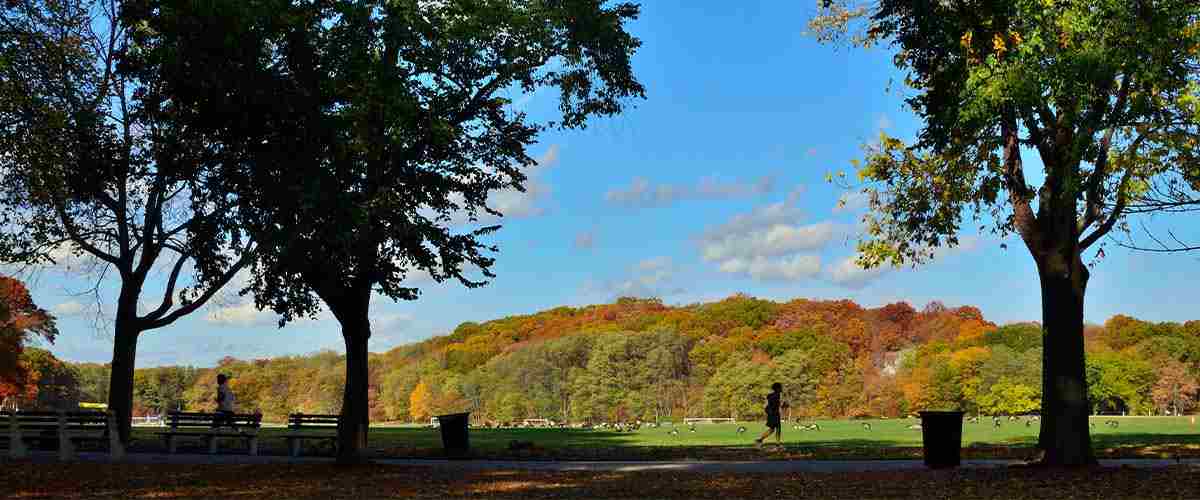 Although there are plenty of great spots to run in New York City, sometimes you just feel like getting away from the city for a jog. Van Cortlandt Park is a trail-running treasure hidden away in the Bronx. Drive or take the 1 train to the Van Cortlandt Park–242nd Street station, where you can immediately jump into a refreshing 3.5-mile loop around the park. This gem is home to miles of shaded and wooded running routes, including the beautiful Putnam, John Muir, and Old Croton Aqueduct trails.
Tips: Van Cortlandt Park also has a running track and is known for its legendary cross-country course, which has hosted races for more than a century. The course is broken into two loops: the flats and the back hills.
7. Rockaway Beach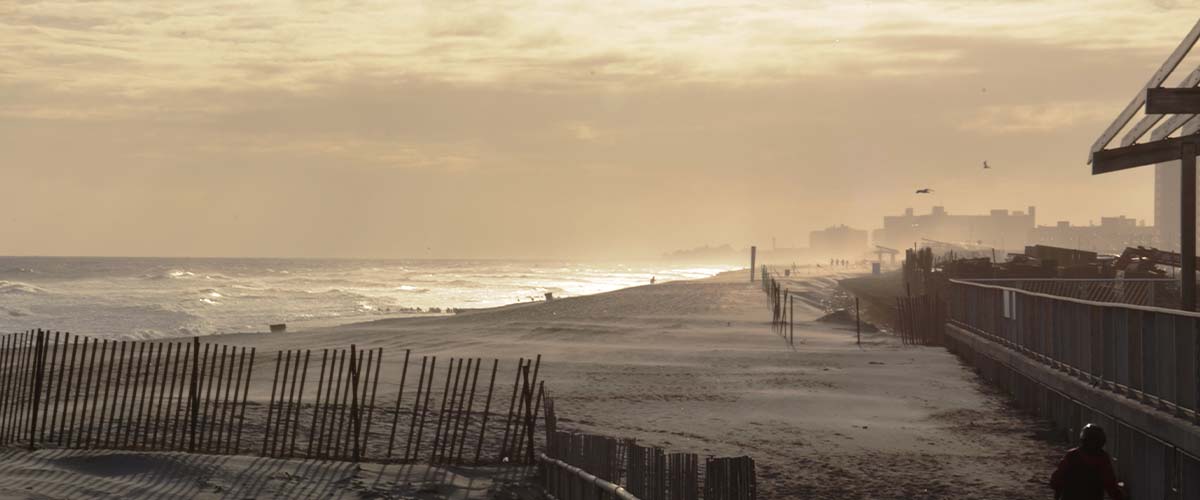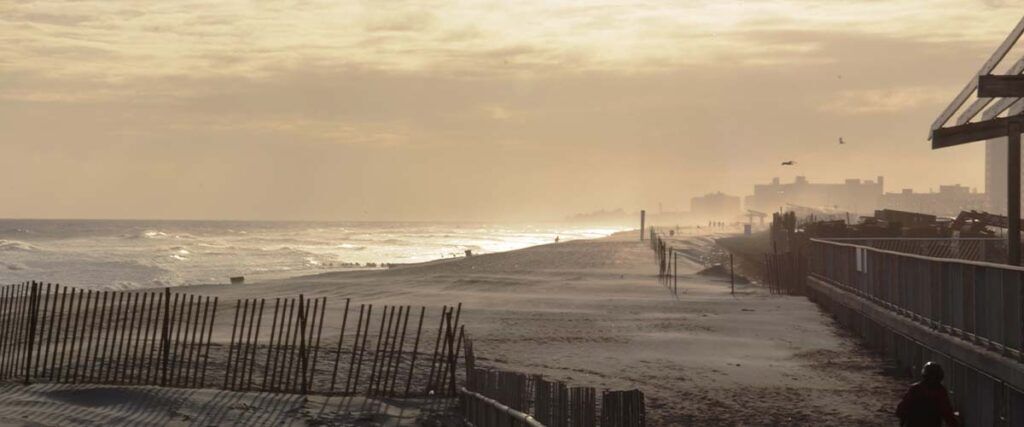 Rockaway Beach is the largest beach in the five boroughs, and it's an excellent spot to run. Start at the Rockaway Ferry Landing and venture out from the boardwalk to Beach 67th Street before turning onto Rockaway Beach Blvd. and looping your way back around. Along this 5-mile route, you'll pass plenty of interesting sights along the way, like Flight 587 Memorial Park and Rockaway Beach Surf Schools, before finishing up at the beautiful Jamaica Bay, a wetland estuary that's packed with gorgeous native wildlife.
Tips: Runners say the best time to hit this spot is early morning or early evening. That way, you can enjoy the sunset and sunrise with an oceanfront view.
8. Silver Lake Park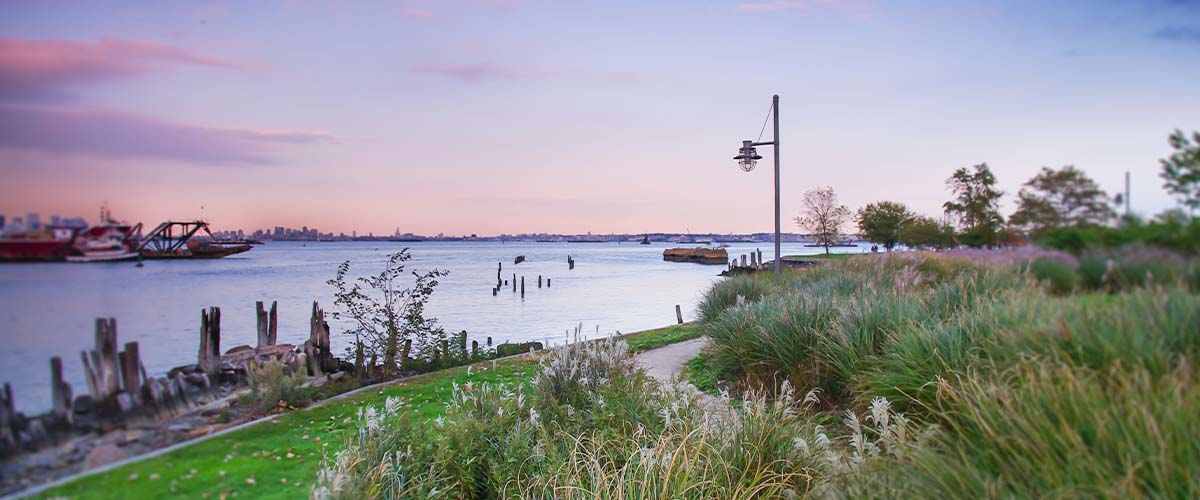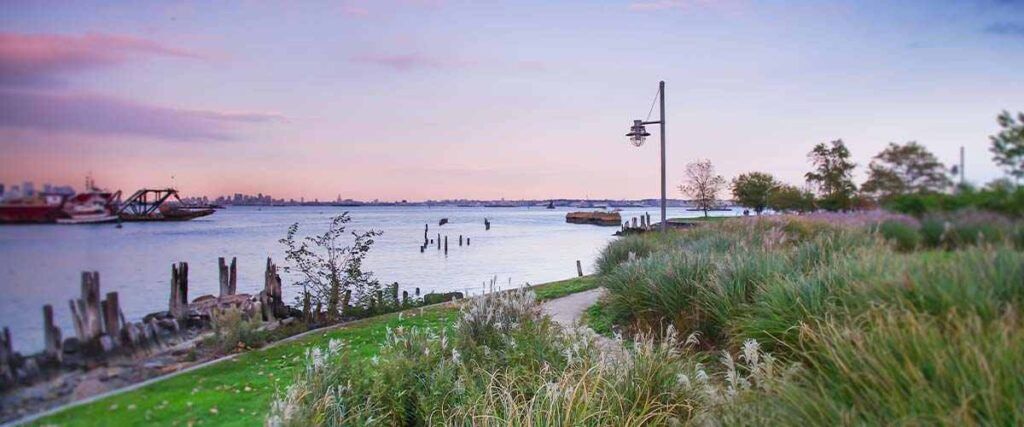 For a tranquil run, check out Silver Lake Park on Staten Island. It boasts 209 beautiful acres of uninterrupted natural space perfect for running. Whether you run along the park up Victory Blvd., or you loop around Silver Lake in the park's northern section, the trails around the lake offer great scenic views and a decent workout in the process.
Tips: If you enjoy recreational sports, Silver Lake Park is also a great place to play golf, tennis, basketball, and baseball!
9. Battery Park City Esplanade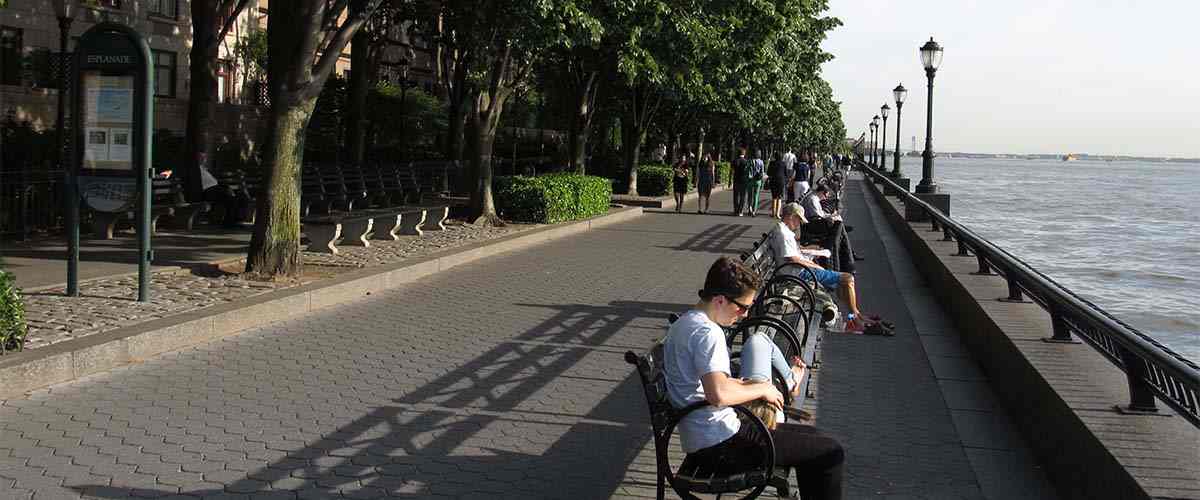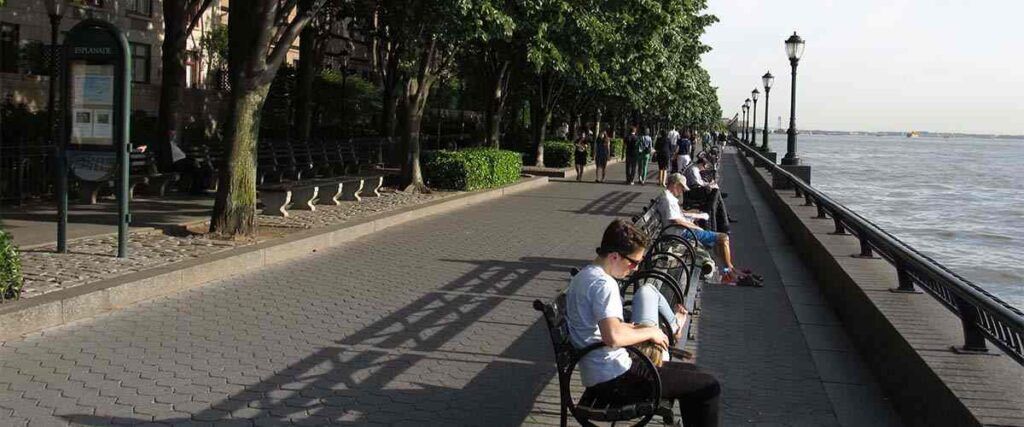 The famous Esplanade is one of the most beautiful places to run in New York City. It stretches the whole length of Battery Park City and parallels the southern tip of Manhattan. Not surprisingly, it's a gorgeous place to run and walk, with stunning views of the Hudson River, New York Harbor, and the Statue of Liberty. The Esplanade also features several parks, gardens, sculptures, and art institutions that runners can enjoy while they run.
Tips: For a longer run, you can continue running to the George Washington Bridge for a reasonably flat yet challenging workout.
10. The High Line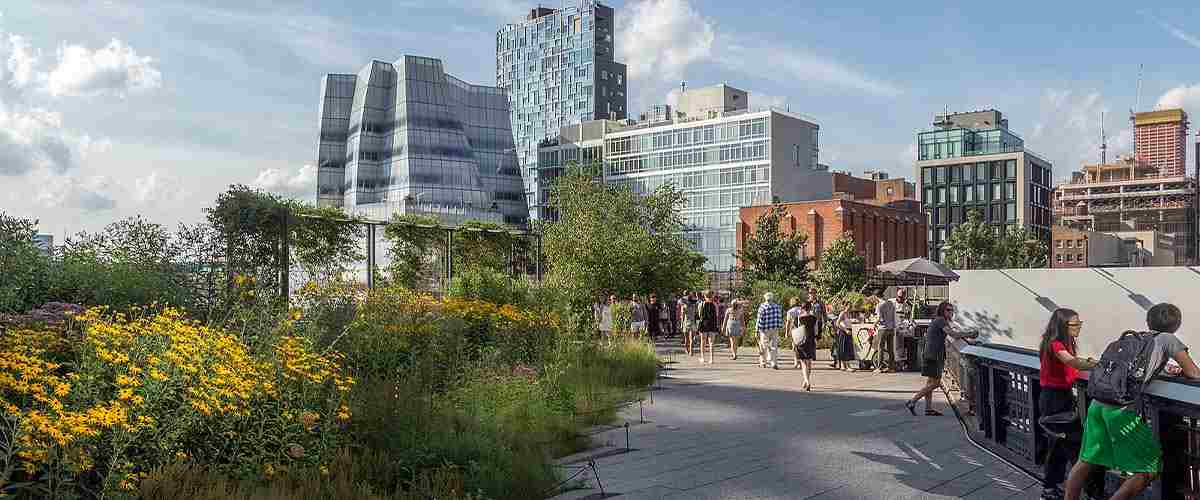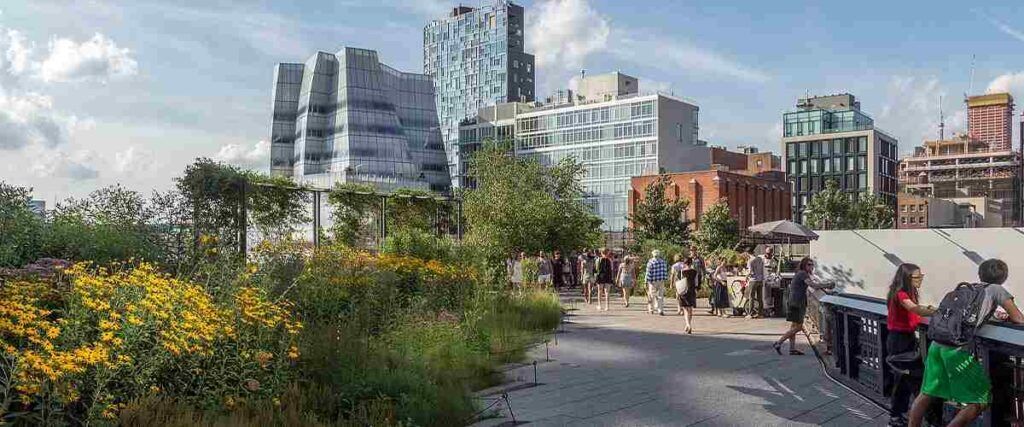 The High Line is a unique, linear park built on a historic freight rail line elevated above the streets on Manhattan's West Side. It's a hybrid public space where people can enjoy nature, art, and design while running, walking, or just sitting. For runners, it offers a 1.5-mile route perfect for beginners because there are plenty of places to sit and rest, with benches lining the trail. You can catch the subway or bus to access either end of the park, and the views above the city streets are pretty cool too!
Tips: After your run, stop to grab a bite to eat from one of the many vendors at The High Line.
Interested in another city?
Discover the best cities to run in the US: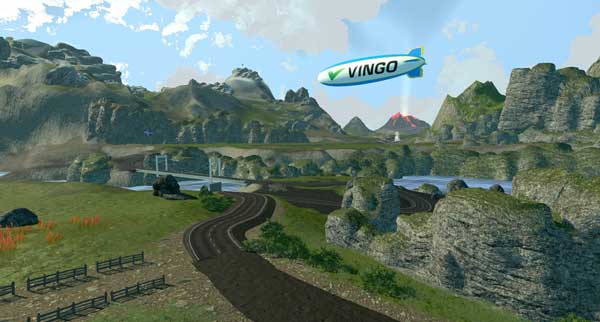 References:
Photo Sources:
Dietmar Rabich / Wikimedia Commons / "New York City (New York, USA), Central Park — 2012 — 6731" / CC BY-SA 4.0
King of Hearts, CC BY-SA 4.0 https://creativecommons.org/licenses/by-sa/4.0, via Wikimedia Commons
Arild Vågen, CC BY-SA 4.0 https://creativecommons.org/licenses/by-sa/4.0, via Wikimedia Commons
Tdorante10, CC BY-SA 4.0 https://creativecommons.org/licenses/by-sa/4.0, via Wikimedia Commons
Tdorante10, CC BY-SA 4.0 https://creativecommons.org/licenses/by-sa/4.0, via Wikimedia Commons
Steven Pisano from Brooklyn, NY, USA, CC BY 2.0 https://creativecommons.org/licenses/by/2.0, via Wikimedia Commons
Urielevy, CC BY-SA 4.0 https://creativecommons.org/licenses/by-sa/4.0, via Wikimedia Commons
Ken Lund from Reno, Nevada, USA, CC BY-SA 2.0 https://creativecommons.org/licenses/by-sa/2.0, via Wikimedia Commons
Acroterion, CC BY-SA 4.0 https://creativecommons.org/licenses/by-sa/4.0, via Wikimedia Commons