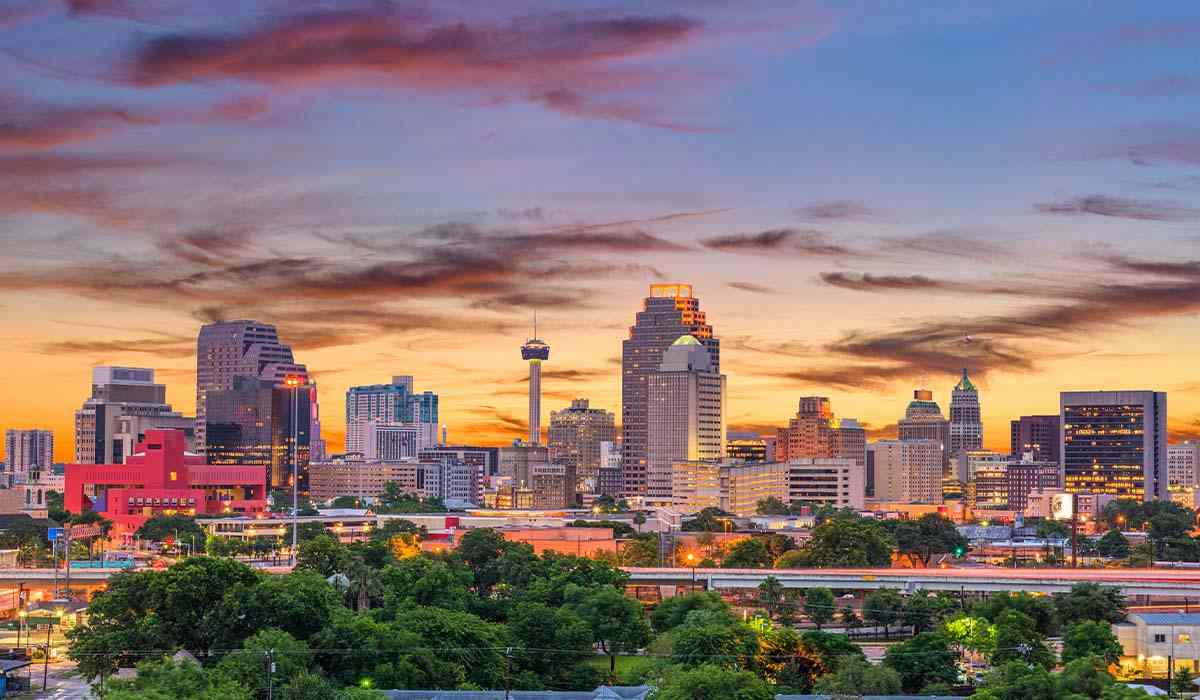 Top 10 Running Trails in San Antonio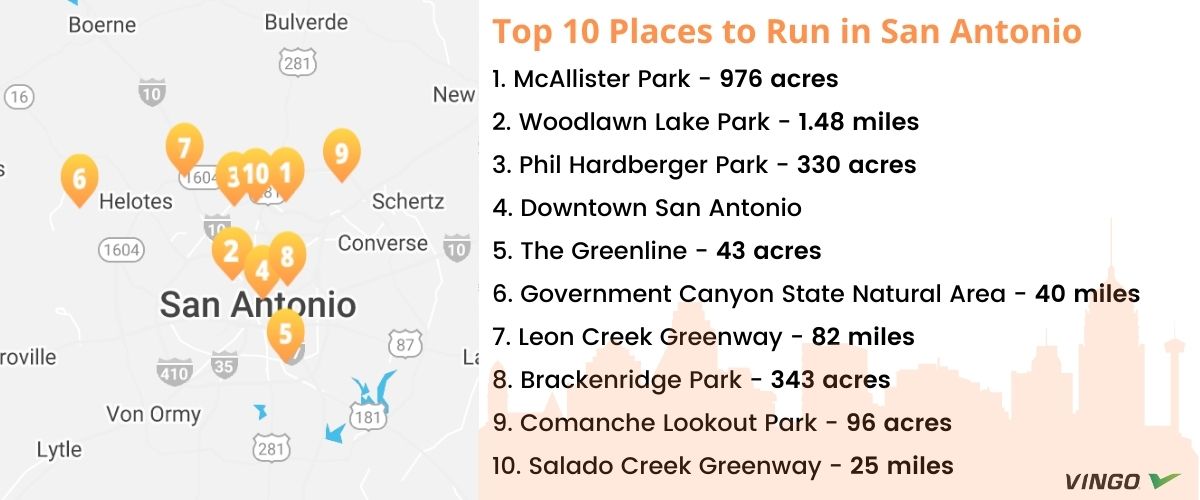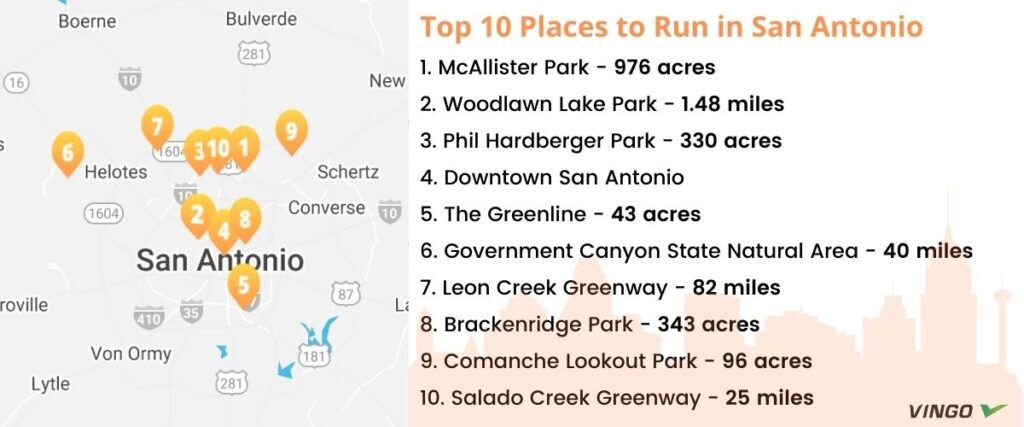 The sprawling Texas city of San Antonio is an exciting place to be, and it's full of beautiful parks and greenways for runners to explore. With incredible history, distinctive attractions, and stunning natural areas, this city has no shortage of excellent running areas. If you're searching for a good place to run in San Antonio, here's our list of the 10 best spots.
1. McAllister Park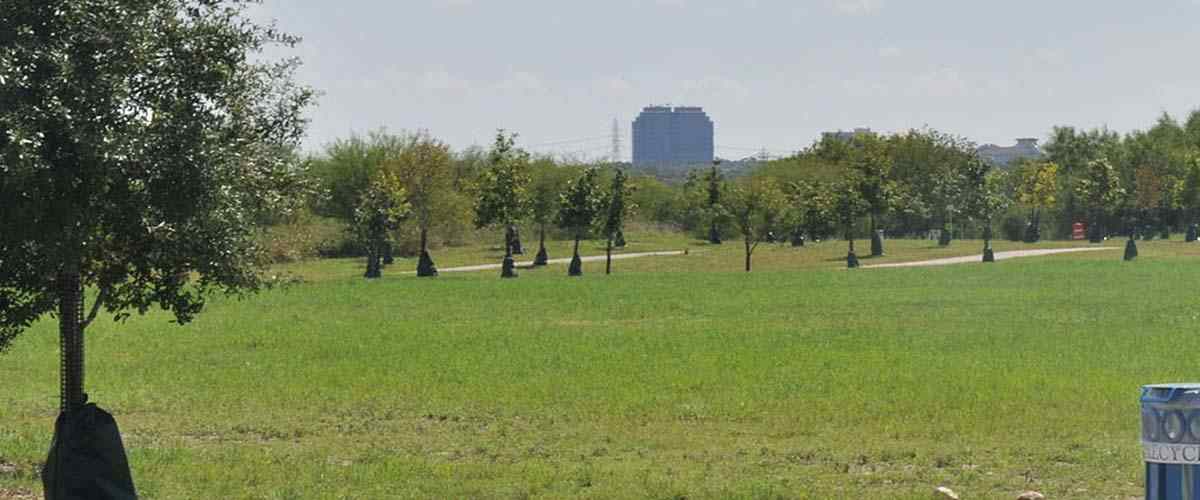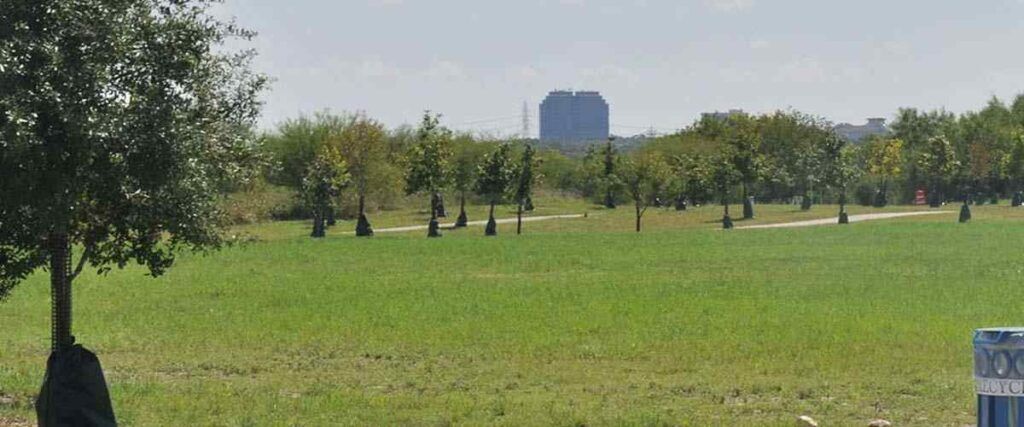 McAllister Park is a 976-acre park on the north side of the city. Featuring about 8 miles of running paths, the park is home to several different trails, plenty of trees, and lots of local wildlife, including deer. One of the most popular routes is the Blue Loop Trail, a rugged 6.3-mile trail perfect for nature lovers. For a shorter, gentler, and paved running trail, try the McAllister Park Loop, which spans 2.4 shady miles through the park. No matter which trails you explore, McAllister Park is a well-known and loved park within San Antonio's running community, so you're bound to have an enjoyable run here.
Tips: McAllister park is massive, and it's very easy to get lost. If you haven't been running there before, bring a friend with you (preferably one who's familiar with the park).
2. Woodlawn Lake Park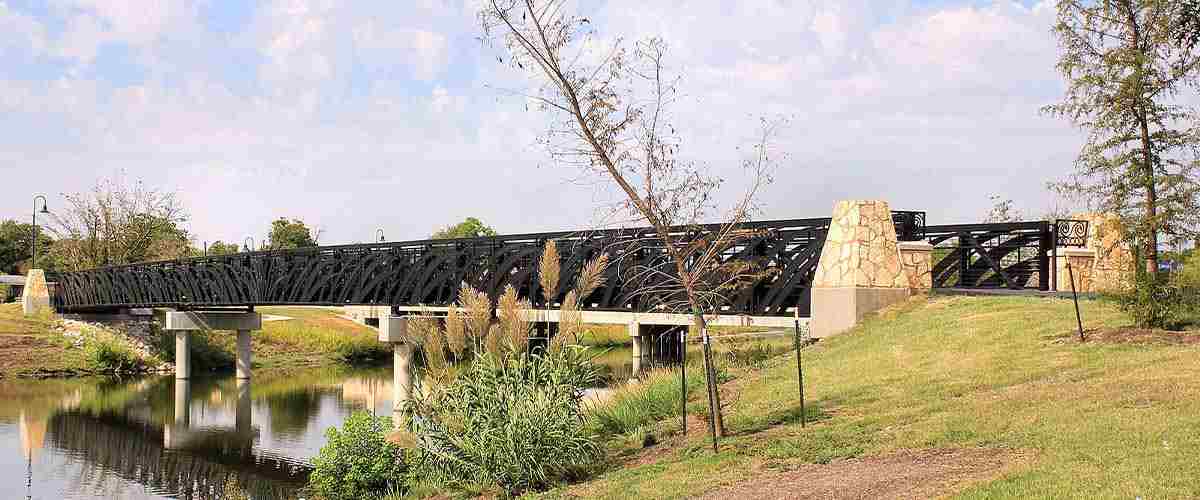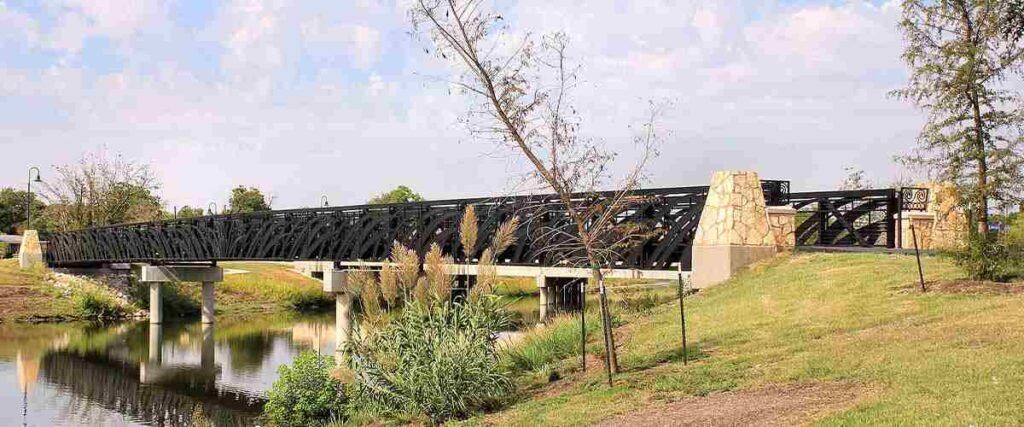 If you want a quick and beautiful run with a nice view, Woodlawn Lake Park is a great option. Featuring a short 1.48-mile loop by the lake and eight fitness stations along the trail, you can easily get a full-body workout here. The run is relatively easy and flat, and the trail is paved, so you don't have to worry about rocky or hilly terrain. If you prefer to run at night, many runners say they feel very safe at Woodlawn Lake Park because it's well-lit and is usually bustling with people and activity. The park also has a large swimming pool, a community room with public Wi-Fi, and a community health and wellness center, complete with fitness classes!
Tips: The Woodlawn Lake Community Room also has a health kiosk, where you can get important health assessment information, like your weight, heart rate, BMI, and blood pressure. Check it out while you're there!
3. Phil Hardberger Park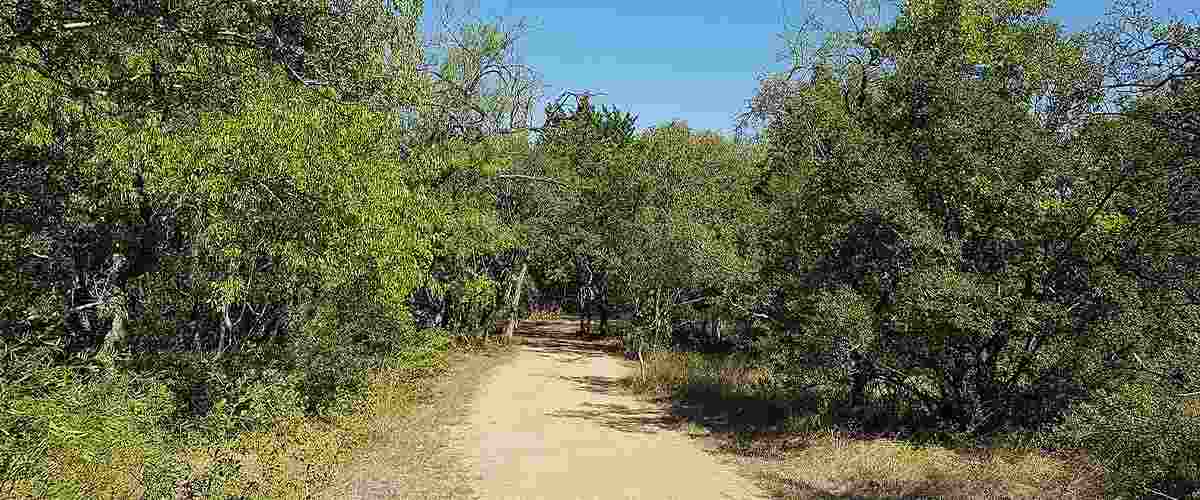 Phil Hardberger Park is a 330-acre park with amenities like running and walking trails, playscapes, dog parks, picnic areas, and more. The trails are all different, some with concrete surfaces while others are crushed granite, asphalt, or a mixture of all three. You can also change things up depending on how far you want to run, as each trail varies in distance. The park is classified as a natural area, so you won't be surprised to find that it's very well-maintained! Whether you choose to run on the Geology Trail (0.8 miles), the Savanna Loop Trail (1.84 miles), the Water Loop Trail (1 mile), or the Oak Loop Trail (0.84 miles), Phil Hardberger Park is a beautiful and scenic place to run.
Tips: This park also has outdoor exercise stations and water fountains for your convenience.
4. Downtown San Antonio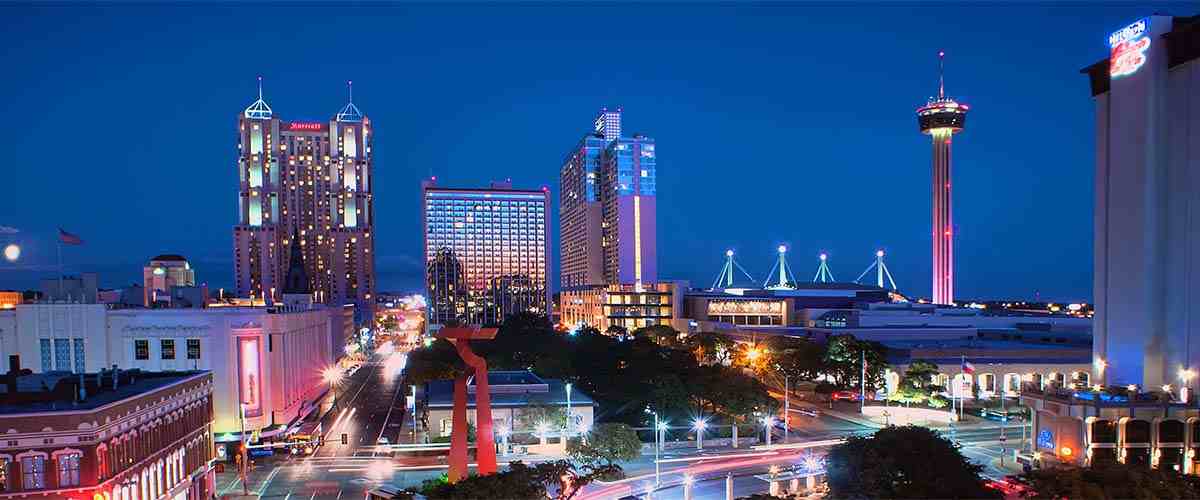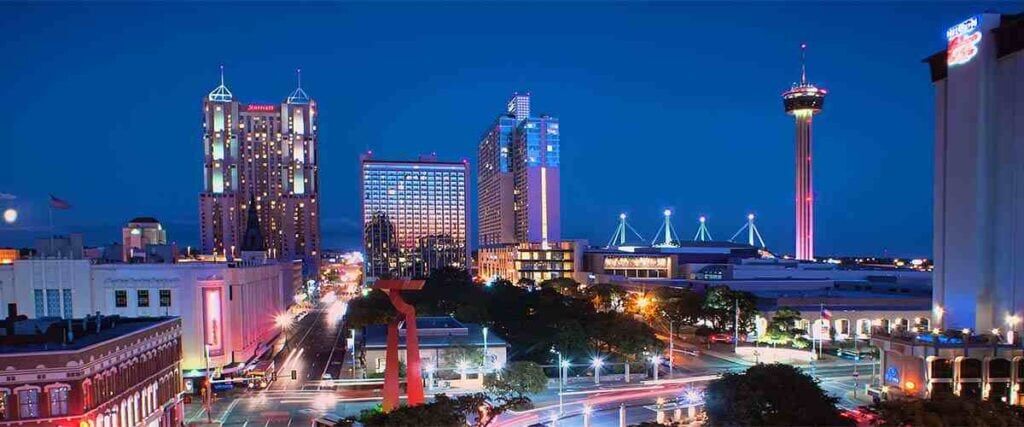 Downtown San Antonio, specifically the River Walk and Pearl District, is always bustling with community activities and people, making it a very safe and fun area to run through. The River Walk spans about 15 miles and is lined with restaurants, shops, and hotels, making for great sightseeing while you exercise. You can start your run anywhere along the River Walk, but if you choose to head north, you'll pass the iconic Alamo Mission, La Villita Historic Arts Village, the San Antonio Museum of Arts, and many more incredible sights and attractions in the area. Starting near the Pearl will provide the most well-lit run for those who like to run at night.
Tips: If you're going to run downtown, get an early start! (We're talking like 6 a.m.) Otherwise, you're bound to run into large groups of tourists, which could disrupt your run.
5. The Greenline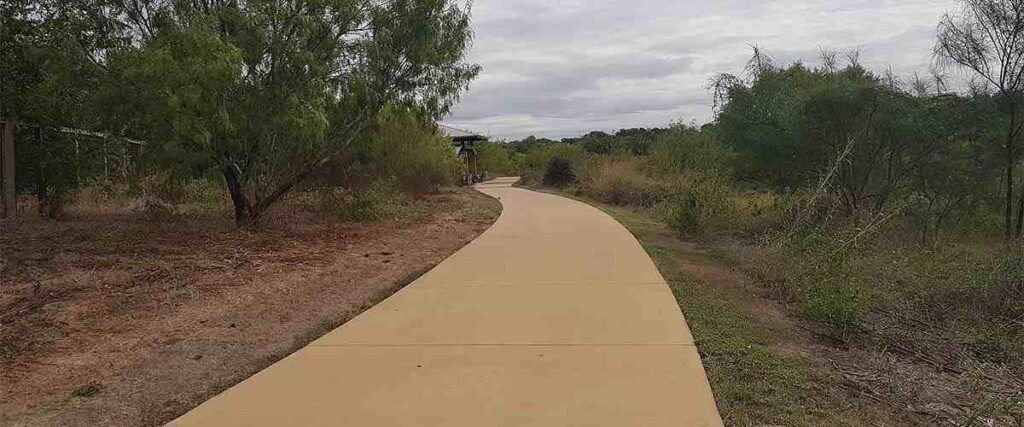 The Greenline is a linear waterfront park in South San Antonio, offering a unique, 43-acre green space for visiting and local runners to explore. Enjoy the park's 1.5 miles of jogging trails and one mile of illuminated hike and bike trails if you like to run after the sun goes down. With additional outdoor fitness stations, a food truck court, and 23 picnic tables, it's the perfect place to clock some miles and enjoy a bite to eat afterward. The southern end of the Greenline also connects to existing trails along the San Antonio River at Mission Reach, so you can extend your run further and enjoy the riverside sights along the way.
Tips: The Greenline is also a great place to hang out with friends, so consider running in a group! The park has foosball and ping pong tables, outdoor chess, and a gaga pit for gaga (a high-energy sport similar to dodgeball) to enjoy after your run.
6. Government Canyon State Natural Area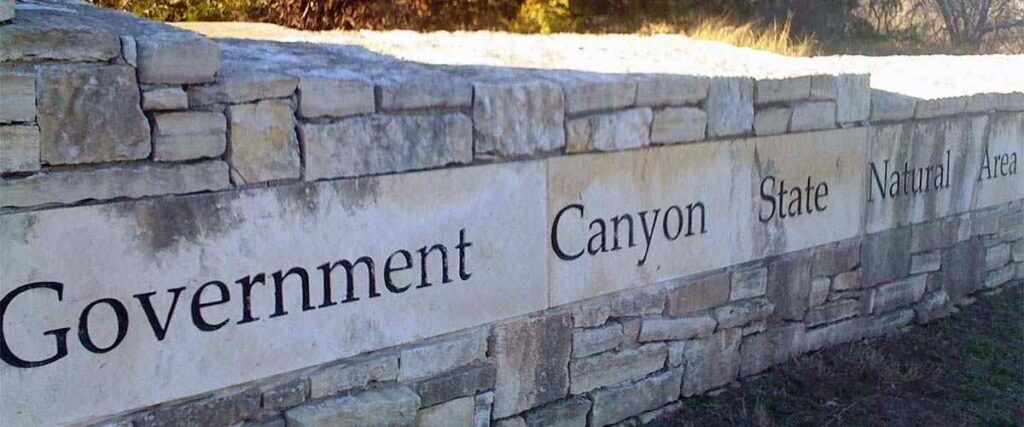 The Government Canyon State Natural Area in Northwest San Antonio is an absolute gem if you're into trail running. Home to 12,000 acres of wilderness, this natural area is an incredible place to run and recharge in nature. With more than 40 miles of trails to explore and a variety of terrain featuring rolling grasslands and rugged canyonlands, you'll never get bored. For a moderately easy run, try the 4.7-mile Lytle's Loop. Or, if you're up for a challenge, head further into the park and conquer Wildcat Canyon Trail. While you're in this natural area, make sure to check out the dinosaur tracks that experts say the Acro­can­thosaurus and Sauro­po­sei­don dinosaurs left behind nearly 110 million years ago!
Tips: The Government Canyon State Natural Area is closed Tuesday through Thursday, so plan your runs accordingly. Entry into the park also costs $6 per person.
7. Leon Creek Greenway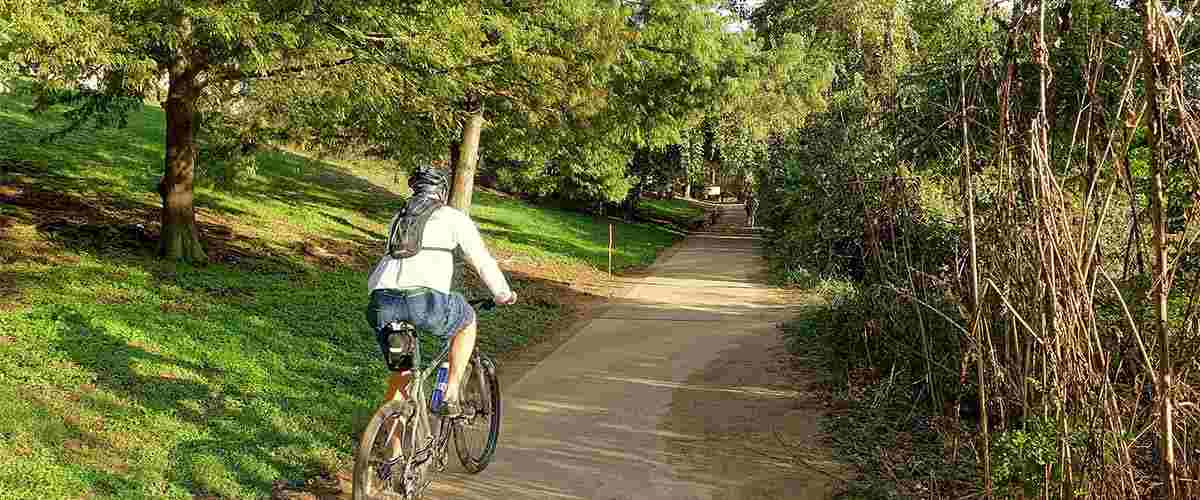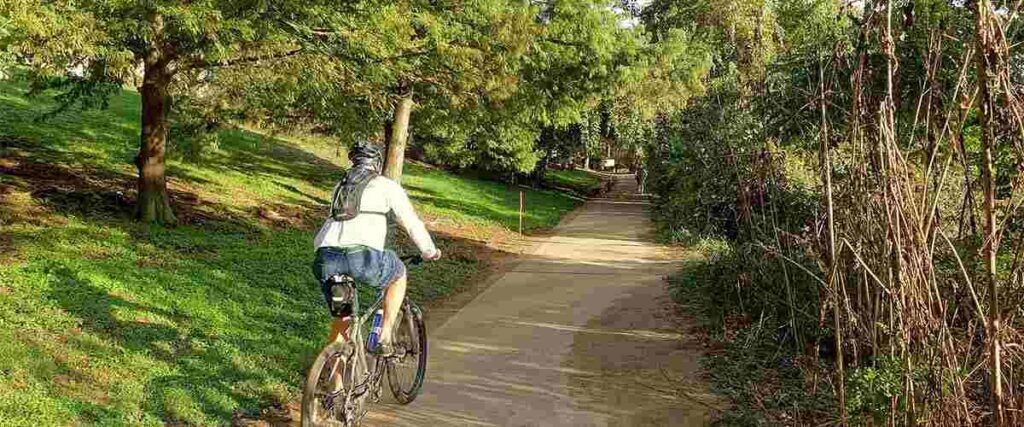 The Leon Creek Greenway is a part of the Howard W. Peak Greenway Trail System, a growing network of 82 miles of multi-use trails that wind along many of the city's waterways. The Leon Creek Greenway offers 20 miles of paved trails that connect several parks in San Antonio, including Cathedral Rock Park, Bamberger Nature Park, and more. While you run along this trail shaded with cottonwoods and various heritage trees, you'll enjoy picturesque views of limestone bluffs, gorgeous wildflower fields, and the University of Texas at San Antonio campus. You can start and end your run anywhere along the greenway, making it a great place to train or enjoy a leisurely jog of any length.
Tips: If you plan to get to the greenway via bus, the trailhead at VIA's Ingram Road Transit Center (3215 Northwestern Dr., San Antonio, TX 78238) provides direct access to the trail.
8. Brackenridge Park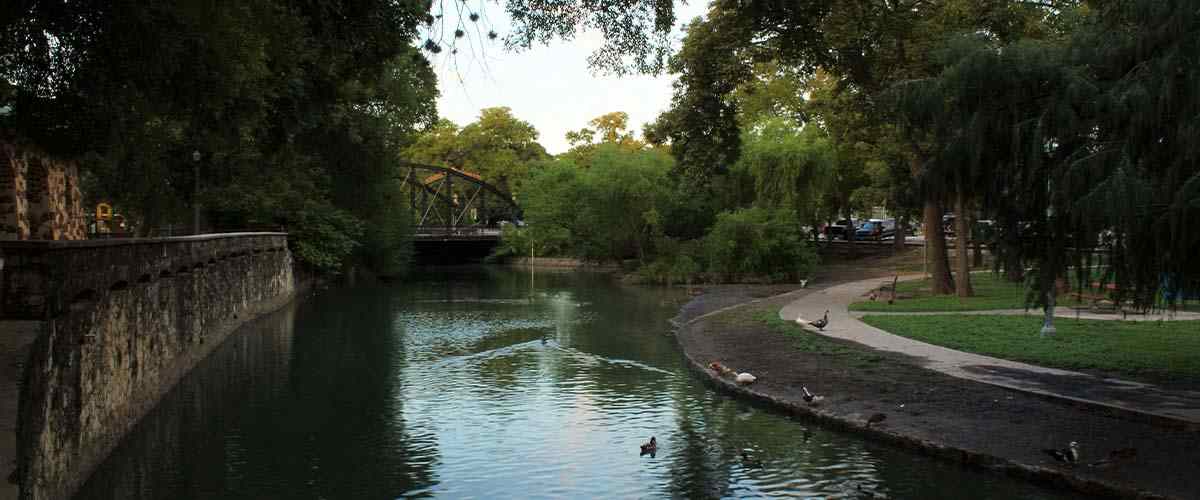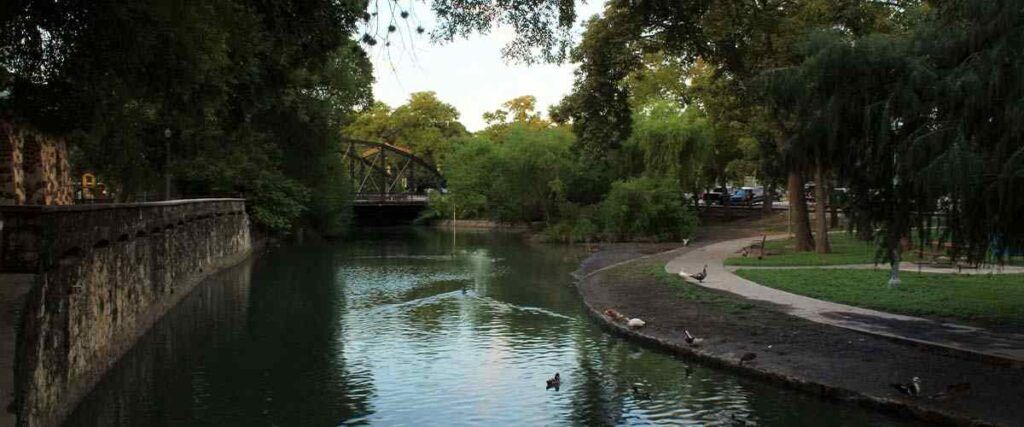 Brackenridge Park is a historic 343-acre riverside park home to some of San Antonio's most popular attractions, including the San Antonio Zoo, the Witte Museum, and the ornamental Japanese Tea Garden and Jingu House Cafe. The park has three different trails for runners to explore: the Waterworks Trail (1.5 miles), the Wildlife Trail (1 mile), and the Wilderness Trail (0.75 miles), all boasting gorgeous natural scenery and foliage. Just make sure to schedule your run for early in the day. This park is incredibly popular, so you'll want to avoid the crowds!
Tips: There is also a trail that passes through the Japanese Trail Garden. It's short but lovely! Head there during the spring and summer months to enjoy the plants in full bloom while you run.
9. Comanche Lookout Park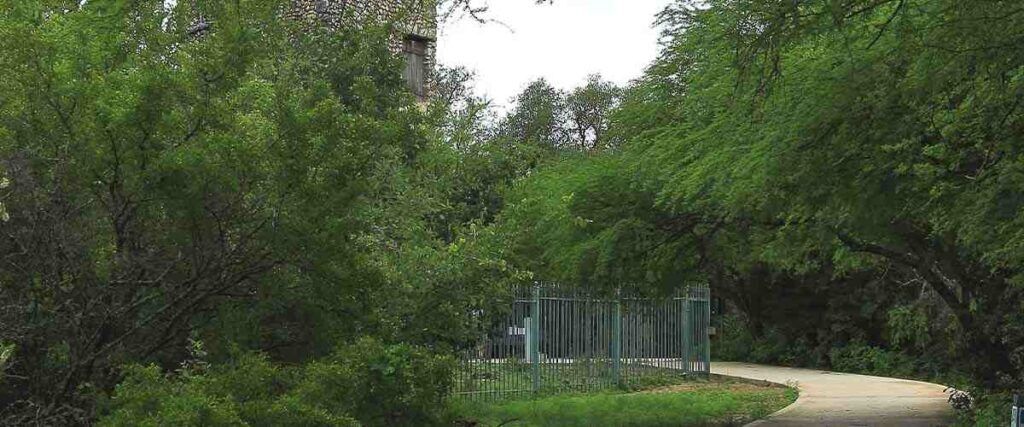 Comanche Lookout Park is a 96-acre park featuring one of the highest points in Bexar County with an elevation of 1,340 feet. Once used by the Comanches as a key vantage point for hunting and warfare, the area is now enjoyed by native San Antonians and visitors alike. This park has about 4.55 miles of trails to explore, some unpaved and others asphalt or pugmill, but all surrounded by beautiful scenery and native plants. Runners flock to this park for its scenic natural beauty, featuring native Ashe juniper trees, Texas and Mexican buckeye trees, honey mesquite, and more.
Tips: You can also take advantage of the park's nine interactive and stationary fitness stations along the Library Loop Trail.
10. Salado Creek Greenway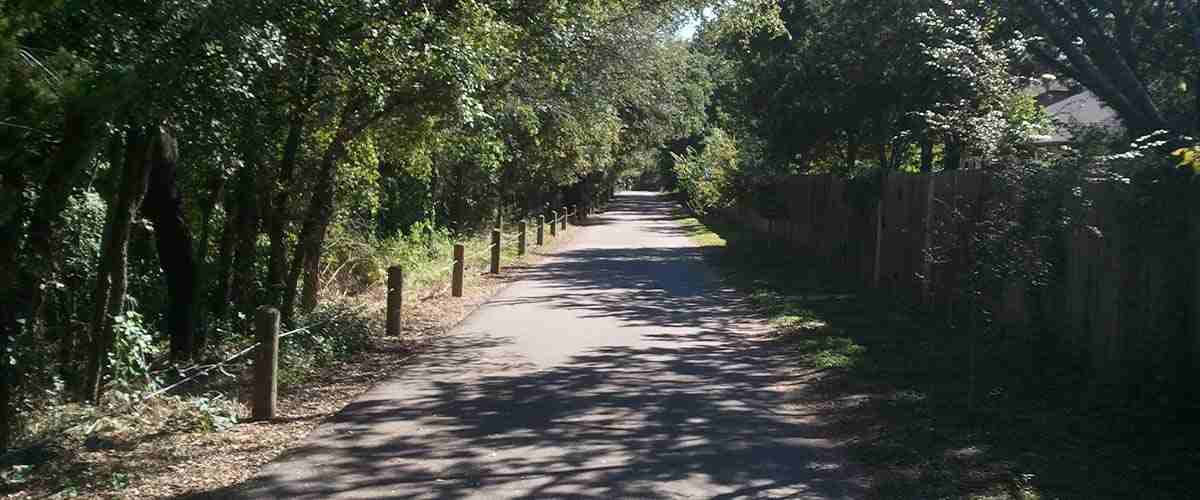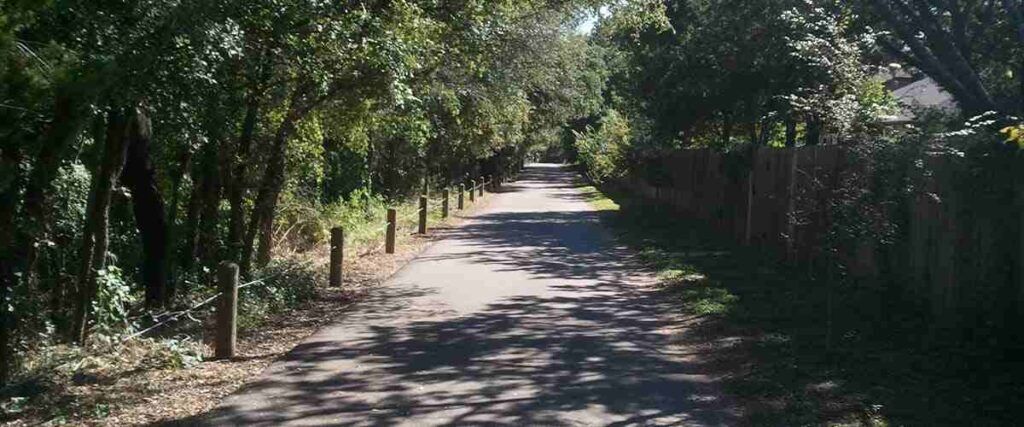 The Salado Creek Greenway is a part of the massive Howard W. Peak Greenway Trail System. It offers about 25 miles of paved running trails, divided into two segments:
Eisenhower Park to John James Park: This segment of the Salado Creek Greenway is about 18 miles and is the most scenic part of the greenway. It also passes by several worthwhile attractions, including Voelcker farmstead, an archaeological site featuring historic buildings from the late 1800s, Walker Ranch Historic Landmark Park, Lady Bird Johnson Park, and Robert L.B. Tobin Park, known for its fantastic bird-watching opportunities.
Jack White Park to South Side Lions Park: This section of the Salado Creek Greenway is 7.5 miles long and runs along the creekside, offering beautiful views of the water and surrounding forest. It also connects several different parks, including Jack White Park, Pletz County Park, Martin Luther King Park, Comanche Park, and Southside Lions Park.
Tips: This trail is known for being twisty with lots of ups and downs, so come ready to feel the burn!
Interested in another city?
Discover the best cities to run in the US: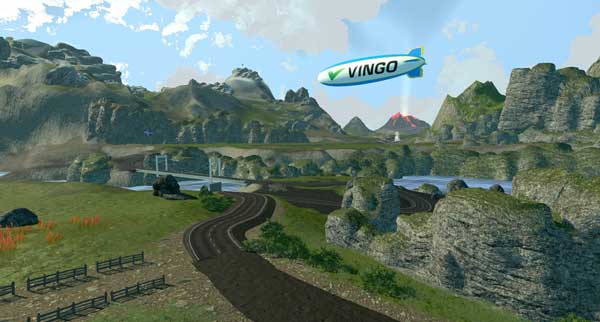 References:
Photo Sources:
Larry D. Moore, CC BY-SA 4.0 https://creativecommons.org/licenses/by-sa/4.0, via Wikimedia Commons
TParis, CC BY-SA 3.0 https://creativecommons.org/licenses/by-sa/3.0, via Wikimedia Commons
Irid Escent, CC BY-SA 2.0 https://creativecommons.org/licenses/by-sa/2.0, via Wikimedia Commons
Katie Haugland Bowen, CC BY 2.0 https://creativecommons.org/licenses/by/2.0, via Wikimedia Commons
Irid Escent, CC BY-SA 2.0 https://creativecommons.org/licenses/by-sa/2.0, via Wikimedia Commons
Zereshk, Public domain, via Wikimedia Commons
CaroleHenson, CC BY-SA 3.0 https://creativecommons.org/licenses/by-sa/3.0, via Wikimedia Commons
Dogfort04, CC BY-SA 4.0 https://creativecommons.org/licenses/by-sa/4.0, via Wikimedia Commons
Irid Escent, CC BY-SA 2.0 https://creativecommons.org/licenses/by-sa/2.0, via Wikimedia Commons
dq5studios, CC BY 3.0 https://creativecommons.org/licenses/by/3.0, via Wikimedia Commons
Daderot, CC0, via Wikimedia Commons