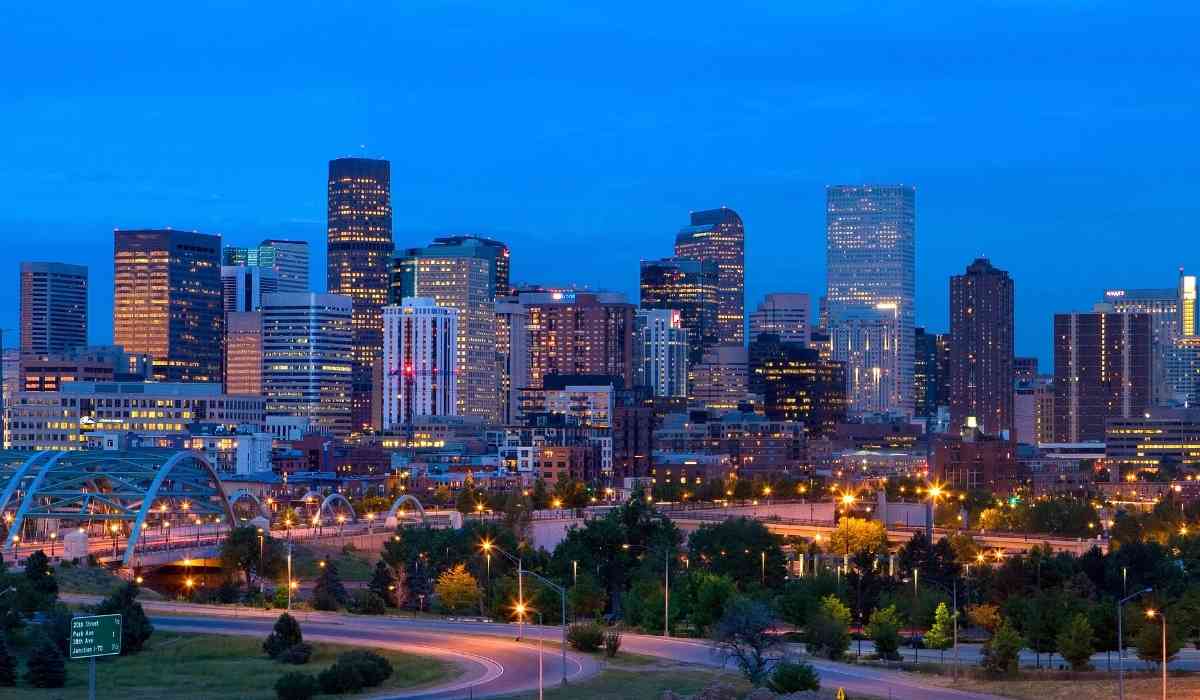 Top 10 Running Trails in Denver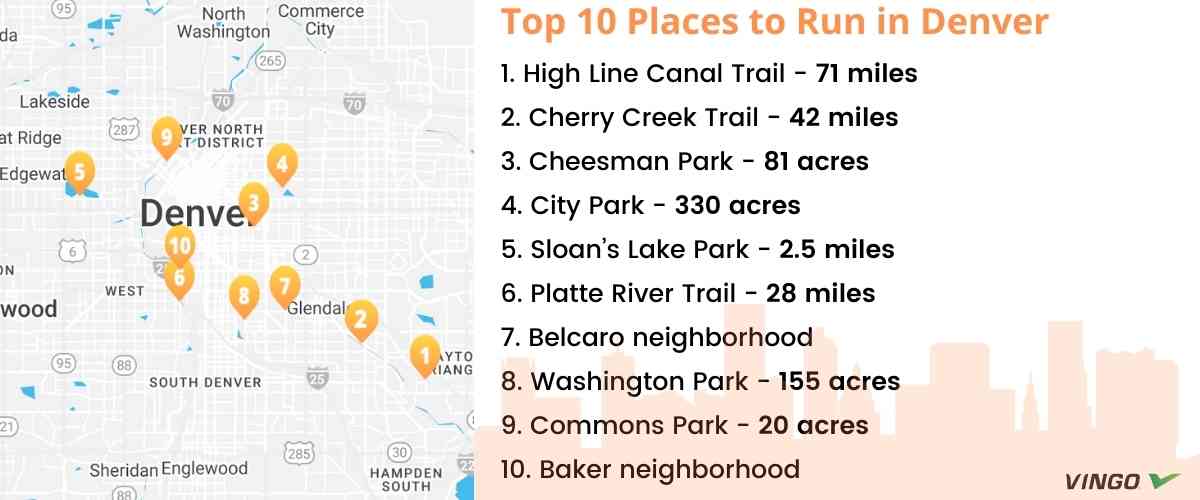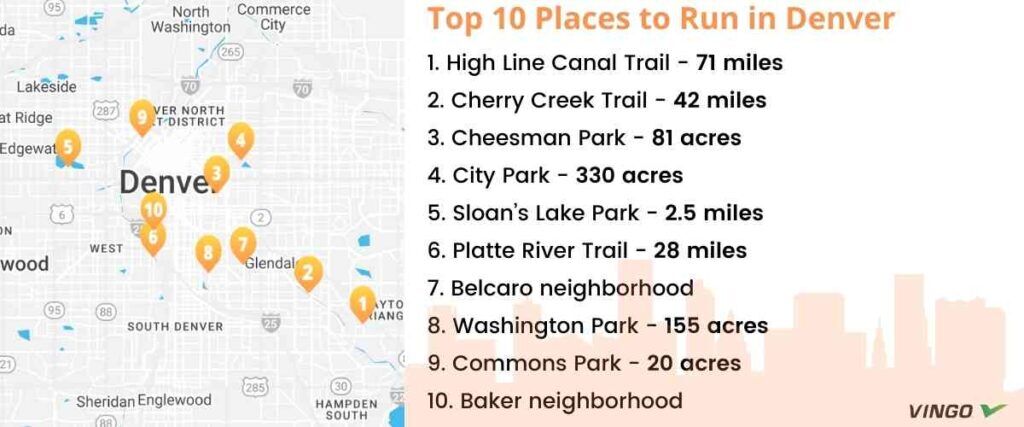 Denver is known for its outdoor recreation, art, fantastic breweries, and of course, the Rocky Mountains. If you plan to do any running in the Mile High City, the following 10 parks and trails are the best spots to be!
1. High Line Canal Trail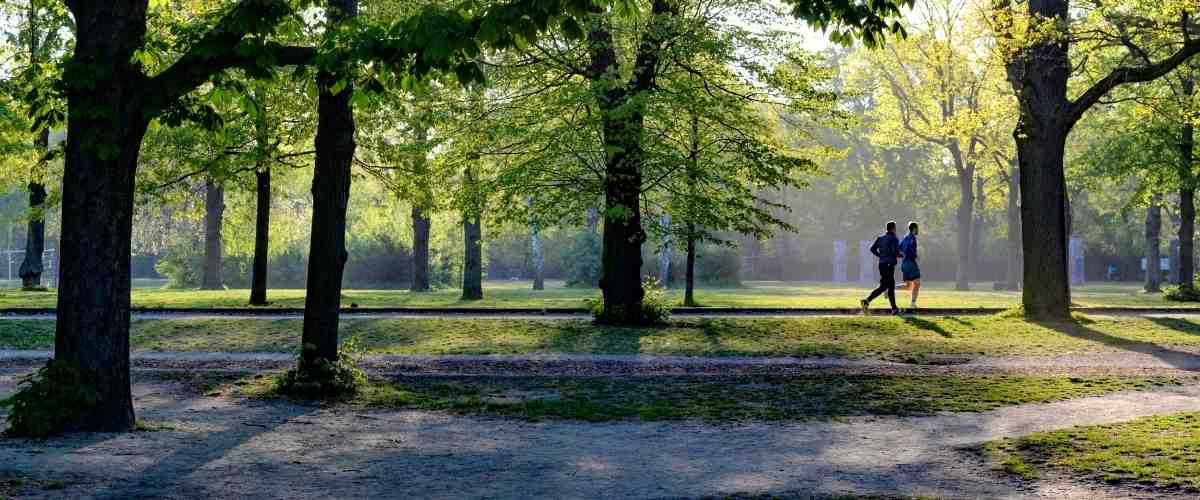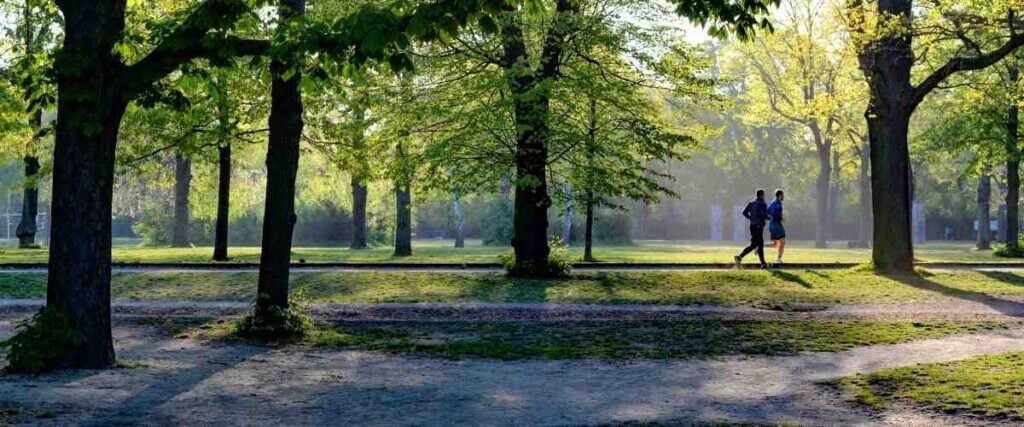 The High Line Canal Trail is one of the longest continuous urban trails in the United States. It snakes its way through the Denver area, starting at Waterton Canyon (south of Denver) and making its way through the suburbs and Aurora before ending at Green Valley Ranch, near the Denver International Airport. Spanning about 71 miles, the route is made up of 27 different trail segments, ideal for runners, cyclists, and walkers. The trail is relatively flat and connects to many Denver parks. On hotter days, runners can find relief on the High Line Canal Trail's shady areas under the cottonwood trees.
Tips: The most popular area for running is between Platte Canyon Reservoir and Chatfield State Park.
2. Cherry Creek Trail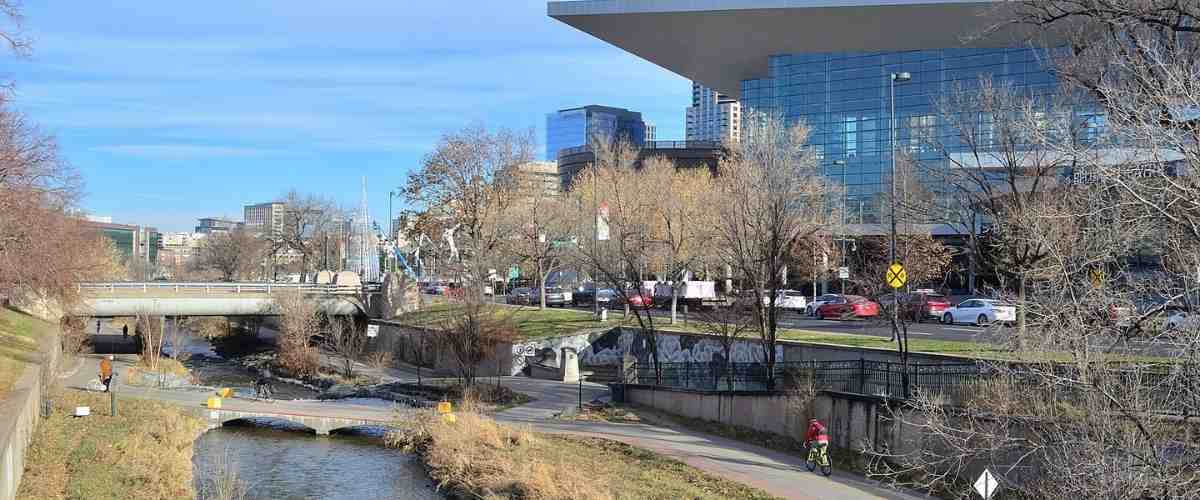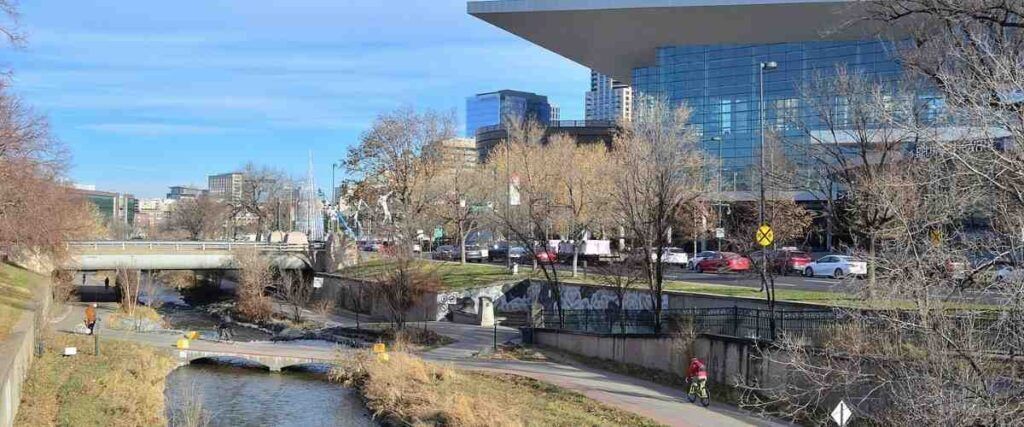 The Cherry Creek Trail is one of the best running routes in downtown Denver. Offering a total length of 42 miles, the route starts downtown and meanders through the suburban and rural communities of Parker, Centennial, and Franktown to its end at Castlewood Canyon State Park in Douglas County. Start your run in Confluence Park and follow the trail as it parallels Cherry Creek and makes its way through the city. You'll pass many significant landmarks along the way, including the University of Colorado, the Colorado Convention Center, several city parks, and three different performing arts spaces. If you prefer to run through more natural areas, you can start your run at the section of the trail that crosses through Cherry Creek State Park in Arapahoe County, where you can enjoy the natural landscape near Cherry Creek Reservoir. Cherry Creek Trail also passes through the 107-acre Parker Jordan Centennial Open Space off E. Broncos Parkway. This area features paved and unpaved running trails and plenty of wildlife viewing opportunities as you run.
Tips: Most of the Cherry Creek Trail is an 8-foot-wide concrete route, but a few sections are gravel.
3. Cheesman Park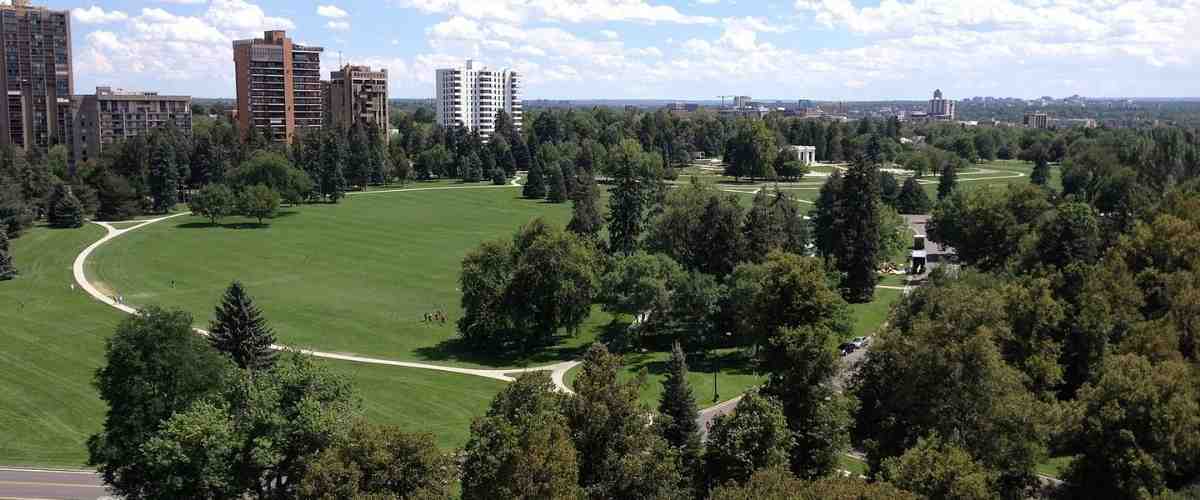 Cheesman Park is another popular city park in Denver for runners. Located in the Capitol Hill neighborhood, this 81-acre urban park is in a quiet residential area offering a tranquil running spot. It's home to the Denver Botanic Gardens and features a 1.6-mile outer loop around the park. It also features a Greek-style pavilion, built in 1910, with three fountains at its base. Although the trail is shorter, you can combine it with a run downtown for more mileage. Or, City Park is just one mile north of Cheesman Park if you want to extend your run there.
Tips: Cheesman Park has a fascinating history, and there are rumors that it's haunted. It was initially Prospect Hill Cemetery but later converted into a park. Although the headstones were all moved, an estimated 2,000 bodies remain, and bones unearth at the park every once in a while.
4. City Park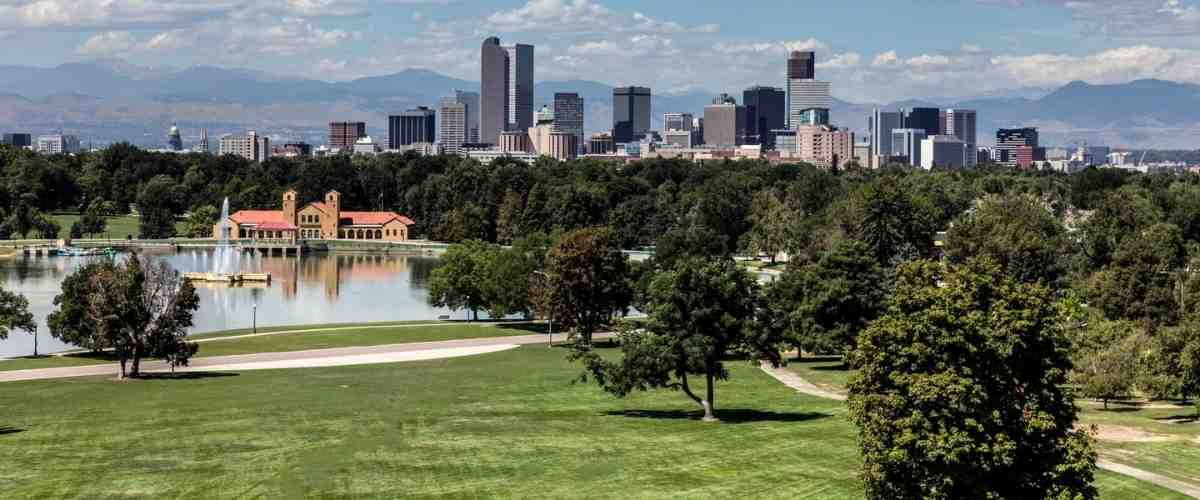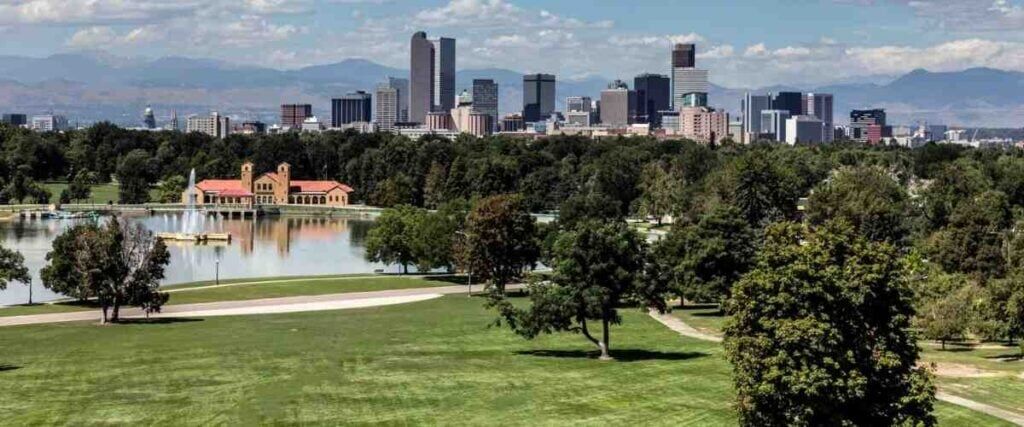 City Park is the largest park in Denver. With 330 acres to explore and several miles of perimeter and interior trails, you'll want to come back, again and again, to run here. The park is home to the Denver Zoo, Denver Museum of Nature and Science, and two lakes, so there are always plenty of other people around. However, you don't have to worry about feeling crowded because there are plenty of trails and routes to explore! If you're heading to City Park from the downtown area, running along 20th or 21st Ave. is a fun way to explore the area and get more mileage. You'll pass plenty of excellent local shops and restaurants on your way to the park.
Tips: If you run to City Park from the downtown area, avoid running on Colfax, the main street that runs east and west through the Denver metropolitan area. Although there is plenty to see on Colfax, it can be dangerous for runners.
5. Sloan's Lake Park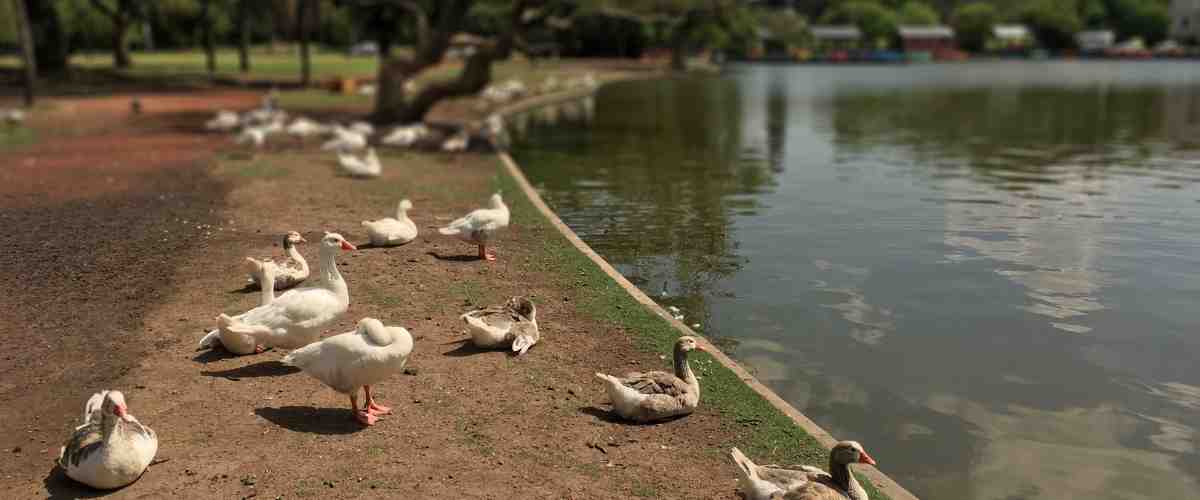 Sloan's Lake Park is about 2.5 miles east of downtown Denver. It's one of the city's largest parks and is home to its largest body of water: Sloan Lake. The park features a 2.5-mile loop around its perimeter that offers stunning views of the area. With the city skyline to the east and the mountains to the west, you'll be surrounded by fascinating things to look at while you run. You can also start your run east of Sloan Lake at the Denver Aquarium. The park is a little over a mile to the lake, giving you a chance to check out the area and extend your run further.
Tips: The Sloan Lake neighborhood surrounding the park is primarily residential, but there are several breweries, restaurants, and coffee shops nearby if you need to refuel after your run.
6. Platte River Trail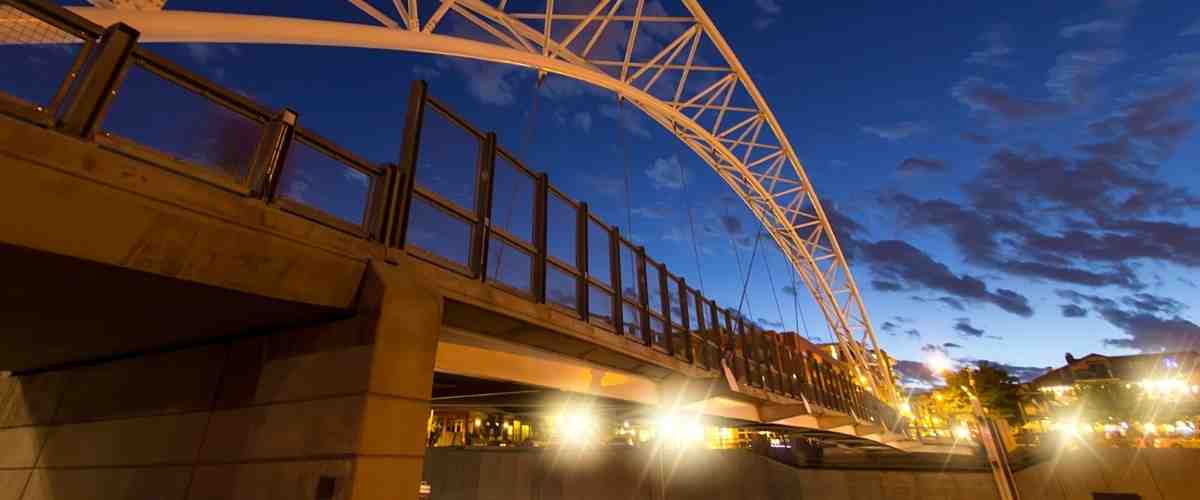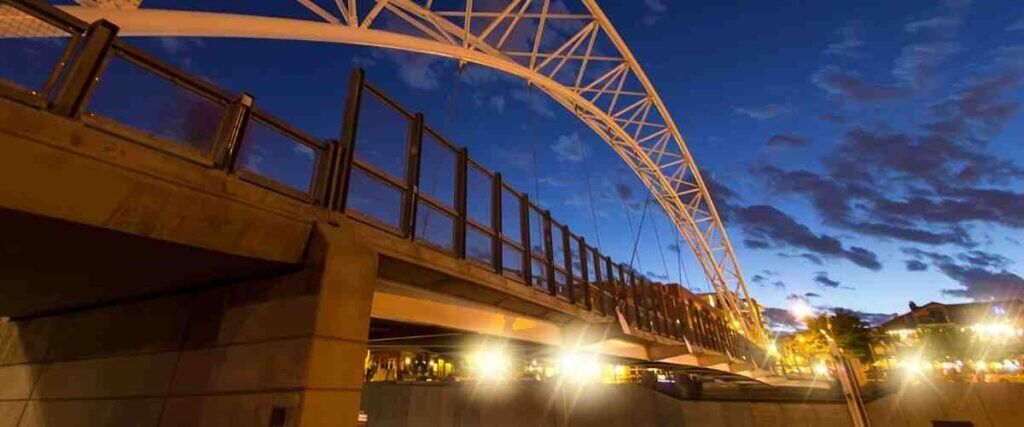 The Platte River Trail offers more than 28 miles of greenway for running in the Denver area. It follows the Platte River and gives you the option to head south toward Englewood or north toward Thornton. The route is made up of two disconnected sections: a northern part that runs from East 120th Parkway to the E470 toll road and the southern part that stretches from the Elaine T. Valente Open Space to West Dartmouth Avenue in Englewood. Along the Platte River Trail, you'll pass several nature areas, botanical gardens, parks, and eateries, so there's no lack of things to do during or after your run!
Tips: The Platte River Trail also intersects with four other trails: the Sand Creek, Bear Creek, Clear Creek, and Sanderson Gulch trails.
7. Belcaro neighborhood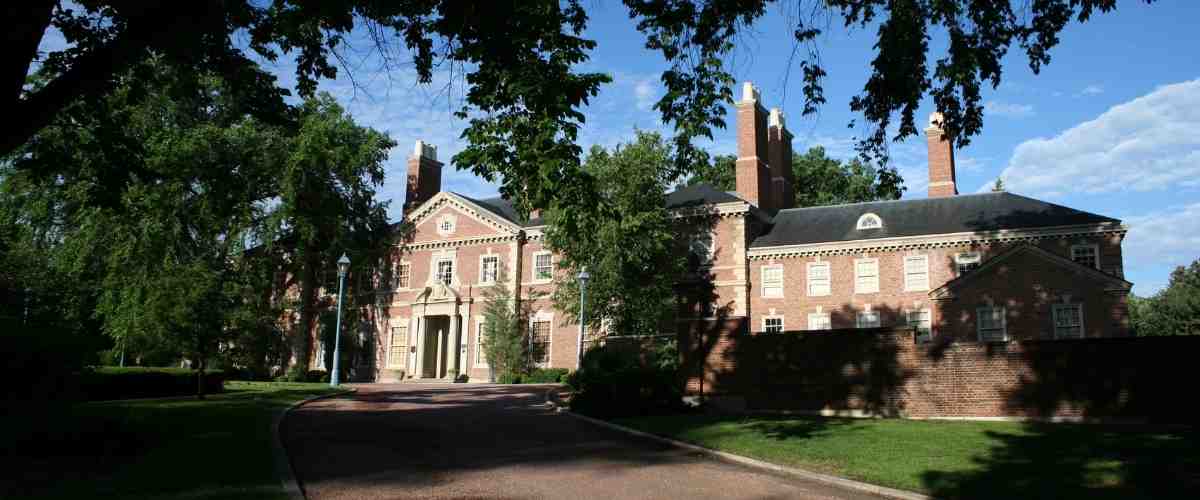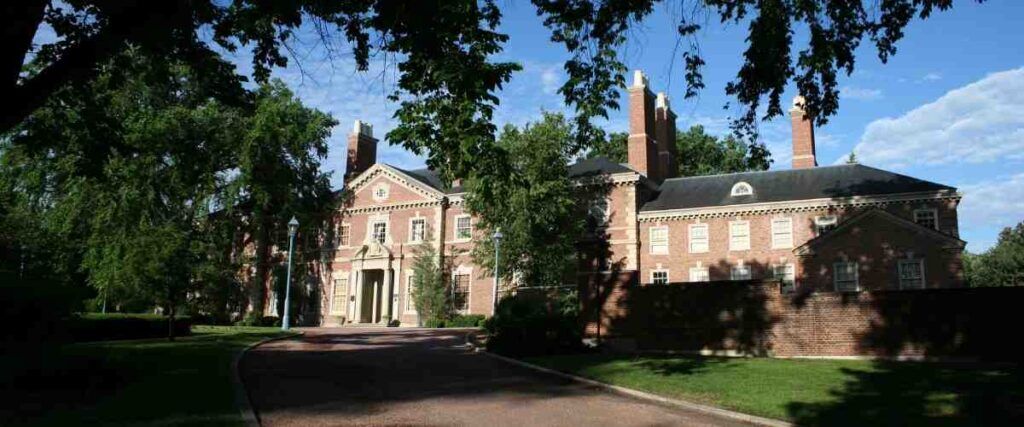 The Belcaro neighborhood is an upscale neighborhood just north of the University of Denver. It's an upscale neighborhood with shaded, curvy sidewalks and beautiful streets lined with classic bungalows and dignified mansions. Along the neighborhood's northern border, Cherry Creek makes its way through grassy parkland, and there's a walking trail that lines the water's edge. You can also run through the Bonnie Brae commercial district along S. University Blvd., featuring local restaurants and shops. Overall, the Belcaro neighborhood is a safe and enjoyable part of Denver for a run.
Tips: Washington Park is right next door, making it easy to extend your run west if you need a longer route.
8. Washington Park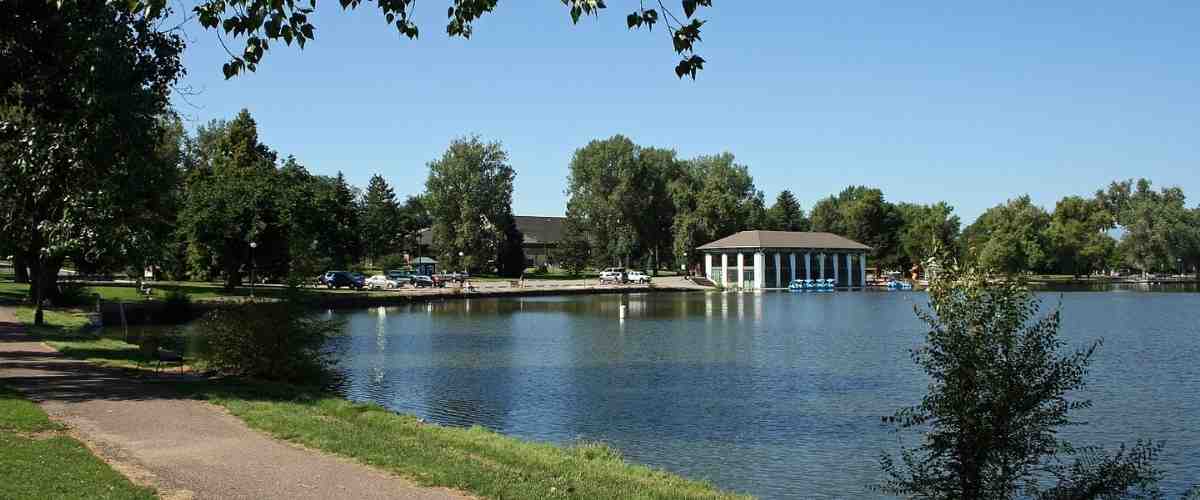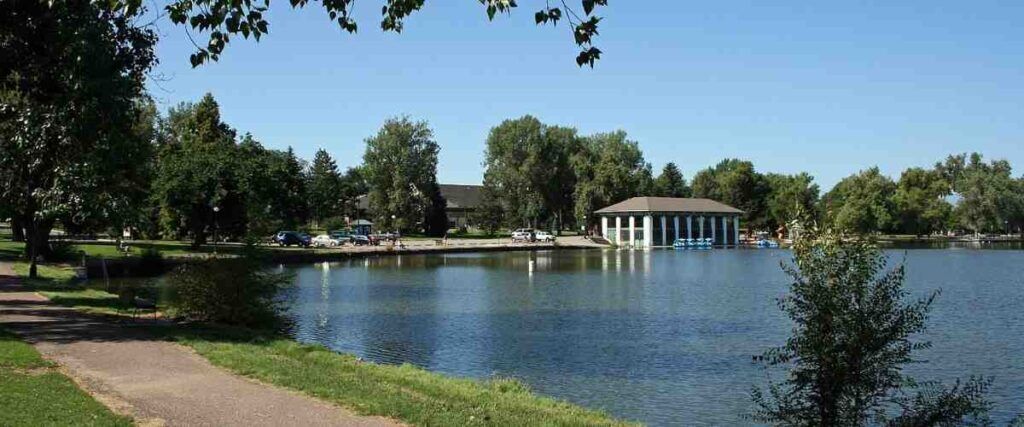 Located 3 miles south of downtown, Washington Park is one of Denver's most popular parks. With 155 acres of wide open space, runners love venturing through this park, complete with two sparkling lakes and two gorgeous flower gardens to admire. The well-loved Cherry Creek Trail provides convenient access to Washington Park, and the paved, 2.3-mile loop inside the park offers a traffic-free running route for anyone who prefers to avoid running alongside the street. The nearby historic Country Club and Cherry Creek neighborhoods also offer beautiful residential streets for running.
Tips: If you're looking for something to do in the area after your run, there are several fun shopping areas just west of Washington Park.
9. Commons Park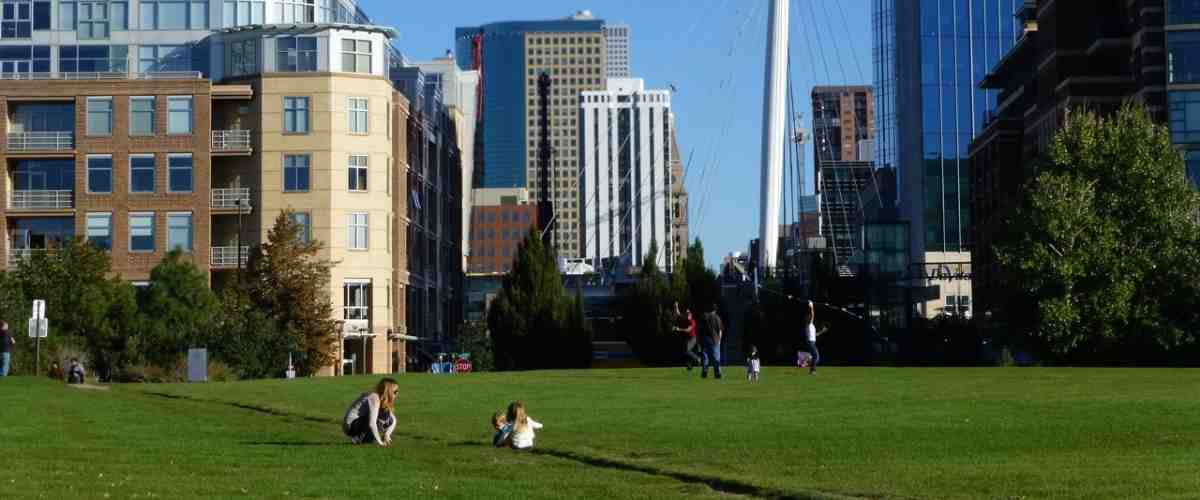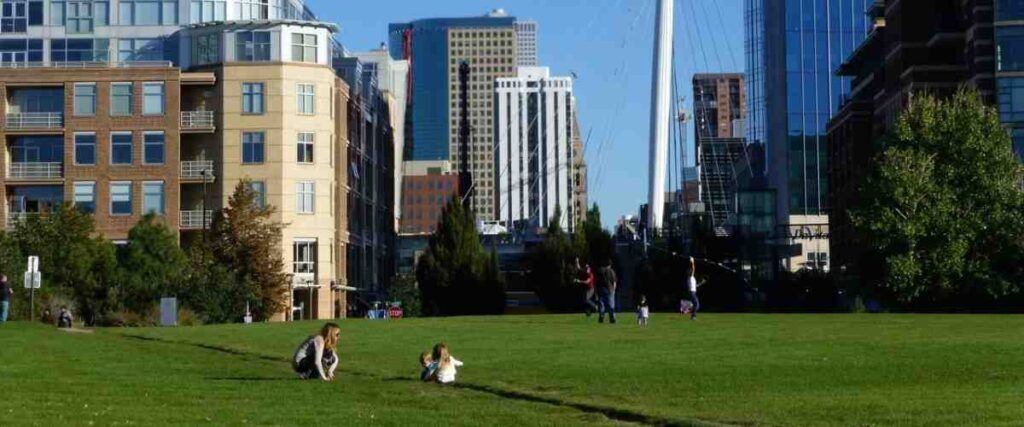 Commons Park is a 20-acre park situated just north of Cherry Creek and the Platte River junction. Ideal for runners who like a balance of city views and natural landscape, the park's west side is full of native grasses and wetlands, offering an escape from the hustle and bustle of city life. In contrast, the park's east side has an urban vibe and provides access to the downtown Denver area. Enjoy the best of both worlds at Commons Park. You don't have to venture far to find this gem with a tree-lined promenade and miles of running trails to explore. It's right in the heart of Denver!
Tips: After a run at Commons Park, there are plenty of things to do nearby. Visit the Museum of Contemporary Art, head to 16th Street Mall, or grab a bite to eat at one of the many downtown eateries.
10. Baker neighborhood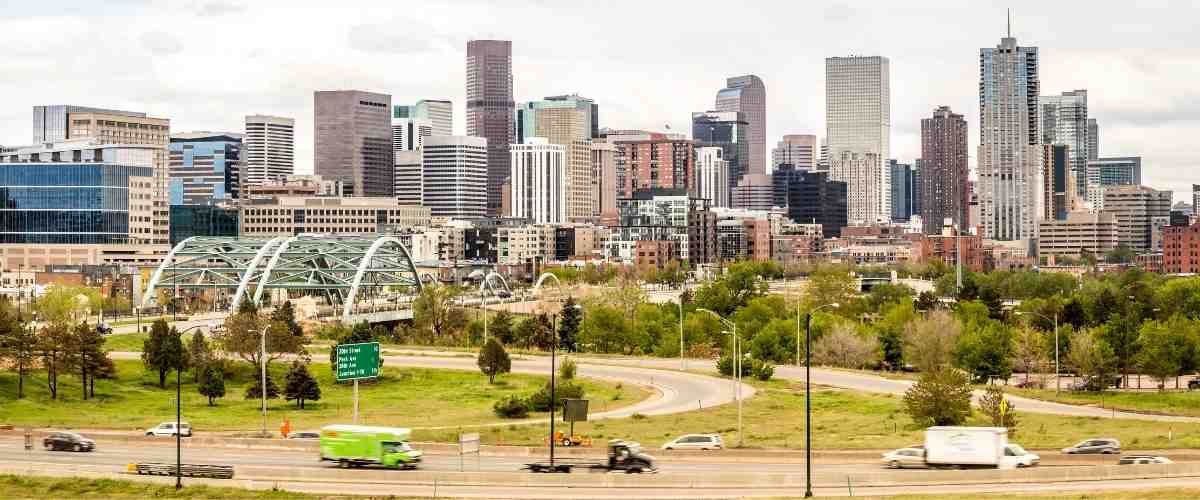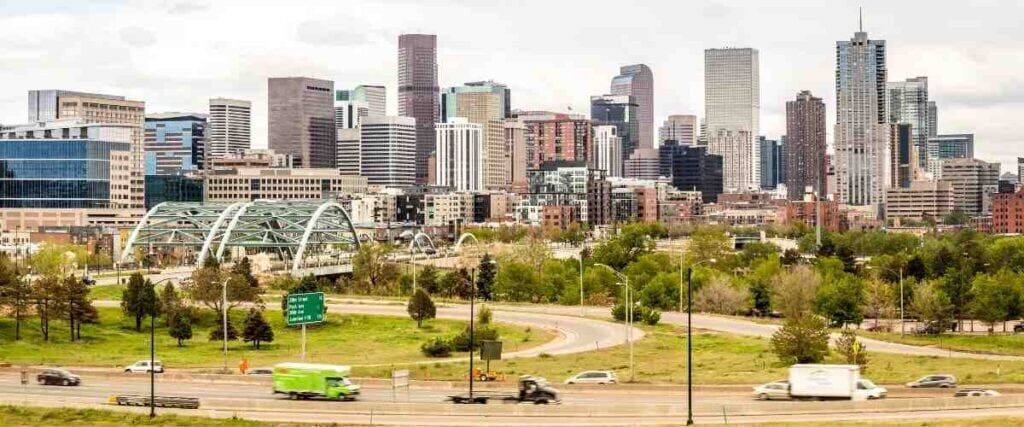 Another excellent residential area in Denver for running is the Baker neighborhood. Just south of Lincoln Park, the streets of Baker are known to be some of the hippest in the city. The streets are pleasant for running, and there's plenty to see along the way! Its popular Broadway Marketplace is a buzzing boulevard lined with restaurants, shops, and late-night spots, so there are always plenty of people around. The Baker neighborhood is also home to several green spaces, so you can easily combine a run around the residential streets with the riverside trails of Phil Milstein Park and Frog Creek Park on the Platte River.
Tips: Baker is also just a few miles northeast of Washington Park, which offers many more green trails for runners of all experience levels.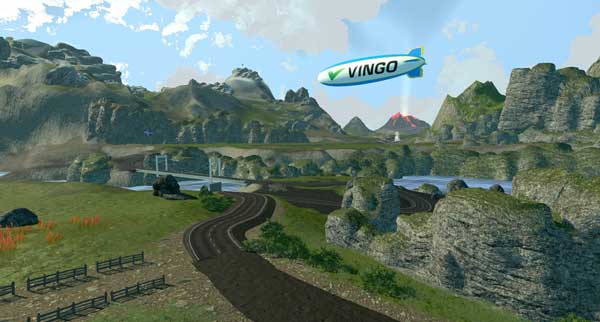 Interested in another city?
Discover the best cities to run in the US:
Sources:
Photo Sources:
Raysonho @ Open Grid Scheduler / Scalable Grid Engine, CC0, via Wikimedia Commons
R0uge, CC BY-SA 4.0, via Wikimedia Commons
Carol M. Highsmith, Public domain, via Wikimedia Commons
Jeffrey Beall, CC BY-SA 3.0, via Wikimedia Commons
Jeffrey Beall, CC BY-SA 3.0, via Wikimedia Commons
Isarra, CC BY-SA 3.0, via Wikimedia Commons