Top 10 Running Trails in Los Angeles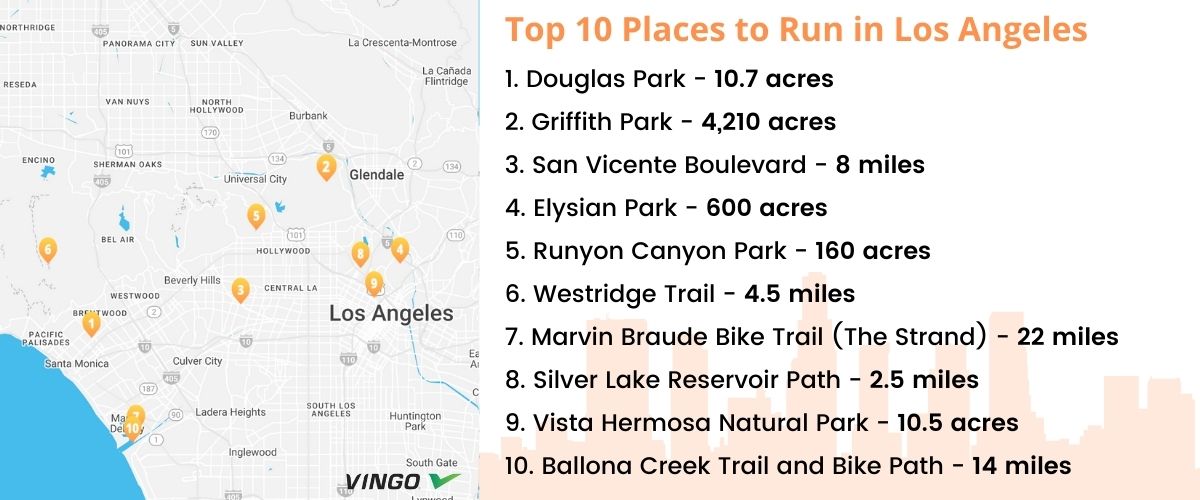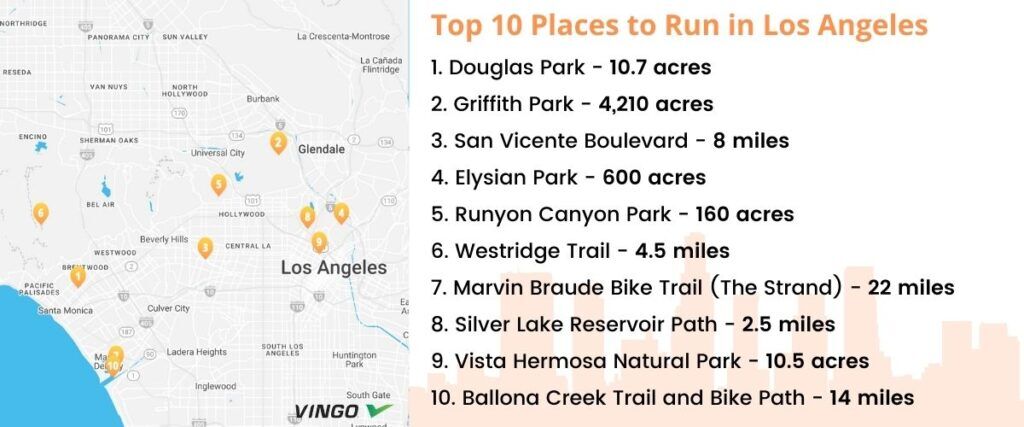 Whether you like to run through the heart of the city, on the beach, or through canyonlands, Los Angeles has it all, with plenty of amazing places to refuel after your workout, too! We've rounded up a list of the top 10 places to run in L.A. where you can get your heart pumping and enjoy everything this city has to offer while you're at it. Not to mention, several celebrities have been spotted enjoying a walk or run at many of these locations, so you might even get lucky and meet one!
1. Douglas Park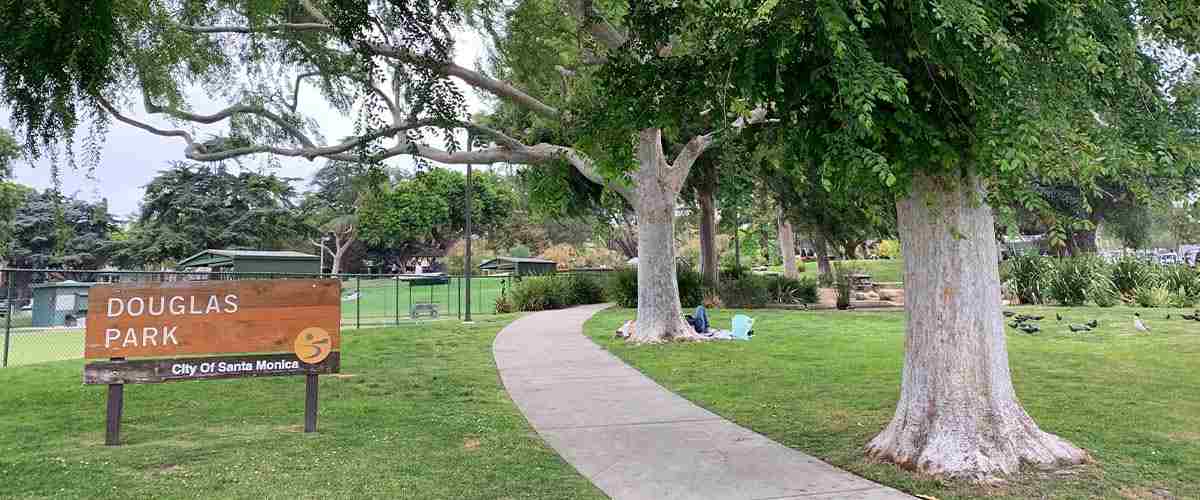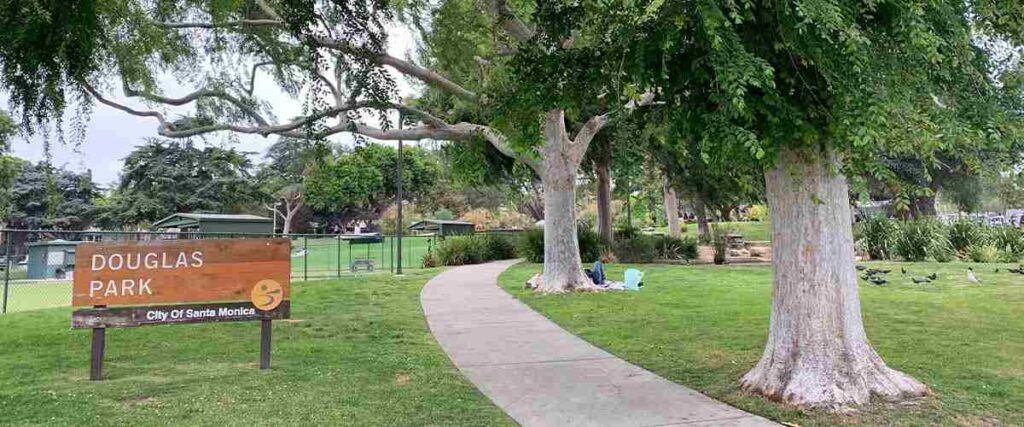 Need a break from the city? Runners searching for a great place to jog in the mornings or afternoons will enjoy the beautiful Douglas Park. One of the best places to run in Santa Monica, this 10.7-acre urban park is tucked away from traffic and road noise. It has several great features, including lawn bowling, two tennis courts, a playground for the kiddos (if you bring them along in the stroller), and three reflecting pools. The artificial waterscape here is the largest in Los Angeles, and it's home to plenty of ducks, turtles, and fish for a relaxing view after you finish your run.
Tips: Douglas Park is a great place to have a picnic too! With plenty of benches and picnic tables, there's no shortage of places to plop down on the grass and enjoy a bite after your run.
2. Griffith Park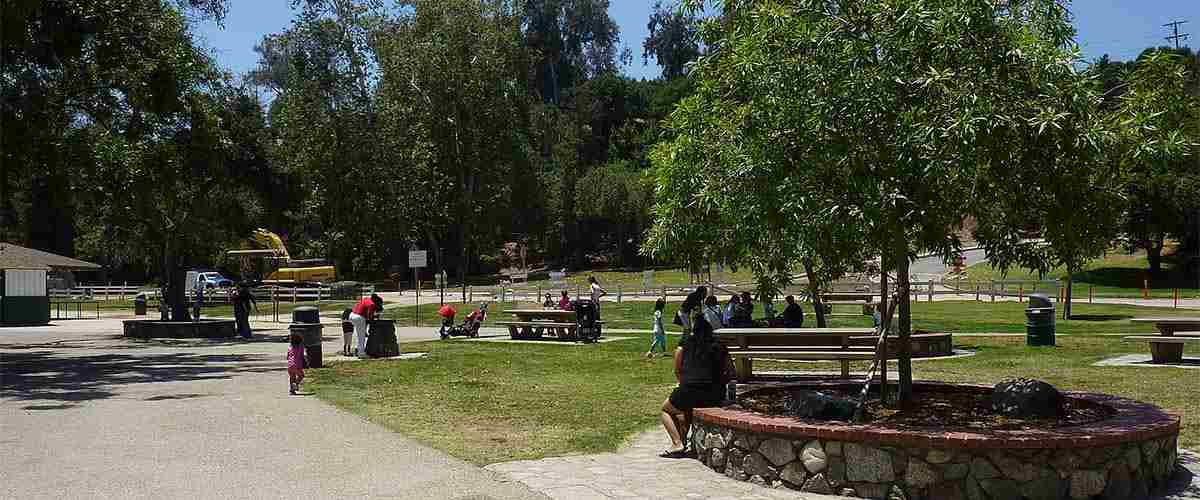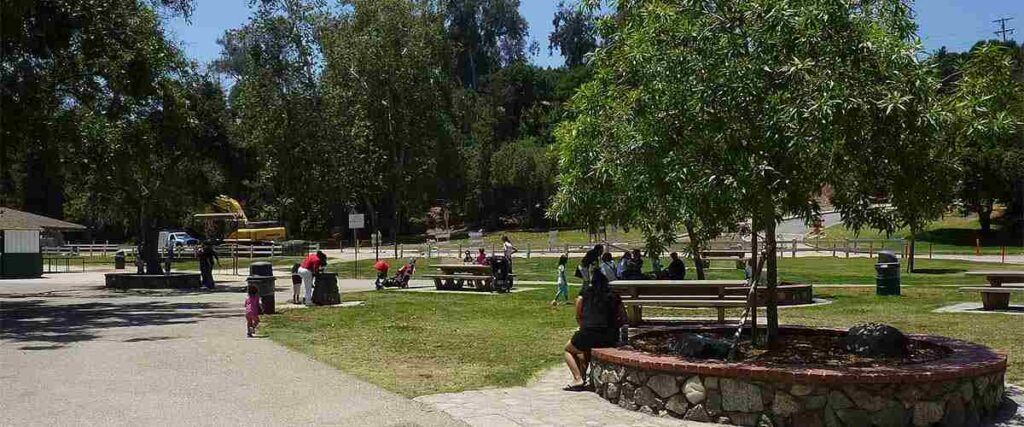 Griffith Park is one of the largest municipally-owned parks in the U.S. and one of the biggest urban parks in North America. With more than 4,210 acres of sprawling land, there are several great running routes in Griffith Park. Examples include Griffith Park Drive, the Western Heritage Loop, and the memorable Mount Hollywood Trail, which takes runners on an off-road adventure from the observatory parking lot up to the top of Mount Hollywood. If you're not too tired after your run, the park also boasts a 53-mile system of hiking trails, just waiting to be explored.
Tips: Griffith Park is also home to several of L.A.'s most well-known attractions, like the Los Angeles Zoo and the Griffith Observatory. So, if you plan to go for a run here, make sure to check these places out too.
3. San Vicente Boulevard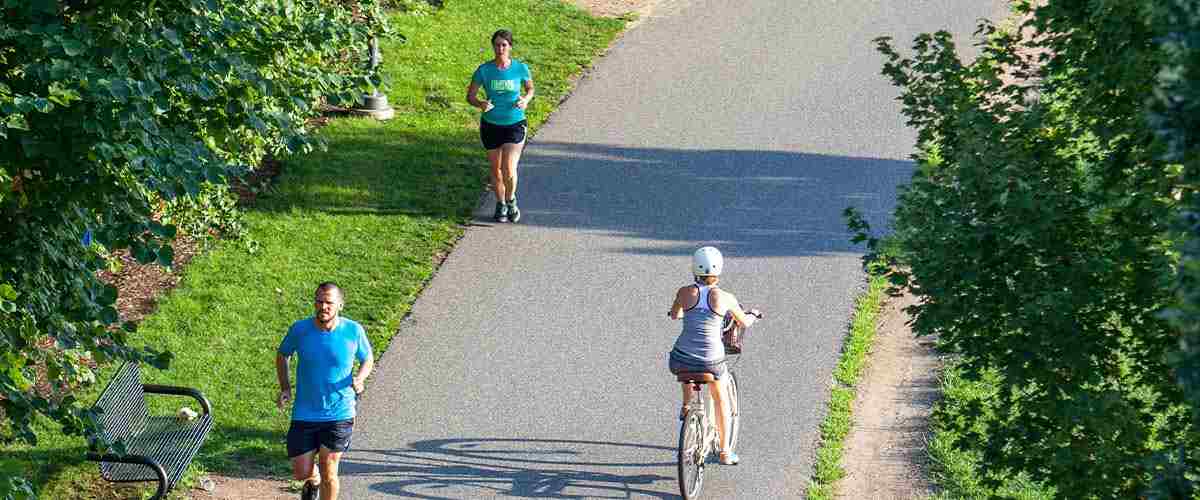 A run on San Vicente Boulevard's shady, greenery-lined median offers a scenic eight-mile run through the Westside. As you run this route, you'll enjoy the sights and sounds of the Brentwood community, luxury homes, gorgeous Coral trees (native to South Africa), and picturesque coastal views. This route is popular with local runners, so although it's likely to be a busy spot, the median is wide enough for groups of runners.
Tips: If you loop this route, be aware that it's pretty hilly, so it's a decent workout. When you're done, you'll end up back at the trail's starting point near the posh A.O.C. Brentwood restaurant, which is worth stopping into for a bite to eat.
4. Elysian Park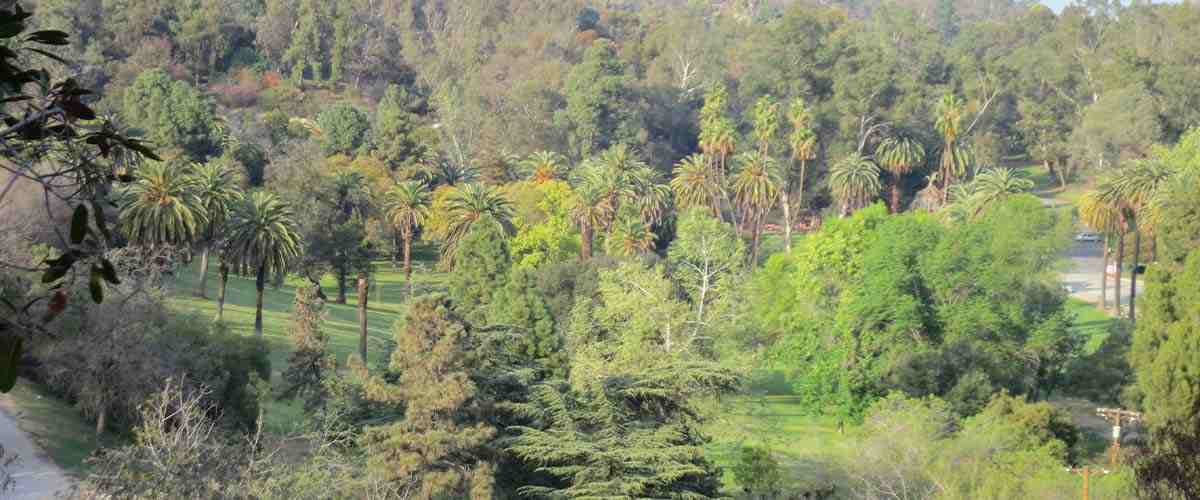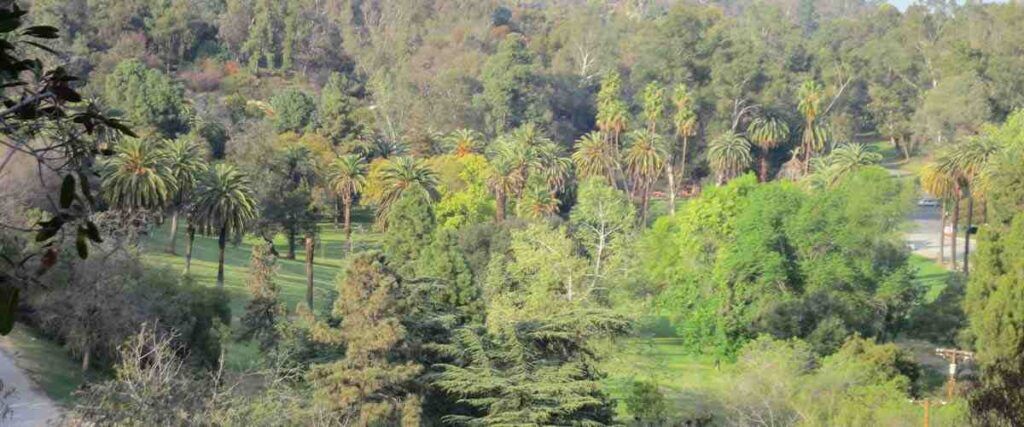 If you're searching for a quiet, long, and traffic-free running spot near downtown L.A., you'll be hard-pressed to find it, but Elysian Park is a hidden gem that checks all those boxes. This 600-acre park features miles of former roads closed to traffic but open to pedestrians. It also has some trails to run, if that's more your thing. Elysian Park is certainly quiet, but it's also very hilly, so you'll get a great workout while you enjoy this serene break from the hustle and bustle downtown.
Tips: Unfortunately, the signage in this park is not great. Make sure you bring your phone with you so you can check out a map and navigate your way around.
5. Runyon Canyon Park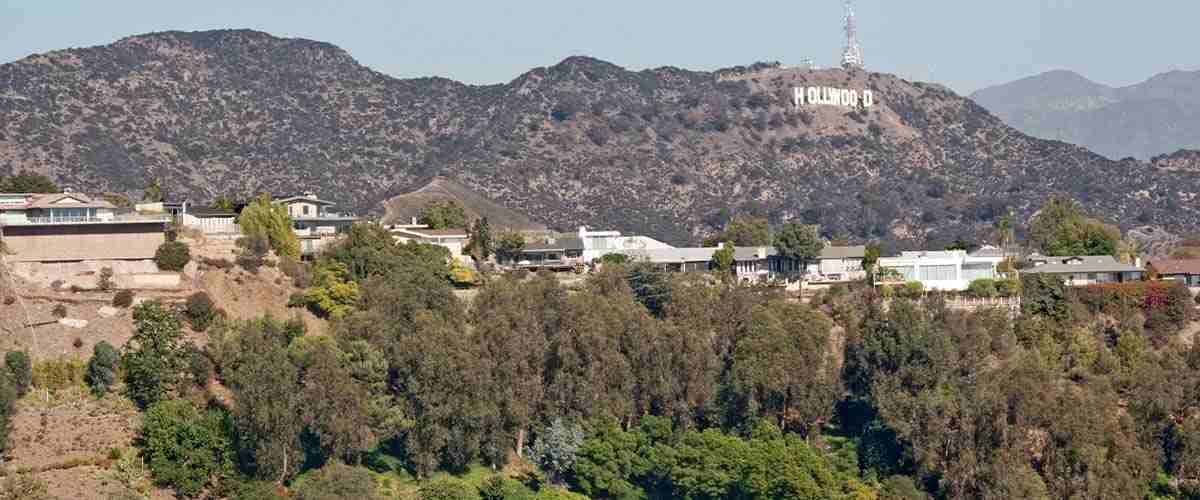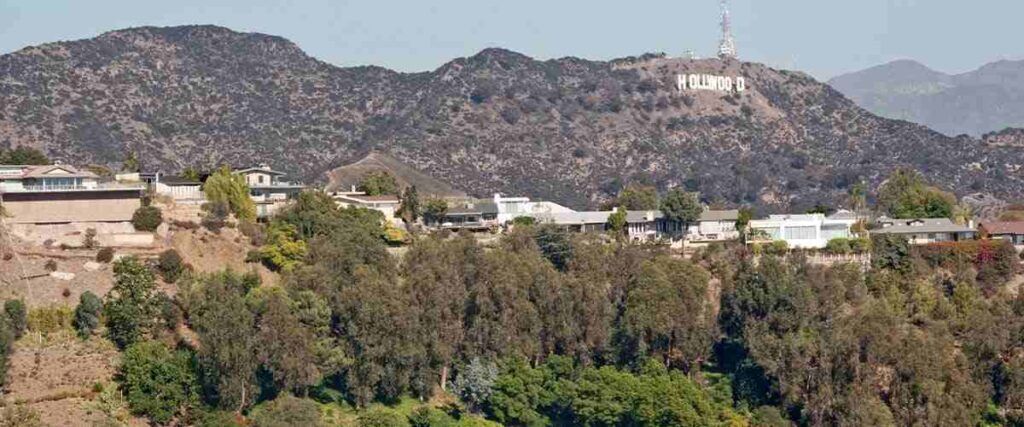 Ask any runner and they'll likely tell you that Runyon Canyon Park offers some of the best running trails in the entire state of California. Located right in the heart of L.A., two blocks from Hollywood Boulevard, this 160-acre park offers fantastic views of the L.A. Basin, the iconic Hollywood Sign, and more. There are several great running trails at Runyon Canyon Park, with some of the best being Runyon Canyon Trail, the Star Trail, and Fuller Gate — Runyon Canyon Road. If you're looking for a challenge, try the Hero Trail.
Tips: Runyon Canyon Park can get pretty packed on the weekends. If you don't want to deal with the crowds, you might consider running during the week instead.
6. Westridge Trail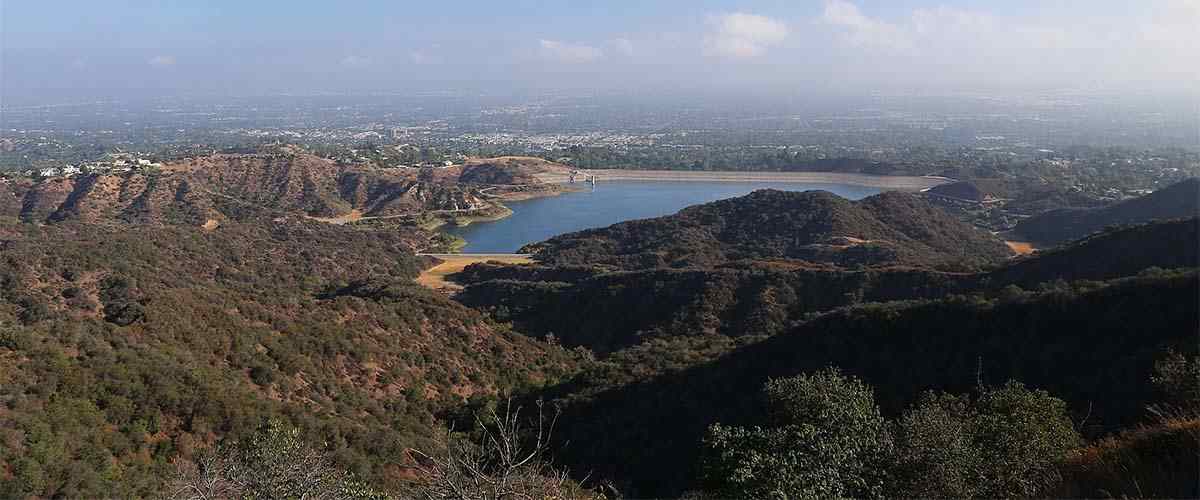 Local trail runners love Westridge Trail for its magnificent views of the Santa Monica Mountains and West L.A. This gorgeous 4.5-mile trail will lead you up to the 1,960-foot peak of San Vicente Mountain with a smooth and gradual climb through Westridge-Canyonback Wilderness Park. It also doesn't have any confusing trail junctions, so you can enjoy the views without worrying about getting lost. Plus, it's a great place to run with your dog because they can be off-leash.
Tips: In the 1950s, San Vicente Mountain was a mountaintop military installation to defend Los Angeles from Soviet missile attacks. The trail has informative panels along the way so you can learn more about this fascinating history.
7. Marvin Braude Bike Trail (The Strand)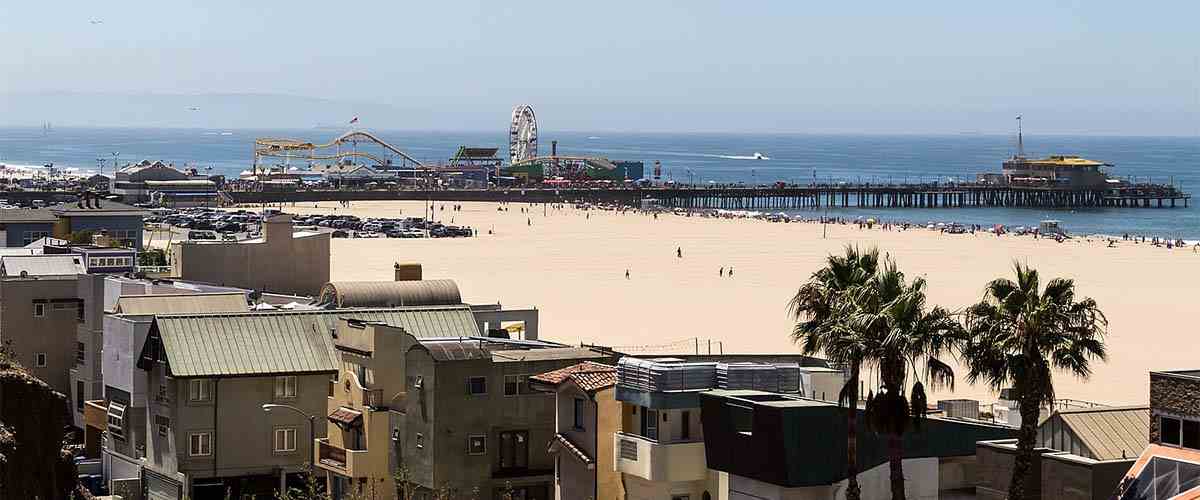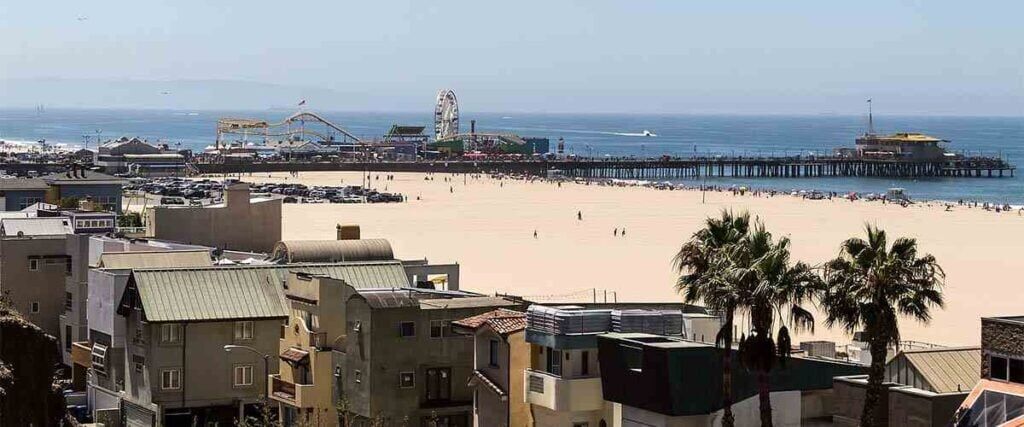 The famous Santa Monica beach path, also known as The Strand, is a 22-mile paved bike path that offers breathtaking coastline views. Starting at Will Rogers State Park and ending at Torrance County Beach in the South Bay, you'll run through many popular areas, including the Santa Monica Pier, Venice Boardwalk, Marina Del Rey, Manhattan Beach, and more. Some portions of this trail also have separated pedestrian and bike paths, which is nice since the path is widely popular. To avoid the crowds, run during the week.
Tips: Want a tougher workout? Try running closer to the water in the sand. You'll definitely feel the burn!
8. Silver Lake Reservoir Path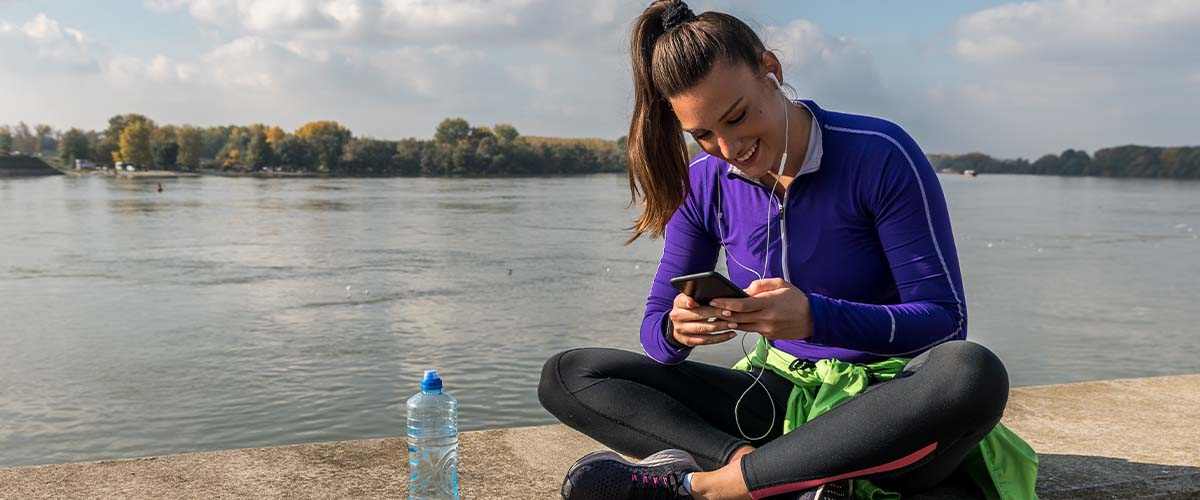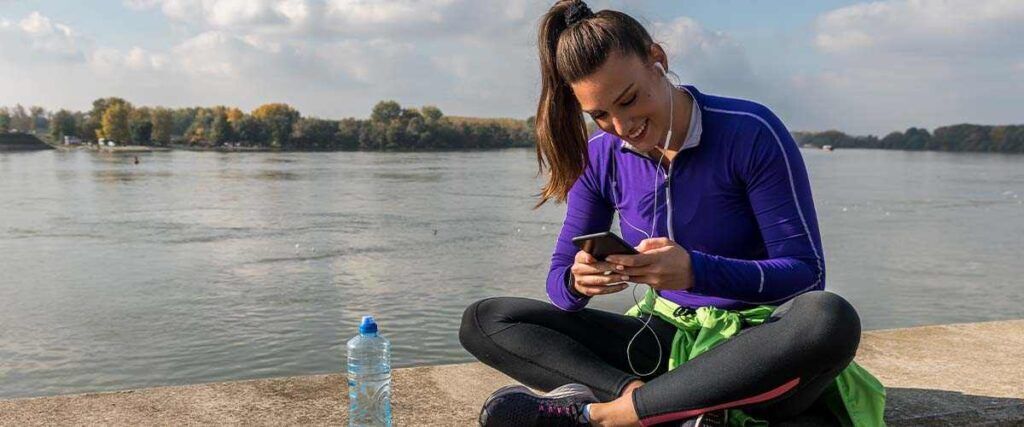 The Silver Lake community in the middle of Los Angeles is a hip place to be in general, but it's also a nice place to run! The Silver Lake Reservoir Path is a 2.5-mile jogging path around Silver Lake Reservoir. With about 200 feet in elevation gain, this area makes for a moderately easy run with serene water views without having to venture out more than a few miles from downtown. This area also has family-friendly amenities like a playground, basketball court, and several grassy areas, making it a popular spot for all sorts of individuals and families.
Tips: The path is dog-friendly, but your furry friend has to stay on the leash. That is, until you reach the fenced-in dog park at the end of the path where they're free to roam.
9. Vista Hermosa Natural Park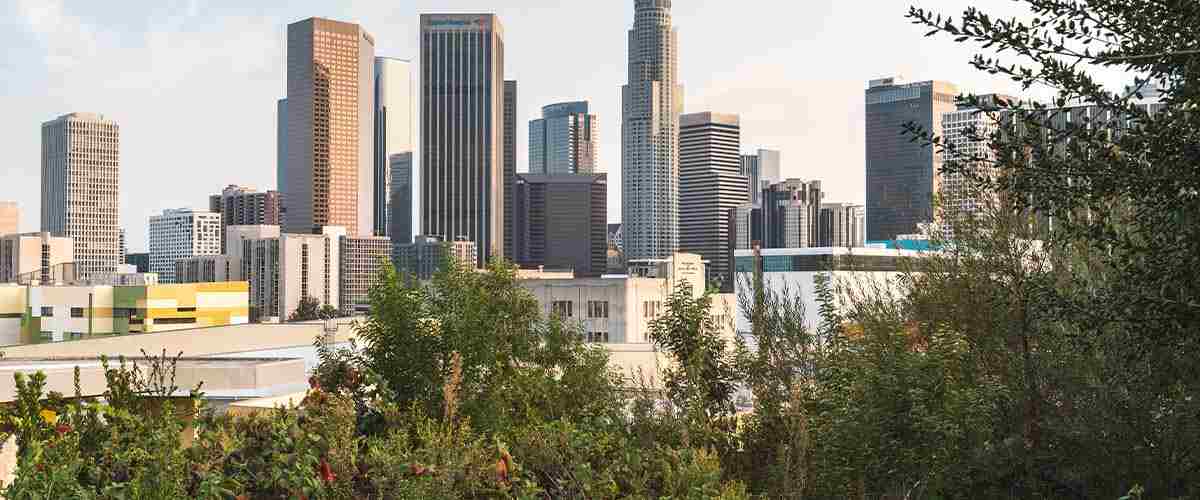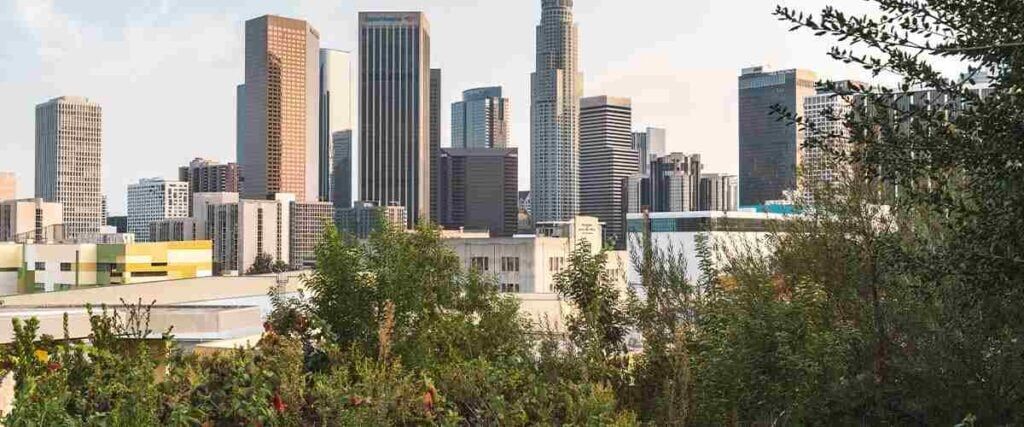 Another serene place to enjoy a nice run is the Vista Hermosa Natural Park trail, located in the 10.5-acre Vista Hermosa Natural Park. This urban green space is less than two miles from downtown, in L.A.'s Historic Filipinotown. Yet, it offers scenic running trails, soccer fields, grassy meadows, playgrounds, picnic areas, and gorgeous native landscaping that will make you forget you're in the middle of the city. With an elevation gain of about 45 feet, Vista Hermosa Natural Park is a great place to get a run in the early morning, afternoon, or evening.
Tips: This park also offers several free programs, including campfire talks with s'mores.
10. Ballona Creek Trail and Bike Path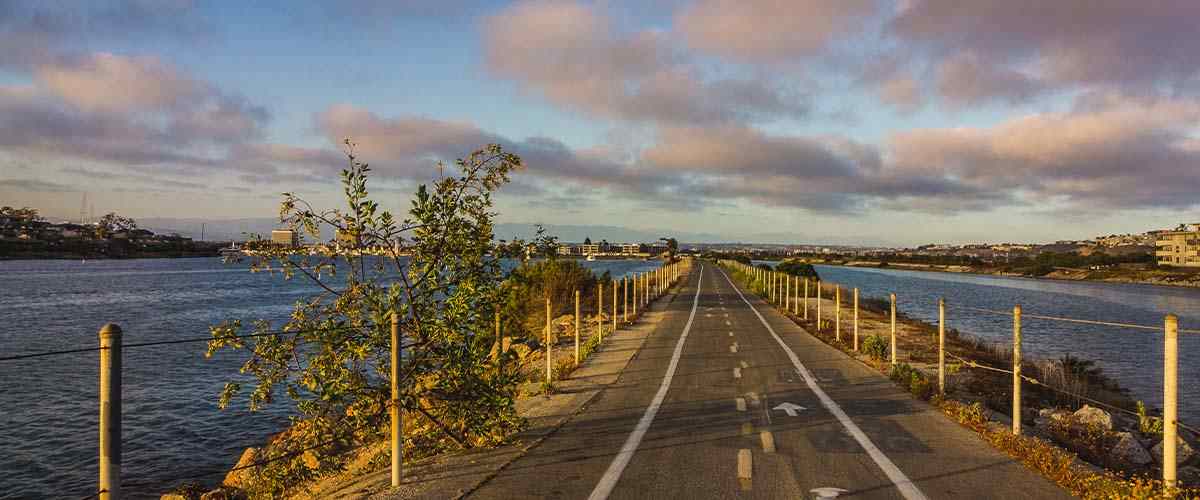 Located in the beachfront community of Marina del Rey, the Ballona Creek Trail promises gorgeous oceanfront views and a challenging run. Stretching eight miles from the Pacific Ocean to National Boulevard, this trail has an alternating hilly and flat surface, making for a great workout! Popular among fitness enthusiasts and athletes in the area, the Ballona Creek Trail is one of six segments that make up the Park to Playa Regional Trail, which connects parks and open spaces from the Baldwin Hills Parklands to the ocean.
Tips: You'll also pass by the Ballona Wetlands reserve, one of the last significant estuarine and freshwater wetland landscapes in coastal Los Angeles County, which offers another 1.5-mile trail that's great for walking and bird-watching.
Interested in another city?
Discover the best cities to run in the US: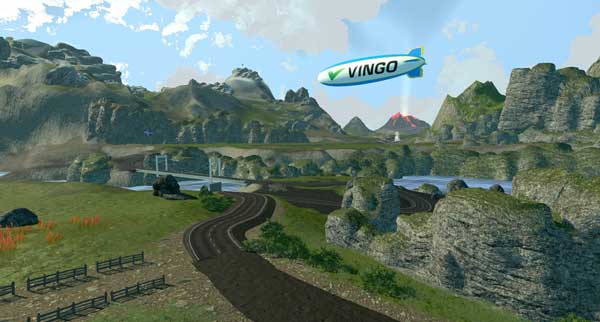 References:
Photo Sources:
DocFreeman24, CC BY-SA 4.0 https://creativecommons.org/licenses/by-sa/4.0, via Wikimedia Commons
Chris English, CC BY-SA 3.0 https://creativecommons.org/licenses/by-sa/3.0, via Wikimedia Commons
Photo by James Lewis on Unsplash
Fizzy+lifting, CC BY-SA 3.0 https://creativecommons.org/licenses/by-sa/3.0, via Wikimedia Commons
Downtowngal, CC BY-SA 3.0 https://creativecommons.org/licenses/by-sa/3.0, via Wikimedia Commons
Photo by Javon Swaby from Pexels
Cbl62 at English Wikipedia, CC BY-SA 3.0 https://creativecommons.org/licenses/by-sa/3.0, via Wikimedia Commons
logopop, CC BY-SA 3.0 https://creativecommons.org/licenses/by-sa/3.0, via Wikimedia Commons